FEATURE | Once among Kuala Lumpur's top shopping malls, Ampang Park will shut its doors on Dec 31 after 44 years in operation.
Ampang Park, which was Kuala Lumpur's first shopping mall, is being demolished to make way for an underground walkway as well as the five-storey Ampang Park MRT station that will serve the new MRT2 line.
The tearing down of the iconic four-storey building will undoubtedly leave painful memories for shop owners at the premises, as well as loyal patrons, having been part of the pulse of the city for four decades.
Even with newer shopping malls popping up around Kuala Lumpur, the attraction of Ampang Park never dimmed, as it had built a steady clientele, particularly among the middle-income group.
Dwarfed by the nearby Suria KLCC and Avenue K, Ampang Park continues to attract visitors looking to relax, shop, do business or just grab a bite to eat.
After almost a year-long battle to save the mall, the courts dismissed an appeal filed by 39 premise owners and renters against the plan to tear down the mall to build the Ampang Park MRT station and an underground walkway, which will connect the new station to the existing Ampang Park LRT station.
With 10 days to the new year, some traders have cleared the premises, while others have vacated their lots to eke a living elsewhere.
But those who have yet to find a new place continue to hope for a miracle that would somehow allow them to continue running their businesses there.
Others are holding clearing-out sales to move remaining stock before the doors of Ampang Park close for good.
Craft shop owner Jennifer Lee (photo), 55, is finding it hard to believe that she will have to leave behind the family shop inherited from her grandfather.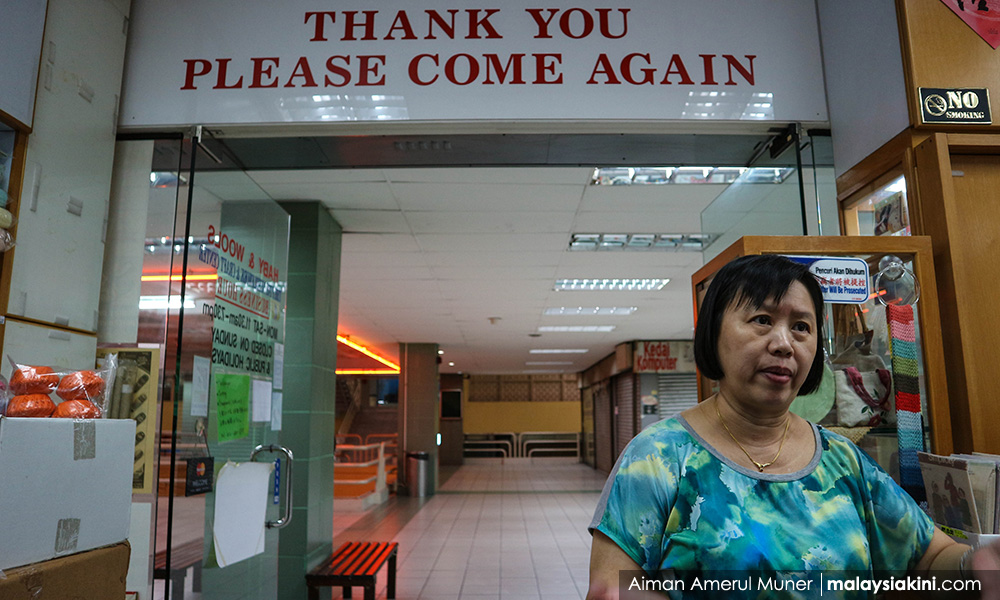 Among some of her earliest childhood memories are of helping her grandfather stacking the shop shelves, which has become her second home.
Since receiving the management's notice to move out just this month, Lee has barely had enough time to pack up her wares.
"I am very sad because the management gave us the letter to relocate on Dec 1, I barely had time to sleep because I have been here 44 years, there is too much stuff that I don't know where to put them and I haven't found a new place.
"I have been here since the day this complex opened in 1973, and I plan to leave on its last day. I really don't want to leave, I am devastated," she said while holding back tears.
Recalling the early days, Lee said Ampang Park used to have a children's playing area, a disco and a cinema...