COMMENT | If fairness becomes secondary to your desire to hold the reins of power and to exercise any prerogative you may or may not have in your own favour, how much better are you than your predecessors?
One can argue till the cows come home and one can muster all kinds of distorted reasoning to support one's beloved leader and current hero, but there is only one fair way to allocate cabinet positions - it must reflect at least roughly the proportion of parliamentary seats the respective parties won.
Otherwise, it is simply not a reflection of the desire of the people as shown in the polls and one can draw a clear and unwanted parallel to the gerrymandering that has been prevalent in our polls for a long time whereby some constituencies are several times the size of others. Certainly not something that Pakatan Harapan, or the majority of Malaysians, want.
When we look at the composition of Dr Mahathir Mohamad's cabinet, it is patently unfair and ridiculous. It represents a barely disguised attempt to usurp power in favour of his own Bersatu, which won only 13 of 52 seats it contested in Peninsular Malaysia, by far the worst showing of any of the component parties at a 25% win rate.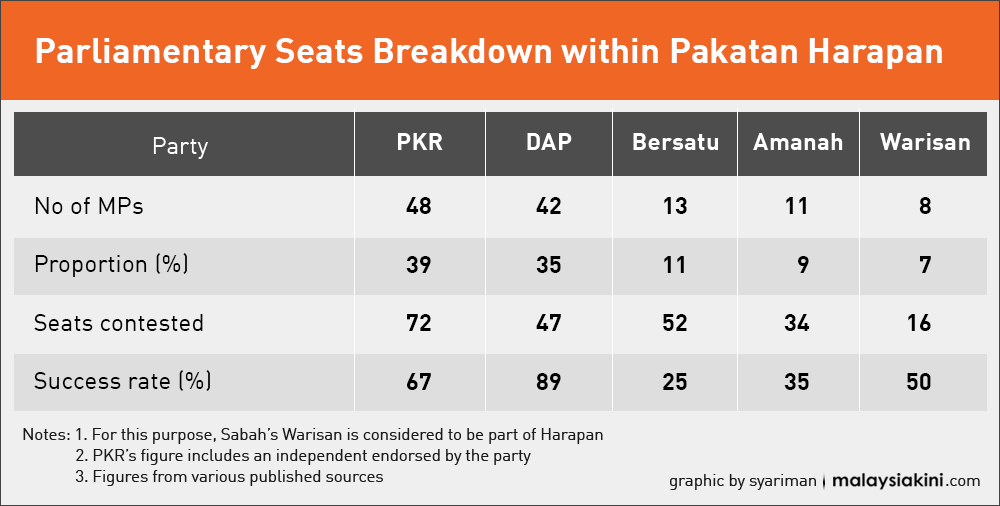 To illustrate how ridiculous the situation is, consider this: Bersatu has 13 MPs and all but two of them have become either ministers (6), deputy ministers (4) or menteri besar (Mahathir's son Mukhriz who is Kedah menteri besar). Probably all MPs but Mahathir, Muhyiddin Yassin and Mukhriz are first-time MPs. So, up to eight first-time MPs have become either ministers or deputy ministers.
What a travesty of justice when long-time parties such as PKR and DAP who have many multiple-term MPs have been simply left out in the cold. PKR had many Malay MPs who could have easily filled positions much better than the raw, untested material that Bersatu had to offer besides Mahathir and Muhyiddin.
Let's look at the proportion of parliamentary seats of each party relative to the proportion of members in the cabinet and deputies. The numbers for cabinet positions and deputies are taken from this article in Malaysiakini, which also highlights the severe under-representation of PKR and DAP in the cabinet.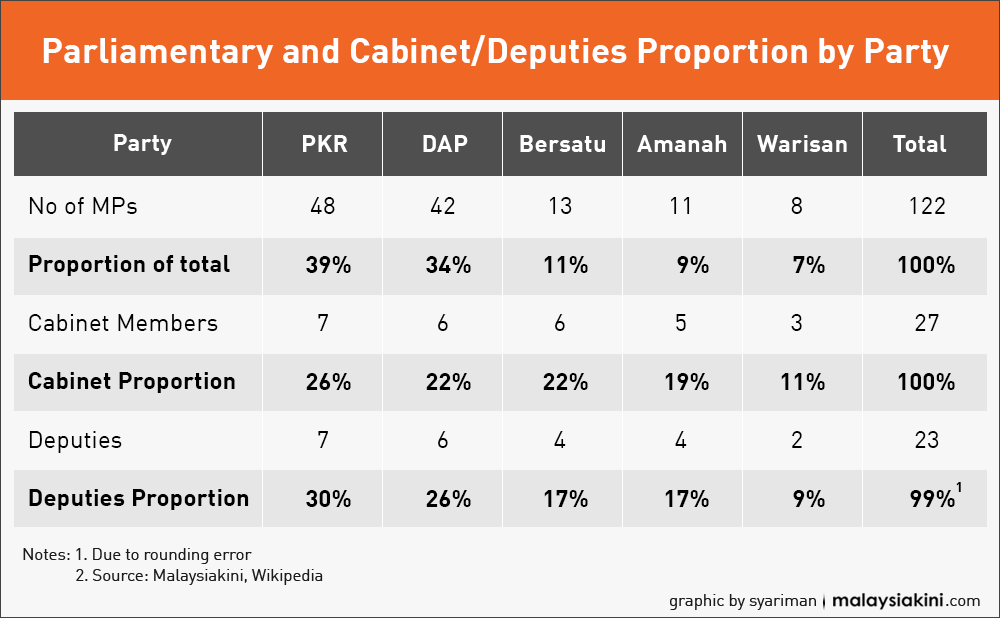 The figures speak for themselves. While PKR has 39% of seats in the coalition, they have only 26% of cabinet positions. In contrast, Bersatu with 11% of seats has 22% of cabinet positions, double what they are entitled to. In terms of numbers, if the proportionate principle is applied, PKR should have 10 to 11 cabinet positions instead of seven, while Bersatu should have two to three instead of six.
The sequence of events indicates a devious, orchestrated and managed attempt to shore up Mahathir's power and give him much more control of the country and how it is run by using so-called prime ministerial prerogative to choose his cabinet, and using an organised campaign to push such views across.
The talk about such prime ministerial prerogative - which comes up over and over in online comments - is specious and holds no sway in a completely different context where Mahathir's party is a minority partner in the coalition where the big boys are clearly PKR and DAP.
By using so-called public opinion, which sometimes is manipulated by planted opinions, and the myth that Mahathir alone won the elections for all Malaysians, he has chosen to ignore the basic rules in any coalition - consultation and consensus as far as...