COVID-19 | The Health Ministry's Github data repository reported a total of 192 Covid-19 fatalities yesterday (Sept 30), bringing the national death toll to 26,335 - the worst in Asia in the number of deaths per capita.
The highest number of deaths was reported in Sarawak (40) which in recent days has seen record numbers of Covid-19 patients in intensive care.
Sarawak remains the only state in the country where Covid-19 hospital bed use was still on the uptrend over the past week.
According to the CovidNow website, new cases in Sarawak increased dramatically since August while sampling for Covid-19 in the state has dropped in September.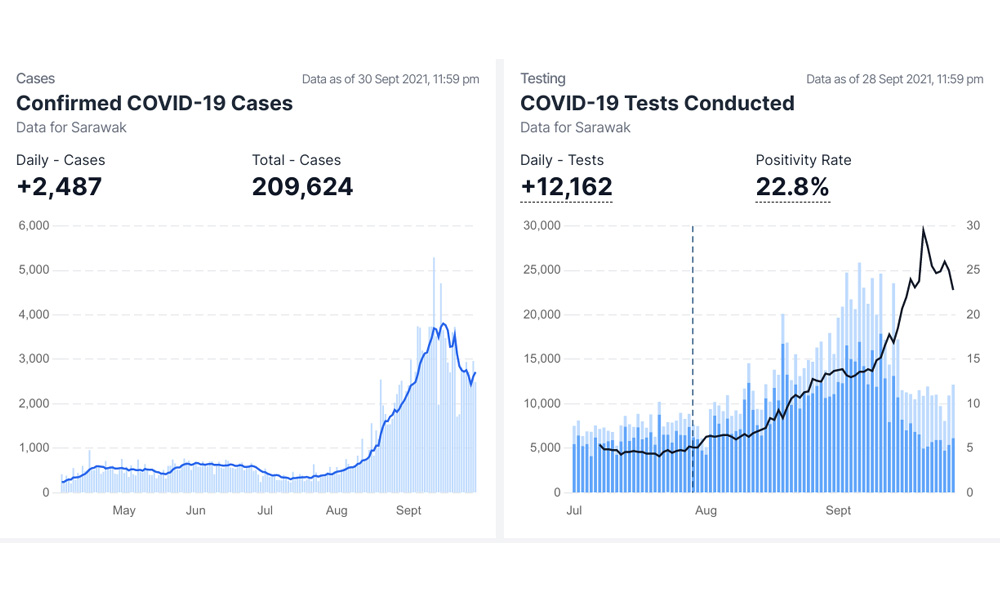 The remaining deaths were in Johor (34), Perak (23), Penang (21), Sabah (20), Selangor (18), Kedah (9), Terengganu (8), Kuala Lumpur (7), Malacca (4), Perlis (4), Negeri Sembilan (2), Kelantan (1) and Pahang (1).
No new deaths were reported in Labuan and Putrajaya.
A total of 145 out of the 192 reported deaths, or 75.5 percent, happened in the last seven days.
The remaining deaths happened more than a week ago but were only recorded yesterday due to delays in data reporting.
A total of 9,671 Covid-19 deaths were reported in September, 7,640 in August, 3,854 in July and 2,374 in June.
As of yesterday, there were 164,536 active Covid-19 cases. This is a reduction of 17.0 percent from the 198,284 active infections a week ago.
Compared to 30 days ago, the number of active cases has fallen by 38.6 percent from 267,866.
The Health Ministry's post-midnight update also provided further insights into the new Covid-19 infections yesterday.
From the 12,735 new cases yesterday, a total of 764 of them could be traced to ongoing Covid-19 clusters.
From the cluster-linked cases, 432 (56.5 percent) were from workplaces while 294 (38.5 percent) were from community transmissions.
Another 24 (3.1 percent) were from clusters linked to high-risk groups such as old folks homes.
Previously, the Health Ministry released deaths statistics together with the number of new Covid-19 cases in the evening.
Deaths statistics are now released after midnight along with other more detailed data.