Some 70 farmers in Lembah Bertam, Cameron Highlands have been given until June to vacate illegally occupied land following their appeal to the state government.
Pahang government secretary Sallehuddin Ishak said the farmers were given a slight reprieve after the state government considered their situation.
"They can now farm one more cycle. They have to leave the area before June. If they don't, maka susah lah (it will be difficult)," he said when contacted by Malaysiakini.
Sallehuddin said the state government wasn't trying to deprive anyone of their livelihood but had to clear the riverbanks because of the dangers they pose.
He said the Sungai Bertam was an important source of drinking water which must not be contaminated by farming activities.
The affected Lambah Bertam farmers have been accused of illegally occupying road shoulders and riverbanks. They received a notice on Jan 10 to vacate the land by the Pahang Land and Mines Department.
They were told that they were violating Section 425 of the National Land Code which might land them in jail or be fined.
Yesterday, some 30 farmers had filed an appeal (above) with Pahang Menteri Besar Wan Rosdy Wan Ismail.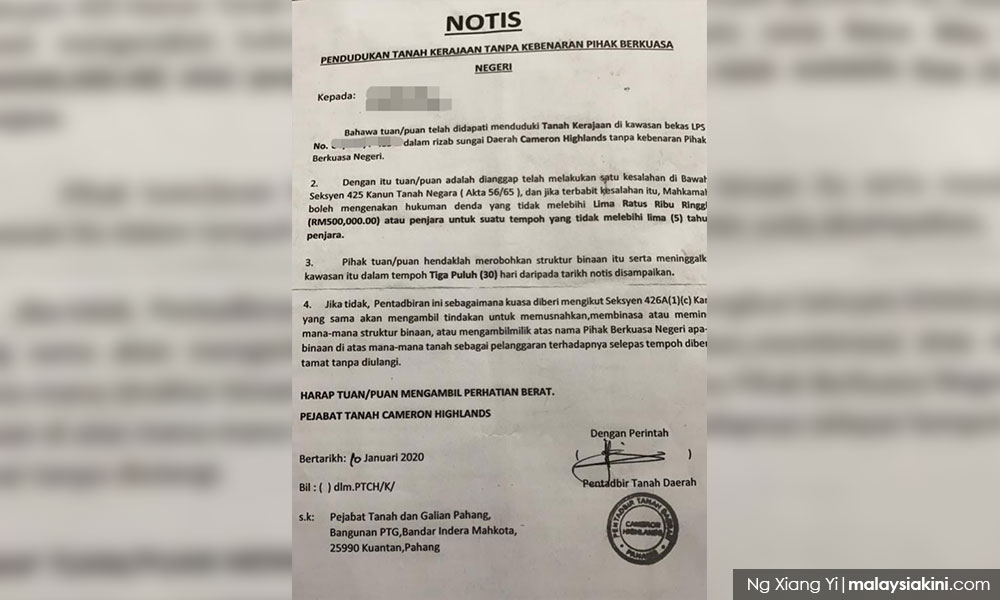 Among others, the farmers requested a six-month delay in enforcement, permission to use land not slated for development and permission to use other plots of land.
Since last year, the Pahang state government has been taking action against farmers for illegal occupation of land in a series of enforcement operations dubbed "Ops Lestari".
Tanah Rata state assemblyperson Chiong Yoke Kong said Sungai Bertam was likely the last location for phase two of Ops Lestari and some 300 families would be affected.
Sallehuddin added the state government had offered 1,018 farmers temporary occupation licenses to farm elsewhere and they could also rent land from the state government.
Among the conditions to renew the leases was to obtain a certificate from Malaysia Good Agriculture Practice (MyGAP).