Foreign Minister Saifuddin Abdullah said the displaying of the wrong Malaysian flag at a basketball match last night is not related to race or politics.
The PKR leader, who is known to be passionate about basketball, said the issue must be investigated and stern action must be taken against those responsible.
"But this is not related to PH (Pakatan Harapan), MCA, Chinese and so forth. The fact is that action must be taken for the mistake (which happened)," he tweeted.
In another tweet, Saifuddin (above), who was responding to netizens who sought to give the issue a racial slant by claiming that basketball is only popular among Chinese Malaysians, said he is confident the authorities would investigate.
"Who is wrong: It does not matter (Chinese, Malays), stern action must be taken," he added.
When another Twitter user roped DAP into the issue, Syahredzan Johan, the political aide to veteran DAP leader Lim Kit Siang, responded: "DAP juga kena (DAP is the one who gets hit)."
This prompted Saifuddin to respond, "That's it. DAP has no link whatsoever to this issue."
Earlier, the minister revealed that the Malaysian Basketball Association (Maba) had hired a private firm and ordered the wrong flag to be removed immediately when the mistake was detected.
Cops probing if it was deliberate or otherwise
Meanwhile, Kuala Lumpur police chief Mazlan Lazim said Maba president Lua Choon Hann, who is also the former Kelantan MCA secretary, has been questioned over the incident this morning.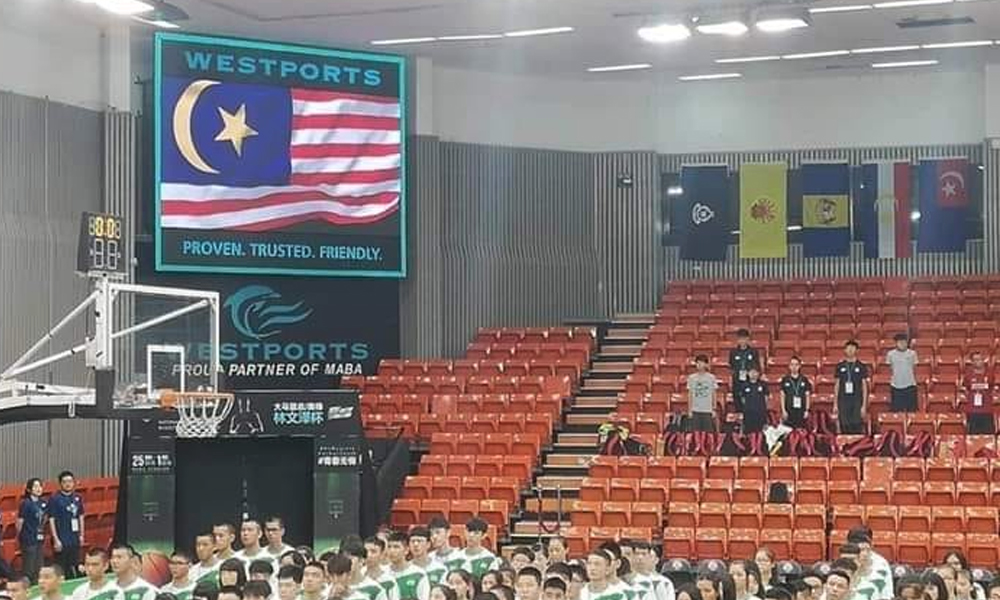 "Lua said the incident was due to the IT contractor. So police have asked Maba to make a police report for further action," he was quoted as saying by Harian Metro.
Mazlan said police would summon the IT contractor for questioning as well.
"Police are investigating if there was any ulterior motive... Investigations will determine if it was done deliberately or otherwise," he added.
During the match last night, a flag with a five-pointed star and 11 red and white stripes was shown on the stadium TV screen as the national anthem was played.
The Jalur Gemilang has a 14-pointed star and 14 red and white stripes that represent the nation's 13 states and the Federal Territories.
A video of the incident has gone viral on social media.
Last night, Maba apologised for the incident in a Facebook posting.
"To all our fellow Malaysians and basketball friends, tonight was the opening ceremony of the 28th MABA Milo Lum Mun Chak Cup (2019).
"During the ceremony, our live broadcast team accidentally displayed the wrong Malaysia flag on our stadium TV screen. We apologise for this mistake, and we take full responsibility for such actions.
"Please forgive us, as we are always striving to grow and develop the sport of basketball in Malaysia," it said.
Meanwhile, Youth and Sports Deputy Minister Steven Sim urged for stern action to be taken.