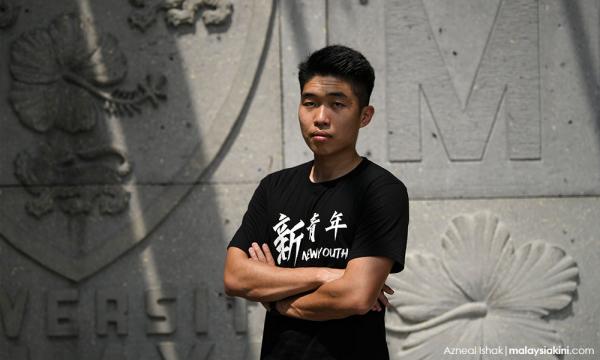 Retract police report against Wong Yan Ke
LETTER | Gabungan Bertindak Malaysia (GBM) is appalled that the administration of Universiti Malaya has chosen to lodge a police report against the action of its graduate, Wong Yan Ke (above), who flashed a placard demanding the resignation of the vice-chancellor during the university's convocation recently.
It should be remembered that the university is more than just about preparing young people for their future through education. It also serves as an institution that nurtures critical thinking and freedom of expression among the young under its care.
Wong Yan Ke's action during the convocation is one of expressing his opinion on the speech given by the vice-chancellor at the recent Malay Dignity Congress. Such action is in conformity with the norm that the university is a bastion of critical thought and freedom of expression. Indeed, student protests during convocations happen in many well-known universities around the world. Such universities do not respond by meting out punitive actions.
As the premier university in Malaysia, the UM administration should not have taken the drastic action of lodging a police report, which reflects badly on the university as it does not adhere to the normal practice of its international peers. UM should have responded by coming up with a statement which addressed the protest raised by Wong Yan Ke.
We live in a time when bad habits of the old regime have been rejected by the people. To quote Education Minister Maslee Malik:
"What does it mean to empower universities? It means that we want universities to be a place of learning, a place where knowledge is explored, uplifted and imparted. Universities are and should be, places that uplift society, be it through values, ideas, or solutions for real-world problems.
"This is why we are committed to bringing back university autonomy as well as to ensure the integrity of academia. I personally believe in the power of individuals - in their creative genius and ability to thrive and be responsible."
GBM calls upon UM to retract its police report and live up to the vision which the minister outlined above in his speech on reforming education in Malaysia.
---
The above is released by Zaid Kamaruddin, chair of GBM on behalf of the following endorsing member Organisations of GBM:
1. All Women's Action Society (Awam)
2. Engage
3. Kuala Lumpur & Selangor Chinese Assembly Hall (KLSCAH)
4. LLG Cultural Development Centre (LLG)
5. Merdeka University Bhd (MUB)
6. Monsoons Malaysia (MM)
7. Muslim Professionals Forum (MPF)
8. Negeri Sembilan Chinese Assembly Hall (NSCAH)
9. Persatuan Penduduk Petaling Jaya (MyPJ)
10. Pusat Komas
11. Saya Anak Bangsa Malaysia (SABM)
12. Suara Rakyat Malaysia (Suaram)
13. Persatuan Aliran Kesedaran Negara (Aliran)
14. Tindak Malaysia
15. University of Malaya Association of New Youth (Umany)
The views expressed here are those of the authors/contributors and do not necessarily represent the views of Malaysiakini.