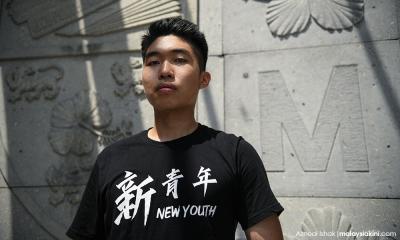 Student activist: I would've protested against Chinese Dignity Congress too
Wong Yan Ke has stressed that he had no intention of targeting a specific race with his protest against Universiti Malaya (UM) vice-chancellor Abdul Rahim Hashim, and that he was merely standing against racism as a Malaysian.
"Even if the university had organised a Chinese or Indian Dignity Congress, I would've fought against that as well," said the former Universiti Malaya Association of New Youth (Umany) chairperson during an interview with Malaysiakini.
Wong lamented that although Malaysia was a multiracial society, people tended to racially profile others over almost any issue.
For example, Wong objected to some people viewing his protest as one of a Chinese going against the Malays, saying that this was wholly not his intention.
On Monday, Wong staged a protest against Rahim by unfurling a placard and yelling, "Tolak rasis. Undur VC. Ini Tanah Malaysia (Reject racism. VC resign. This is Tanah Malaysia)".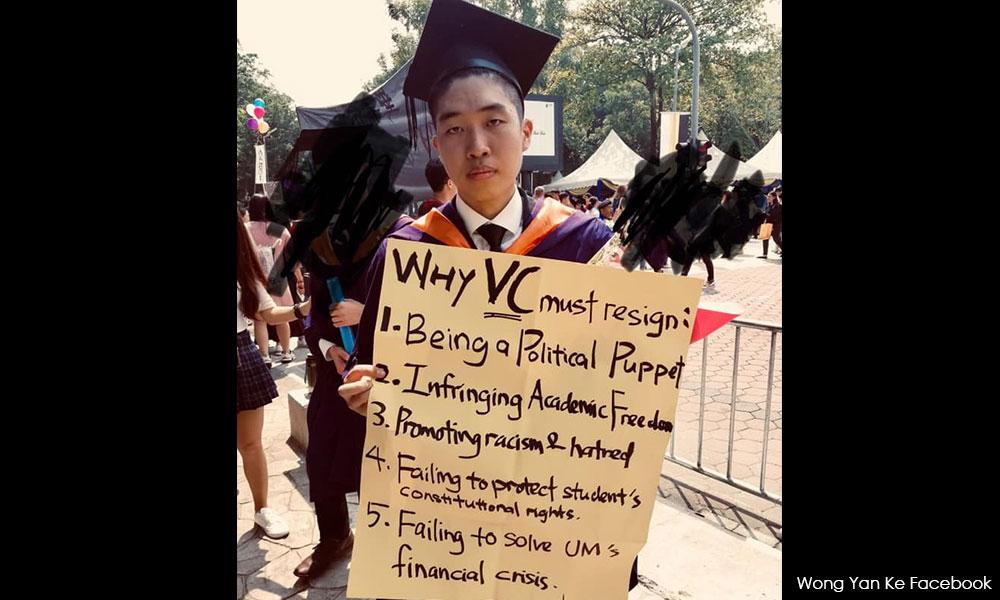 The placard listed reasons why Rahim should step down. At the time, Wong was onstage at UM's convocation ceremony after receiving his scroll.
The protest was aimed at the UM vice-chancellor over his alleged racist speech at the Malay Dignity Congress on Oct 6.
Universal values
For Wong, racial labels represented attempts to criticise the legitimacy of his protest, as detractors were unable to find arguments to refute him.
What he upheld and demanded were universal values of freedom and equality, which were not for personal or racial benefit, the engineering graduate said.
"Furthermore, some Chinese communities said I am the hero of the Chinese. No, I do not want this kind of racial label. What I believe is the universal values, not the racial problems.
"Just think about it. If the Chinese was the majority today, I would still stand up and fight (racism) because I believe in respect and equality.
"If the Chinese community was oppressing the minority, I would stand against it as well.
"But the problem now is, people only support the values which benefit them," Wong said.
For example, he noted a stark contrast in the reaction of the Chinese Malaysian community towards his graduation ceremony protest, with him being seen as "trash", compared to the rally to support the Hong Kong anti-extradition bill movement.
The same phenomenon applied to the Malay community as well, Wong claimed.
"Let's say if I had shouted 'Undur Pakatan Harapan' or 'Ini Tanah Melayu', I believe those Malay cybertroopers would not attack me like they do now. Instead, they might have given me support," Wong said.
Yesterday, Kuala Lumpur police chief Mazlan Lazim said Wong's actions had violated the graduation ceremony's protocols and disrupted proceedings.
He also warned that stern action would be taken if anyone was found threatening public order by touching upon racial or religious sensitivities.
Mazlan confirmed that investigations were being conducted under Section 504 of the Penal Code.
"The police would not compromise and will take stern action in accordance with existing laws against anyone found threatening public order or inciting issues that touch on racial or religious sensitivities in this country," he said.
Meanwhile, the Universiti Malaya Academic Staff Association (PKAUM) said protests by student activists, including Wong, were likely driven by existing dissatisfaction over Rahim's various alleged "misactions".
"The protest itself is likely to be driven by an already unhappy student community due to the many misdemeanours and misactions of the UM vice-chancellor," association secretary Noraishah Mydin Haji Abdul Aziz said in a statement yesterday.
RELATED REPORTS

Mat Hasan: UM student's solo protest a forgivable mistake
UM vows greater care for future events after Dignity Congress brouhaha
Malay rights NGO accuses Kit Siang, Siti Kasim, DAP Youth of targeting UM VC
Ministry engaging both parties to solve UM controversy amicably - Teo
UM staff groups defend VC, condemn student's protest
Student activist: I would've protested against Chinese Dignity Congress too
MCA chief: Gov't must immediately settle UM student protest issue
Graduate's action 'reasonable and within law' - former UM students
Refrain from 'high-handed, vengeful' response to student protest - UM VC told
Convocation protests not proper but no need to revoke degrees: Syed Saddiq
Police investigating UM graduate over protest during graduation ceremony
Student activist 'unfairly' targeted, says UM Academic Staff Association
Pick the right time and place to protest, Dr M tells students
Barred graduate planned to 'disrupt' convocation, UM claims
Now, DAP Youth calls for UM vice-chancellor to resign
Graduation ruckus - UM VC, activist, skip reconciliation meeting
UM thwarts renewed protest attempt against VC
UM denounces graduate's 'VC resign' protest, lodges police report