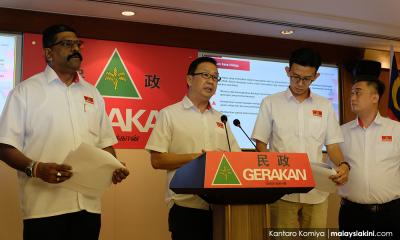 Gerakan mulling to contest in Tg Piai by-election
After sitting out of all eight by-elections held since GE14, Gerakan president Dominic Lau today said the party is seriously considering to contest in the upcoming Tanjung Piai by-election.
Lau said Gerakan's grassroots had urged the party to stand as it remains to be a political party after exiting the BN coalition in June last year.
"Whether we are going to stand or not, we have to go through various stages.
"We have received a lot of feedback from the grassroots who advised us to take part in the Tanjung Piai by-election because we are a political party," said Lau during a press conference at the party's headquarters in Kuala Lumpur today.
"As a political party, if we don't contest then this will be the ninth by-election that we didn't take part.
"That's why Gerakan now should consider seriously to take part," he said, indicating that a final decision on the matter would be made by next week.
Lau said Gerakan's political bureau had met on Saturday and decided in favour of the party fielding a candidate in Tanjung Piai.
"But then a few issues need to be settled first," he said, adding that the party will seek input from its grassroots particularly in Tanjung Piai and neighbouring Pontian parliament seats.
"If we decide to take part, a by-election taskforce will be set-up," he explained when quizzed on if Gerakan had identified potential candidates to be fielded in the seat.
The seat fell vacant following the death of its incumbent Mohamed Farik Md Rafik from Bersatu.
Amid Umno's clamouring to contest in Tanjung Piai, MIC president SA Vigneswaran reportedly insisted yesterday that MCA should be retained to contest the seat under the BN ticket.
The Tanjung Piai seat traditionally saw contests between MCA and DAP since its creation, but DAP had stepped aside for Bersatu to contest instead in the 14th general election.
Pakatan Harapan chairperson Dr Mahathir Mohamad had indicated that the coalition would field a candidate from Bersatu in the by-election on Nov 16.
On Oct 5, Umno president Ahmad Zahid Hamidi reportedly hinted that Umno may contest the seat.
The Election Commission has announced that the by-election will be held on Nov 16, while nomination day would fall on Nov 2 and early voting is on Nov 12.