After Nga, police to record statement from Najib over alleged royal insult
Police will summon former prime minister Najib Abdul Razak following a report filed against him by the secretary of Perak DAP chief Nga Kor Ming over an alleged fake online posting.
Bukit Aman CID D5 (Prosecution and Legal Division) principal assistant director Mior Faridalathrash Wahid said that the Pekan MP will be summoned in the near future.
"Yes, we will record his statement [...] it will be done in the near future but we haven't set a date yet," he told Malaysiakini.
Nga's senior private secretary, Tan Tiong Yih, lodged the report at the Ipoh district police headquarters last week against Najib for accusations he made against Nga.
He was referring to a posting on a Facebook page called "Nga Kor Ming Super Fans Page" which was deemed to be insulting to Selangor ruler Sultan Sharafuddin Idris Shah.
Earlier today, Nga spent almost two hours at Bukit Aman having his statement recorded over the alleged insulting remark on the Facebook page concerned.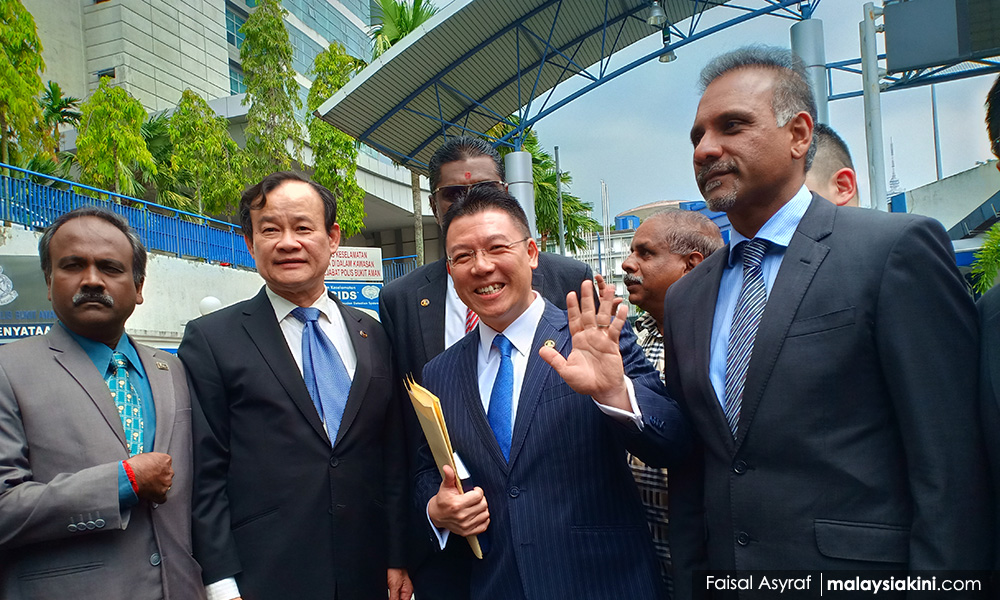 Mior said that Nga came as a witness but the statement recording session was cut short as Nga had to attend to his duties at Parliament for which he is deputy speaker.
Nga is expected to be summoned again in connection to the case to Bukit Aman in the near future, said Mior.
Speaking to the media (above) before leaving Bukit Aman, Nga urged the police to probe Najib's Facebook page over "fake news with the attempt to slander."
Najib had pointed out Nga's alleged remark via his Facebook page "Najib Razak".
Nga, the Teluk Intan MP, said there was a political conspiracy to tarnish his good name and that of DAP.