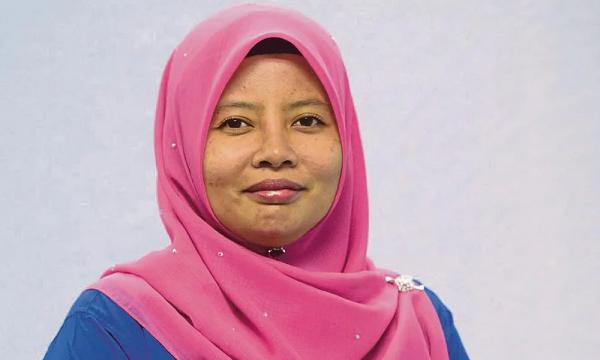 Yoursay: Calling Penang attacker a martyr is akin to supporting terrorism
YOURSAY | 'Nurul Amal is voicing support for an attack against non-Muslims by a lone wolf terrorist.'
Umno leader links Penang shooting to religious insults despite IGP's warning
Beman: "Yesterday a martyr was laid to rest. Sheikh Mohd Khairil was shot because he went amok in front of two kafirs who insulted the Prophet Muhammad," Puteri Umno vice-chief Nurul Amal Mohd Fauzi said in Kubang Kerian, Kelantan.
Such a statement can be nothing else than to create disharmony and unrest in the country. Indeed, the police have to do their job to investigate her.
Anon2: This Umno leader is behaving true to her organisation - when not looting, she is voicing support for an attack against non-Muslims by an Islamic lone wolf terrorist, who killed one and injured another.
Umno will do anything to win the next election to continue their looting ways. And they are still supported by many. Why is she not arrested for supporting terrorism?
Anonymous_1544340881: Pity the victim. We know nothing of her. Off to work on a normal day and never to return.
Was she a mother? Who is to answer to her children? A daughter? Who is to answer to her parents? A wife? Who is to answer to her husband? A sister? Who is to answer to her siblings?
There were no words of sympathy for the victim. Worse, a statement implicit that she deserved to die as she is a "kafir". No respect even for the dead from a Malay Muslim leader preaching in a mosque.
How can they claim that they are trustworthy, that non-Muslims should have no fear? How can they claim they have all Malaysian interests at heart?
They hurl allegations that others like the DAP are racists and extremists, yet how can anyone trust Umno/PAS where their leaders trumpet such hateful and hurtful statements and their leaders stay silent?
How can reasonable people trust them when they do not seem to have any shred of compassion or good sense?
Instead, Mr IGP (Inspector-General of Police Abdul Hamid Bador), please investigate her and all her ilk. This is clearly Islamic State (IS) inspired talk, worse still coming from a "leader" of a major party. To suggest that the extrajudicial killing of others on spurious grounds is exactly the type of speech one hears from IS propaganda.
There is no point arresting them when they plan to bomb. Those who incite others to do so in plain sight are more dangerous. People like her must be arrested. No ifs, no buts.
Please spare us another "last warning". The only warning is beware a society where people no longer respect the rule of law. It is chaos. I can assure you that Malaysia will not be a happy place should that occur.
Kee Thuan Chye: Yes, no two ways about it. It's very clear that Hamid Bador must arrest Nurul Amal. She appears to be spreading allegedly false information. And it looks like she did it for political purposes, especially since she was speaking in Kelantan.
To say what she did was an act of mischief is putting it mildly. It looks more like an attempt to arouse feelings of hate. And that is dangerous.
Newday: That is a big problem. The Malay portals go off half or even quarter cocked based on a dodgy bit of hearsay and this is the end result.
Many of these Malay portals want to find wrong, want to be insulted. As a result, they manufacture offence, they manufacture hatred. Most of all, they manufacture much bulldust that is extremely harmful to the rest not of the same 'want to be offended' persuasion.
FairMalaysian: This is the kind of people Umno has spawned and now in its desperate hour has upped such extremist views. There is nothing moderate about Umno and PAS.
All it takes is a police report if there has been anyone insulting Islam. It is against the law. Then let the police do their job. This woman, by her statement, is instigating and is challenging the police to take action.
FreeSarawak: Umno's only way to garner support is to create a problem and pretend to be defenders of the faith and race. Unfortunately, this appears to be working because Pakatan Harapan lacks a comprehensive communication strategy or apparatus.
The first thing an attacking force does is to capture the TV and radio stations to broadcast their propaganda. Harapan, having no recourse to such massive apparatus, does not have an inkling on how to get their message through.
They are winking in the dark and wondering why nobody is bothered or cares.
IGP: If deceased a martyr, are my men infidels?
Anonymous_1544340881: I have read the IGP's statement. I have to say that the IGP does talk the good talk (which is more than I can say for the deafening silence from PAS and Umno leaders), but the issue is whether the PDRM (Royal Malaysian Police) can walk the good walk too.
You can perhaps forgive our scepticism, since despite constant provocative speeches by PAS, Umno and their proxies, as far as I can tell have seen any meaningful action, unlike the Sarawakian with a history of mental problems insulting Islam getting a 10-year sentence (reduced to five years on appeal).
We have a person with limited influence with a history of mental illness being dealt with expeditiously, surely a leader of a major political party should be dealt with as expeditiously and decisively if not more so? Correct?
Malaysianmalaysian: "I view the matter seriously because if the man died a martyr, then how about my men who shot him, are they kafir (infidels)?" Hamid Bador was quoted as saying by Bernama.
Salute the IGP, good question. I hope people think before they make and/or believe statements like this. Also please deal with these miscreants.
Anonymous_b3cdcd05: Nurul Amal's rhetoric is an open challenge to the integrity of the PDRM. The ball is in the IGP's court. Is the IGP up to it?
Will he be prepared to rein her in and make a martyr of her? Or is there a different set of rules for the Umno elites?
Openmind: Mr IGP, please make sure these irresponsible people are appropriately reprimanded accordingly. Hopefully, this will help to reduce the incidence of politicians harping on racial sentiments to gain support.
---
The above is a selection of comments posted by Malaysiakini subscribers. Only paying subscribers can post comments. Over the past one year, Malaysiakinians have posted over 100,000 comments. Join the Malaysiakini community and help set the news agenda. Subscribe now.
These comments are compiled to reflect the views of Malaysiakini subscribers on matters of public interest. Malaysiakini does not intend to represent these views as fact.