There is a stark difference between the real-life and social media versions of Malaysia, according to Lim Kit Siang.
However, he warned that there is now a highly-funded campaign to ensure that both versions resemble each other.
The perception on social media, he said, is that the nation is teetering on the verge of violent race and religious conflagration.
"But this is completely different from the real-life Malaysia, where instead of inter-racial and inter-religious animosity, distrust, fear and hatred, there is only goodwill, amity, understanding, tolerance and harmony among Malaysians, whether Malays, Chinese or Indians, Kadazans or Dayaks.
"There is however a rub. A highly-funded social media campaign is clearly afoot to ensure that real-life Malaysia... deteriorates to resemble social media Malaysia...," he added in a media statement this afternoon.
An example of this campaign, he said, was the recent flooding of the social media with the fake news about the desecration of the national flag by Chinese Malaysians.
He said this was done with the aim of creating alarm, distrust, fear and hate among the Malays.
"A picture of a Chinese-looking man burning the Malaysian flag which had taken the social media by storm was actually from a 2013 incident in Manila where a former Filipino police officer burned the Malaysian flag to protest against the then–Philippines president Benigno Aquino's handling of the Sabah issue.
"At that time, even the Umno secretary-general Annuar Musa mischievously exploited the situation...
"I dare say that there is not a single Malaysian Chinese who will deliberately dishonour the national flag as flying it up upside down or other despicable acts," he added.
Reiterating the need to deactivate what he had described as "time bombs to nation-building", Lim cited how Puteri Umno vice-chief Nurul Amal Mohd Fauzi (photo) planted another explosive during a ceramah in Kelantan last night.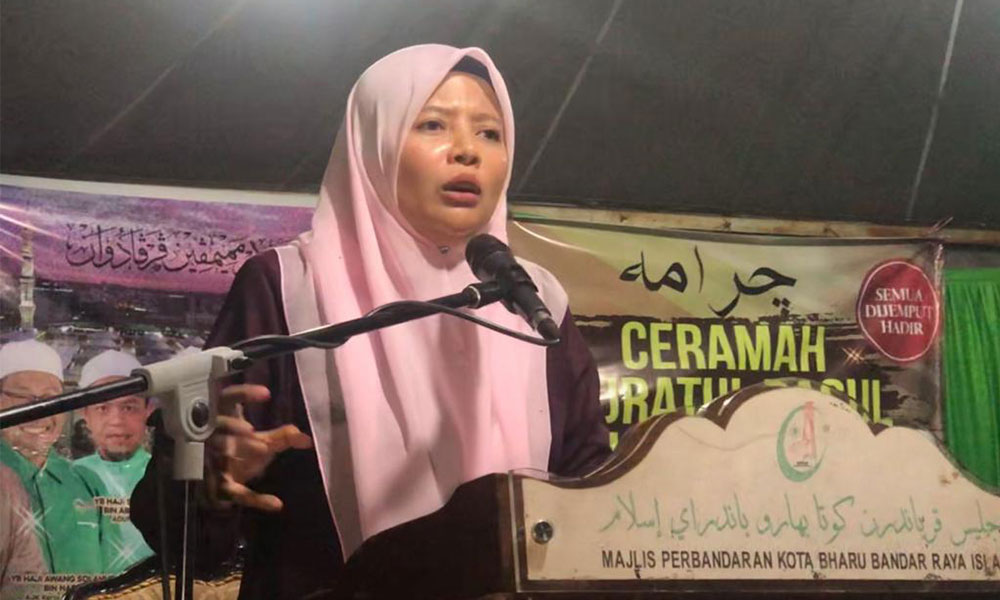 She had repeated allegations on social media that the man whom police shot in Penang had gone amok after two people allegedly insulted the Prophet Muhammad.
Meanwhile, Lim also repeated his earlier call on Sarawak youths, who would be voting in the next state election, to save Malaysia.
The 78-year-old politician said his previous answer to the questions whether Malaysia had not been saved in the historic 14th general election and why was it necessary to save Malaysia from a disastrous fate once again, was not sufficiently understood, realised or appreciated by Malaysians.
"The answer is yes, Malaysia was saved from the trajectory towards a divided, failed, rogue and kleptocratic state but the mission of a New Malaysia where the country becomes a top world-class nation of unity, freedom, justice, excellence and integrity cannot be accomplished within one general election cycle but is a long-term struggle lasting a decade or more..
"There are people who want to wipe out the historic and miraculous decision of May 9, 2018 and restore the country into the hands of those who preach an alliance of klepto-theocracy, through the untrammelled spread of fake news and hate speech to incite inter-racial and inter-religious polarisation and conflict...
"If Malaysians miss the present opportunity to reform Malaysia from a kleptocratic state to become a top world-class nation of unity, justice, freedom, excellence and integrity, there would not be a second chance again," he added.