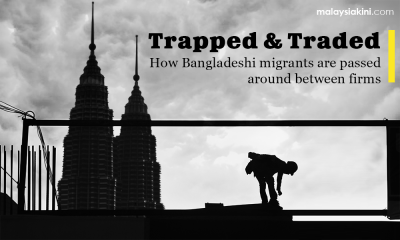 Exposed - 'trade' in Bangladeshi workers, slave-like work conditions
SPECIAL REPORT | Bangladeshi workers are passed around from employer to employer without their consent in a trade that places them in slave-like conditions despite seemingly tight regulations, investigations by Bangladeshi media Kaler Kantho and Malaysiakini have discovered.
Interviews with more than 100 workers, agents and companies have unearthed the existence of a scheme which ensnares the workers the moment they get off the plane at KLIA.
The workers are recruited by Bangladeshi labour recruitment firms and sign contracts with companies in Malaysia that are to be their employers.
However, when they arrive, they find themselves passed on to third parties, including unregulated brokers, who supply them to other firms, the investigations found.
This makes them extremely vulnerable as they could be arrested in Immigration Department raids and deported because migrant workers are only allowed to work for the employer stated in their work permits.
It also means the workers, who are mostly illiterate in Bahasa Malaysia, have no recourse but to abscond in the event of exploitation by the third-party firms that procured them.
The co-director of migrant workers rights group Tenaganita, Aegile Fernandez (photo), said that these workers are often passed on for a profit.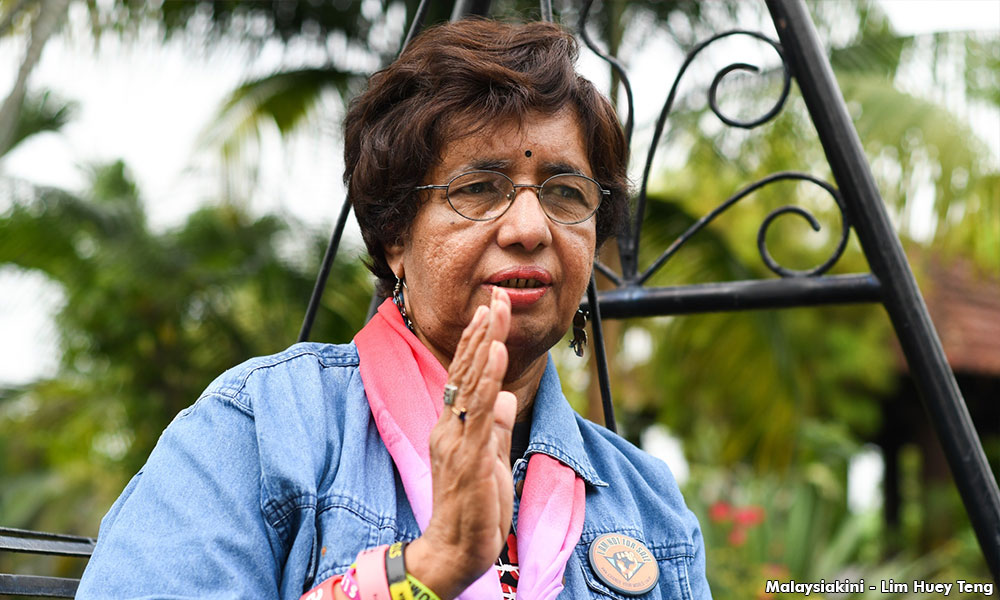 "Deductions are made to the workers' salaries for this purpose," Aegile told Malaysiakini, adding this was based on Tenaganita's experience in handling such cases.
"This is common for workers at supermarkets or the smaller industries. They are all working there but their permit is for some other company."
From the construction site to a supermarket
One worker caught in such a scheme was Anwar Hossain, who fled his workers' dormitory after seven days.
Anwar arrived in Malaysia under the government-to-government arrangement (G2G Plus) negotiated between Malaysia and Bangladesh.
His employment contract was with Pembinaan NKZ Sdn Bhd (PNKZ), a Terengganu-registered firm operating in the construction and maintenance sector.
But at the airport, he was met by two people claiming to be supervisors of Gold Mine Trading Sdn Bhd, a general trading and cleaning company.
Anwar was one of 94 who signed contracts with PNKZ, and he claimed that nearly half eventually fled and became undocumented migrants with their passports held by Gold Mine.
"When I came to Malaysia, I thought that I would have a nice room, a good salary and good food.
"But within just seven days, I dreaded my decision to ever come here," said Anwar, one of eight workers registered to work with PNKZ who spoke to Kaler Kantho.
Among the companies which are supplied Bangladeshi labour by Gold Mine is a popular wholesale supermarket chain.
Kaler Kantho and Malaysiakini sighted payslips belonging to one Bangladeshi worker supplied by Gold Mine to a Johor outlet of this supermarket chain.
The payslip was issued by Gold Mine, but the place of work was listed as that of the supermarket chain.
However, the employment visa sticker on this worker's passport showed that he is registered to work with PNKZ.
The payslip also showed that deductions were made for items like hostel accommodation. Photographs of the hostel showed four workers sleeping on bare mattresses on the floor of a dingy room.
There were also other deductions labelled "advance," with total deductions amounting to RM900.
Various workers interviewed by Kaler Kantho have complained that these deductions were made under the guise of "loan payments" or "advances", even though they had not taken any loans or advances from the firm.
'It's all legitimate'
When contacted, PNKZ director Syahidah Muhamad said Gold Mine was the firm's subcontractor and she claimed that it was completely legitimate for PNKZ workers to be sent to work there instead.
"We hired a lot of workers and passed them to the subcontractor (Gold Mine)," she said, stopping short of saying if the workers were sold.
"The workers who came, they thought that they would receive a fixed income. They want a basic salary," she explained.
"When they do construction work, when it rains, they don't work. But the workers want to get paid although they don't work," said Syahidah who claimed to be unaware of the terms agreed between the workers and their agents in Bangladesh.
Even so, this does not explain why a construction worker was placed in a supermarket instead.
When Malaysiakini visited Gold Mine's office in Bandar Menjalara, Kuala Lumpur, last month, the firm's manager, who declined to be named, confirmed that PNKZ had supplied the workers to Gold Mine because it did not have enough work for them.
Gold Mine also said that its lawyer will respond to Malaysiakini's questions, but no reply has been received as of publication time.
Syahidah, meanwhile, said she was not aware that Gold Mine had then supplied PNKZ workers to a supermarket.
PNKZ workers were also found at the Johor plant of oleochemical company MiE Industrial Sdn Bhd.
When asked, Syahidah said she also had no knowledge of this, and believed that these were among the 62 Bangladeshi workers registered to PKNZ who had fled.
She added the firm had reason to believe the workers had entered Malaysia with the intention to abscond.
"They have people waiting for them here, such as their brothers. They then use PNKZ to enter (Malaysia)," she told Malaysiakini.
Contrary to Syahidah's denial, an MiE Industrial representative said it is believed that PNKZ could be linked to one of its sub-contractors.
The representative said all workers onsite were issued MiE jackets and passes.
"The passes to enter the site are commonly issued to the workers under the name of the main contractor, which is a project requirement.
"Additionally they wear the main contractor's jackets, for example, 'MiE' rather than their own employer's apparel. This helps with security onsite," the MiE spokesperson said in an email to Malaysiakini.
Immigration: It's illegal
A source from the Human Resources Ministry told Malaysiakini that the Labour Department had encountered many cases of workers being "exploited" by employers who passed them along to another employer for a profit.
"When the workers need to renew their permit, they will return to the original employer. This happens and we encountered many such cases," the source said.
But passing workers around can be legal if the two companies have a binding contract, he noted.
"If the worker is stated as being employed by Company A but was sent to Company B because Company A and Company B have a commercial transaction, that is okay," he said.
For example, the source said, laundry workers at a hotel may not be employees of the hotel but of the laundry contractor.
It is within these grey areas that exploitation often occurs.
It is not clear if PNKZ has profited from passing on its workers to Gold Mine, but workers interviewed by Kaler Kantho believe they have been defrauded.
The Anti-Trafficking in Persons and Anti-Smuggling of Migrants Act 2007 includes fraud as a means of human trafficking.
If found guilty, an offender can be jailed for between three and 20 years and fined.
Those found guilty of profiting from the exploitation of a trafficked person can be jailed for up to 15 years, and fined up to RM1 million.
Immigration Department director-general Khairul Dzaimee Daud said it is illegal for any company to hire out or pass on its foreign documented workers to another firm.
Khairul also urged those with information on this to come forward so that the department can conduct inspections on errant firms.
(Editor's Note: This article has been corrected to show a worker was supplied to a Johor outlet of a supermarket chain and not a Kuala Lumpur one as earlier reported.)
Alyaa Alhadjri, Faisal Asyraf and Aidila Razak of Malaysiakini and Haider Ali of Kaler Kantho contributed to this report.
---
TRAPPED AND TRADED
Part 1: Exposed - 'trade' in Bangladeshi workers, slave-like work conditions

Part 2: At RM4,000 a head, Bangladeshi workers juicy prey for brokers
Part 3: Every day two Bangladeshi workers die every day
Part 4: Migrant workers forced to live in jungle shacks after fleeing exploitation
Photo essay: Trapped and traded: The story of exploited Bangladeshi workers