MP SPEAKS | The Yang di-Pertuan Agong Sultan Abdullah Sultan Ahmad Shah, in his birthday message, has reinforced my challenge yesterday to youths to prove to the world that Malaysia is a successful example of an alliance of civilisations, and not a failure from the clash of civilisations.
In his message, the Agong called on Malaysians to stand tall as a nation that transcends all differences to create lasting unity and togetherness. He said that to create such an atmosphere, the people and leaders at all levels should not just do nothing and yet dream of achieving success.
On the contrary, the Agong added, concerted efforts should be taken to break down elements that would hinder unity.
"The fact is that it is not an easy task to manage the divisions and differences that exist in a country. This is due to the fact that every single thing will tend to be viewed and interpreted from different angles," he said.
As such, ever since taking his oath as the 16th Agong on Jan 31, Sultan Abdullah has travelled to every corner of the country to stay close to all Malaysians regardless of differences.
In his message, he invited leaders from all walks of life to put aside their differences to serve the people in efforts to establish a harmonious and united society.
'Shake the world'
With the amendment of the Federal Constitution lowering the voting age to 18, youths in Malaysia are reminded of Sukarno's famous quote: "Give me 10 young men, I'll shake the world."
All the leaders of today started young. Prime Minister Dr Mahathir Mohamad, PKR president Anwar Ibrahim and DAP secretary-general Lim Guan Eng started their political activism in their teens. Guan Eng became the president of the Monash University Malaysian Students Union before he was 20.
Bersatu president Muhyiddin Yassin and Amanah president Mohamad Sabu, both started their political activism when they were 21.
I remember that in early 1955, when I was 14, I cycled from Batu Pahat to Malacca for an overnight expedition with two of my classmates, the subject which dominated our conversation during the trip was the seminal Afro-Asian Conference in Bandung, which brought together for the first time leaders like Sukarno of Indonesia, Zhou Enlai of China, Jawaharlal Nehru of India, U Nu of Burma and Gamal Abdel Nasser of Egypt.
I started and edited the Form II, II and IV class magazines in my high school between the ages of 15 and 17, and became editor of the school magazine, The Pilot, when I was 18.
In 1962, at the age of 21, I became secretary-general of the Singapore National Union of Journalists. In December 1965, when I was 24, against the advice of my family and friends, I took the plunge into full-time in politics to establish DAP.
In 1969, at the age of 28, I was elected MP for Bandar Melaka, followed by my first detention under the Internal Security Act 1960 a week later. I first became opposition leader in Parliament when I was 31.
I refer to these episodes to illustrate that youths do have the ability and energy to "shake the world" if they apply themselves with dedication and commitment to improving the lot of their fellow citizens, the nation and the world.
Yesterday, I issued two challenges to Malaysian youths – to prove to the world that Malaysia is a successful example of the alliance of civilisations, as well as to spearhead a national campaign to clean up social media by combating fake news and hate speech which incites interracial and interreligious suspicion, fear and hatred.
Today, I wish to issue a further challenge – to promote social media literacy, particularly among youths, so that they can become informed citizens and critical thinkers who can detect lies, half-truths and falsehoods.
Fact from fiction
We are in the age of the Internet and social media, which are pervasive in everyone's lives.
Unfortunately, it has become increasingly difficult for everyone to appropriately address the digital challenges, as the new media can easily present lies, falsehoods, fake news and hate speech with explosive speed.
To acquire social media literacy, Malaysians must become engaged and informed citizens, and need to become critical thinkers and active creators of content, rather than passive consumers of online content and technology.
They must be able to distinguish fact and truth from lies, half-truths and falsehoods on the Internet, in particular, fake news and hate speech.
A good example is furnished by Gerakan leaders, who accused me of "showing my true colours" by advocating the introduction of Jawi for Chinese and Tamil primary schools. I was also accused of going back on what I said about Jawi in 1984.
With social media literacy, a reader would be able to check whether what Gerakan is saying is true or false. They will find that Gerakan (as well as MCA ) are telling lies on both counts – that I have not advocated the introduction of Jawi for Chinese and Tamil primary schools, and that I had not gone back on what I had said about Jawi.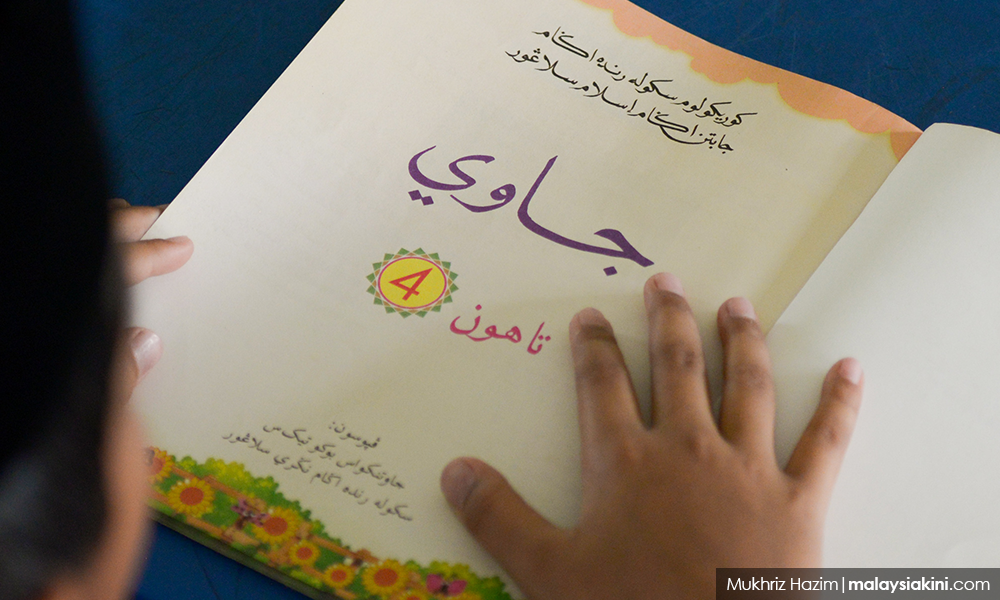 Three weeks ago, I had expressed shock that after a month of controversy over Jawi in Chinese and Primary schools, 95 percent of Chinese and Indian Malaysians were still not aware that there has been Jawi in the Standard Five Bahasa Malaysia textbook for many years.
Most also don't know that the revised curriculum to introduce Jawi in Standard Four was decided by MCA, Gerakan, MIC, SUPP and Umno Ministers in September 2015.
It is this ignorance that the MCA and Gerakan leaders are trying to exploit while condemning the introduction of Jawi lessons, although this decision was taken by their ministers four years ago to be implemented yearly in the revised textbooks from 2017 to 2022.
The Jawi lessons controversy was a legacy of the former government. The final decision on Jawi lessons in the new Standard Four textbooks was made at an Education Ministry Curriculum Committee meeting on Sep 21, 2015, chaired by the then-minister Mahdzir Khalid and attended by his then-deputies, Chong Sin Woon of MCA and P Kamalanathan of MIC.
After that, it became an administrative matter for the relevant divisions to implement the policy decision.
If there had been no change of government in the 14th general election, the implementation of the Education Ministry decision on new curriculum in Sept 2015 would probably result in 'three wants' in the new textbooks for Chinese and Tamil Standard Four pupils – want to be compulsory, want to have examination and want students to learn to read and write Jawi.
Now, the 'three wants' have become 'three nos' – no compulsion, no examination and no learning/writing of Jawi, but only an introduction.
These are the facts and background information of the Jawi controversy which Gerakan and MCA leaders are hiding from Malaysians. How did I renege on what I said about Jawi in 1984?
My statement is easily available online, and if Gerakan and MCA leaders do not understand what I said in 1984, which had the heading 'Education Ministry's regulation that Jawi is a compulsory subject violates Article 152 of Malaysian Constitution', I am prepared to give the Gerakan and MCA Presidents free tuition on how to understand simple statements.
It is no wonder that Gerakan president Dominic Lau was trounced by an independent novice and a law student P Prabakaran for Batu in GE14 to become the country's youngest MP at the age of 22.
Do you want free tuition on how to understand simple statements, Lau?
---
LIM KIT SIANG is the MP for Iskandar Puteri.
The views expressed here are those of the author/contributor and do not necessarily represent the views of Malaysiakini.