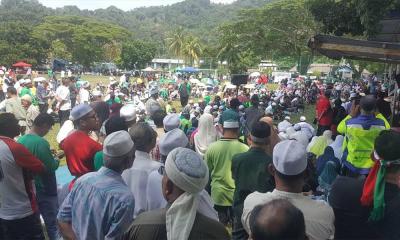 3,000 brave heat, haze to protest Penang reclamation project
Around 3,000 people have braved the hot weather and haze to gather in protest against the Penang South Reclamation (PSR) project.
Organised by Gerakan Pembela Ummah, the crowd of mostly PAS members, clad in their trademark green T-shirts, began streaming onto the football field in Bayan Lepas before 1pm.
Local Ummah leaders at the rally include Penang PAS chief Fauzi Yusof and state Umno chief such Musa Sheikh Fadzir.
PAS central committee member Nasruddin Hassan is also expected to make an appearance at the event, which Ummah expects to draw a crowd of 5,000.
The "Save Malaysia, Reject PSR" protest is slated to run until 5pm, with political leaders speaking from 2pm onwards.
The emcee warned participants that they will not tolerate any provocation.
"We will hand over whoever attempt to do so to the police," he said.
Yesterday, Penang exco Dr Afif Bahardin cautioned participants to avoid playing up issues of race and religion during the protest.
He nevertheless wished them a peaceful, calm and organised rally, saying that citizens are encouraged to speak up about their grievances.
Spanning 1,820ha, the PSR involves the creation of three artificial islands, which will be developed and partly sold to cover costs for the Penang Transport Master Plan (PTMP).
The project was approved by the Environment Department with 72 conditions.
Fisherfolk, however, are calling for the PSR to be scrapped entirely, saying that their livelihoods will be affected by reclamation works.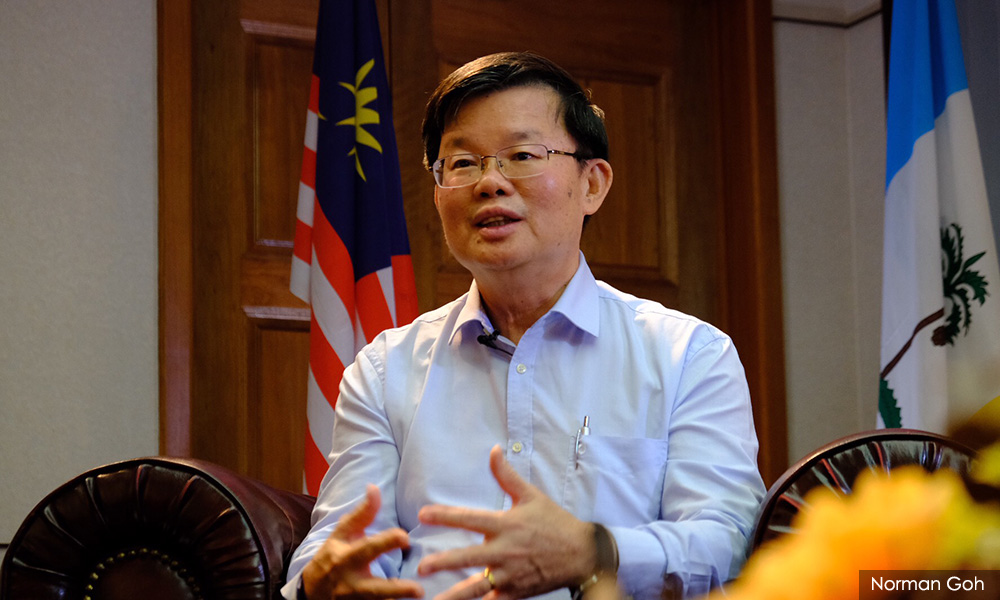 Penang Chief Minister Chow Kon Yeow (photo) previously formed a task force to negotiate ex gratia payments to these fisherfolk.
During a press conference after the ceramah, Penang Ummah chairperson Mohd Akhir Che Mat said the movement do not reject development.
"We do not reject the Penang Transport Master Plan but we want the project to be reviewed.
"We hope there is a space for discussion between us and the state excos, including the chief minister and deputy chief ministers," he added.
Akhir said if the group is not treated nicely by the authorities, they will march to Parliament again.
"We want to raise the issue again as about 5,000 fisherfolks are affected by the project. We will submit again our petition to Prime Minister Dr Mahathir Mohamad to urge the project be cancelled," he stressed.