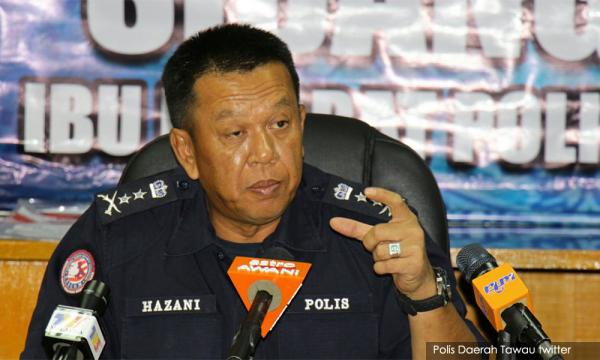 We're wary and ready for any Abu Sayyaf threat, says Esscom commander
The Eastern Sabah Security Command (Esscom) is always wary and ready to tackle any form of threats from the Abu Sayyaf in the waters of Eastern Sabah Security Command (Esszone).
Esscom commander Hazani Ghazali said that so far no movement from the Abu Sayyaf criminal group had been detected and that Esscom would continue to be ready and wary of the group.
"ESSCom will always be wary on any criminal threat from the Abu Sayyaf terrorist group especially from the waters in the east coast of Sabah," he told Bernama today.
He was asked to comment on the notification issued by the Consulate General of the Republic of Indonesia (KJRI) which became viral since this morning saying that three groups of the Abu Sayyaf movement were reported to have made movements in the Eastern Sabah waters on Aug 30.
The group aimed to carry out kidnappings and was targeting several ships namely Kapal Batubara, Kapal Tanker, Nelayan Kapal Lengkong and Kapal Tarik Udang.
The KJRI notification letter is believed to be sent to Indonesian nationals working as fishermen and crew members of ships so that they would be wary when sailing or passing through the waters targeted by the Abu Sayyaf terrorists.
The letter stated several places or regions targeted by the terrorists namely Bakongan, Berhala, Sandakan, Mamiang, Tambisan and Taganak.
Hazani said Esscom was also aware of the letter which was viralled and had contacted the Philippine security forces to track down the movement of the group.

- Bernama