MP SPEAKS | I am shocked and surprised that some opposition leaders who were formerly in government are defying royal advice about fake news and hate speech and are totally reckless about jeopardising national unity in Malaysia.
I would advise these opposition leaders to repent, heed the advice of the rulers, and play their part to curb the fake news and hate speech dominating social media.
Sultan Nazrin Shah of Perak, for instance, said that after 62 years of achieving independence, the act of instilling hatred among the races and religions was being committed more often.
He expressed his concern that the political climate in the country after the 14th general election was hotting up through acts carried out by political leaders.
Sultan Nazrin (photo) said various extreme provocations were being made, including disseminating slander through social media and insulting Islam and the other religions in the country.
He warned that such acts were like setting up time bombs, which were waiting for the right time to explode.
'Emotions play a bigger role in influencing people'
The Perak ruler said that the true facts and authenticity of the news concerned are not important, since emotions play a bigger role in influencing people.
Describing such situations as "very unhealthy," and placing the nation in a dangerous and worrying situation, Sultan Nazrin stressed that the majority of Malaysians love peace and are becoming "more restless and fearful."
He said the heated climate must be immediately brought down, and the acts of sowing enmity among the religions must be stopped without delay.
Sultan Sharafuddin Idris Shah of Selangor also reminded Malaysians not to easily believe fake and slanderous news on the social media that can jeopardise the country's peace and security.
He said every citizen should have a responsibility to avoid any form of conflict and disunity arising from negative elements of some parties, aimed at destroying the nation's unity that had been built over the years.
In conjunction with National Day celebrations, Sultan Sharafuddin (photo) also advised Malaysians to "practice tolerance and strive to understand each other, and at the same time, celebrate the differences in customs, culture and religion so we can continue to live in an atmosphere of independence in the real meaning of the word."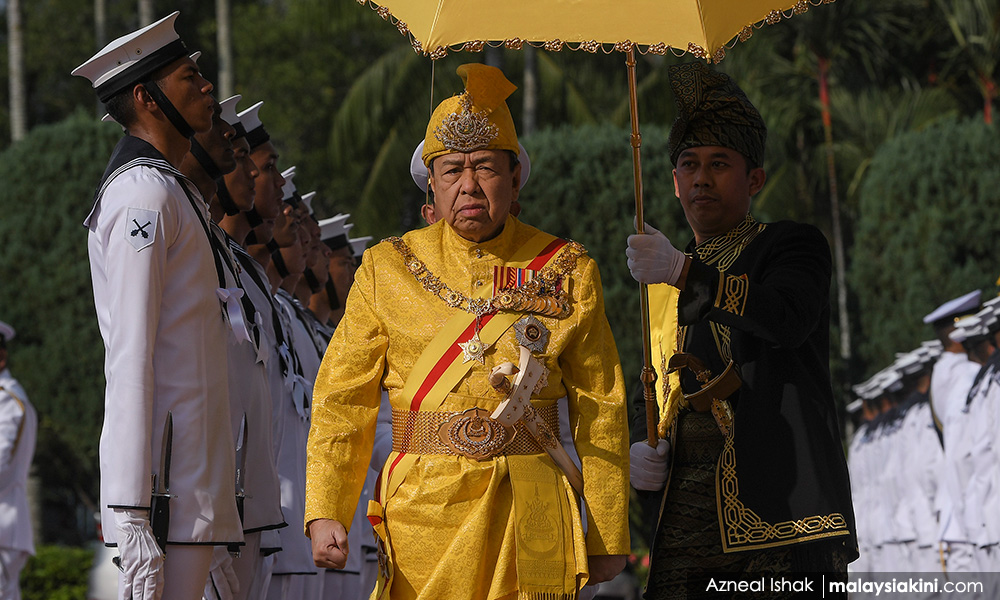 Will opposition leaders, especially those who were former government leaders, respond patriotically to these royal calls and support strong actions against fake news and hate speech? 
Especially fake news designed to incite suspicion, doubt, distrust and hatred among the different communities, so as to generate the baseless fear that each community is facing an existential threat with regard to its ethnicity, rights, religion and culture?
A former important personality of the previous government, whom I met at the Subang Airport while waiting for my flight yesterday, agreed with me that fake news and hate speech must be curbed if Malaysia is not to become a failed and rogue state.
Will opposition leaders prove that they are decent and patriotic Malaysians by responding positively to these royal calls, even if it means breaking from others who are only interested in a launching a movement for a klepto-theocracy in Malaysia, using fake news and hate speech to pit race against race, religion against religion?
---
LIM KIT SIANG is the MP for Iskandar Puteri.
The views expressed here are those of the author/contributor and do not necessarily represent the views of Malaysiakini.