MP SPEAKS | The double celebrations for National Day and Malaysia Day should inculcate among Malaysians a sense of confidence for the future that Malaysia is finally on the trajectory to becoming a top world-class nation of unity, freedom, justice, excellence and integrity.
This is the occasion to inspire us that Malaysia, the confluence of four great civilisations in the world – Islamic, Chinese, Indian and Western – will be the showcase to the world and prove wrong the prophets of doom who had forecast a clash of civilisations as the theme of the 21st century.
But it has been a bad month for Pakatan Harapan government in Putrajaya, as the combination of a quartet of issues – a videotape, Jawi writing in Chinese and Tamil primary schools, Dr Zakir Naik and Lynas – combined to give the impression that it is on the ropes.
This was until the gangrenous Umno president Ahmad Zahid Hamidi talked about the nonexistent "political gangrene" in Harapan, which provided light relief in a month of heavy adverse publicity for the coalition.
"Political gangrene"? Who suffered from it?
If not Umno and BN, why were they booted out of power in the 14th general election on May 9, 2018, although the then-prime minister and BN chairperson had expected not only to regain the mandate to govern, but to recapture two-thirds parliamentary support?
If not for "political gangrene," why was there not a single cabinet minister or BN leader who had expected to lose power in GE14?
If not for "political gangrene," why did Zahid go on garden leave as Umno president last December, after he had referred to "punishing" conditions imposed on his party and the humiliation it suffered in a number of meetings he attended, "as if Umno was as unclean as the faeces of animals deemed haram?"
If not for "political gangrene," why did Zahid go on leave when he had been charged with 47 corruption offences, and end it after he accumulated a total of 87 corruption charges?
If not for "political gangrene," why was Zahid charged with 87 corruption offences and crowned the 'king of corruption charges', beating even former prime minister Najib Abdul Razak, of global kleptocracy infamy, who has been slapped with 42?
If not for "political gangrene," why did a recent article postulate ten things could happen within 90 days "if the old devil was voted in," including:
All enforcement heads like Attorney-General Tommy Thomas and MACC chief commissioner Latheefa Koya will be replaced with sycophants of Umno.
All legal cases involving Umno politicians (and their wives) will be dismissed/withdrawn with flimsy excuses.
Fugitive businessperson Low Taek Jho will be given a 'tan sri' title and all charges dropped.
1MDB will be revived and this time, not RM40 billion, but RM400 billion will be siphoned off.
All those who spoke up against BN will be hunted and charged. Thomas and Finance Minister Lim Guan Eng will be in jail.
Zakir Naik will become a citizen and be awarded a tunship.
If not for "political gangrene," why did Prime Minister Dr Mahathir Mohamad recently say that Umno branch leaders were becoming "dumb and dumber"?
If not for "political gangrene," why didn't Umno ministers and leaders stop the 1MDB scandal before GE14, instead of forcing ministers, according to court testimony, to tell lies about the scandal?
If not for "political gangrene," why has Umno done nothing since May 9 to condemn and dissociate itself from the 1MDB scandal and other corruption, whether in Felda, Tabung Haji or Mara, which gave Malaysia the infamy, ignominy and iniquity of being a "global kleptocracy"?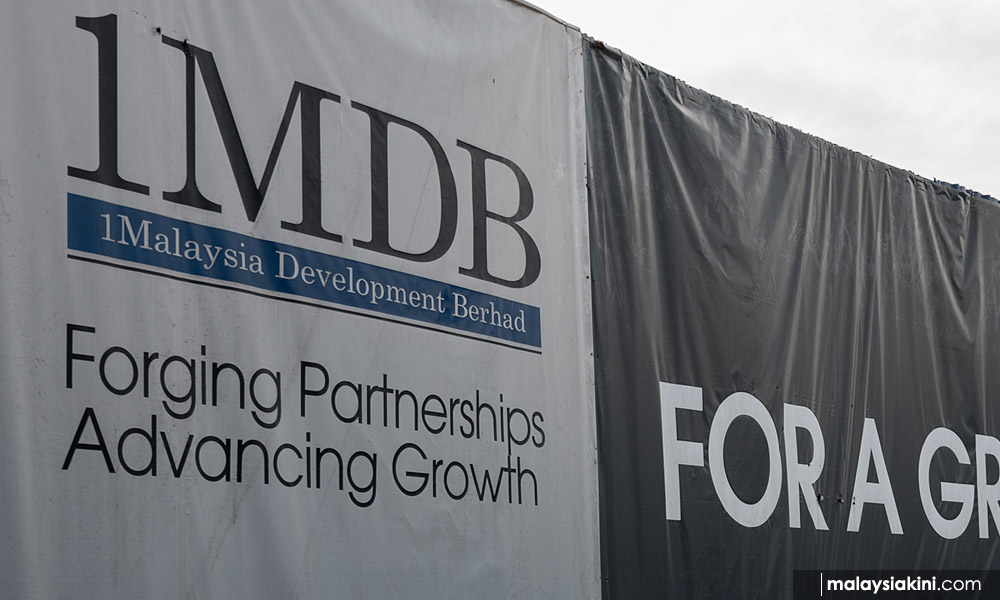 If not for "political gangrene," why is Umno behind the shameless Malu Apa Bossku campaign?
If not for "political gangrene," why has Umno become a founder member of an alliance of klepto-theocracy?
If not for "political gangrene," why are Umno leaders playing the irresponsible politics of lies, falsehoods, fake news and hate speech, pitting race against race and religion against religion, to incite doubt, mistrust, suspicion, fear and hatred distorting the 3Rs of race, religion and royalty – for instance, in claiming that the Malays have lost political power?
If not for "political gangrene," why, why, why... I could go on and on, but I shall not, and await an answer from Zahid, unless he is struck dumb by "political gangrene"!
It is evident from Zahid's speech that Umno leaders want Harapan to be struck with "political gangrene," and we must disappoint him. This is a war of perception.
In the first seven months of the new government, the Harapan government could not do anything wrong and even won four by-elections – the three Selangor by-elections in Sungai Kandis, Balakong and Seri Setia, as well as the Port Dickson parliamentary seat.
Then a sea change seemed to have taken place in the political landscape where Harapan could not do anything right and lost three by-elections – the Cameron Highlands parliamentary by-election, as well as Semenyih in Selangor and Rantau in Negri Sembilan.
The euphoria generated by the landslide victory by Harapan and Warisan in the Sandakan parliamentary by-election on May 11, and the first-anniversary celebration with the theme of "shared prosperity" reversed the tide in the war of perception.
But it did not last long, as Harapan was floundered by the aforementioned quartet of issues which generated the misperception that it was on the ropes.
Harapan leaders must recognise the disappointment and disillusionment of large segments of supporters who believe that it has gone back to the bad old ways of the previous Umno-BN government.
They are wrong, but what is more important is that Harapan must be able to communicate and convince supporters that their disappointment and disillusionment – while understandable – are completely misplaced and that it remains as committed as ever in resetting the nation-building process to build a New Malaysia.
We have made a good start in the last 16 months to build a top world-class nation in every field of human endeavour. Harapan had made several good and important appointments to pave the way for far-reaching institutional, political and democratic reforms, including:
Tengku Maimun Tuan Mat as chief justice, taking over from Richard Malanjum who had retired on April 2,
Mohamad Ariff Md Yusof as Dewan Rakyat speaker;
Tommy Thomas as attorney-general;
Azhar Azizan Harun as chairperson and Azmi Sharon as deputy chairperson of the Election Commission;
Abdul Hamid Bador as inspector-general of police;
Nor Shamsiah Mohd Yunus as Bank Negara governor.
Zulkifli Zainal Abdin as armed forces chief;
Ismail Bakar as chief secretary to the government;
Syed Zaid Albar as Securities Commission chairperson;
Nik Azman Nik Abdul Majid as auditor-general;
Abdul Kassim Ahmad as National Centre for Governance, Integrity and Anti-Corruption director-general; and
Latheefa Koya as MACC chief commissioner succeeding Mohd Shukri Abdull.
We can argue that more reforms could have been achieved in the past 16 months.
Four hundred and seventy-five days after the historic change of government of May 9, it is time for a major review of Harapan's promise of a New Malaysia and those in the election manifesto.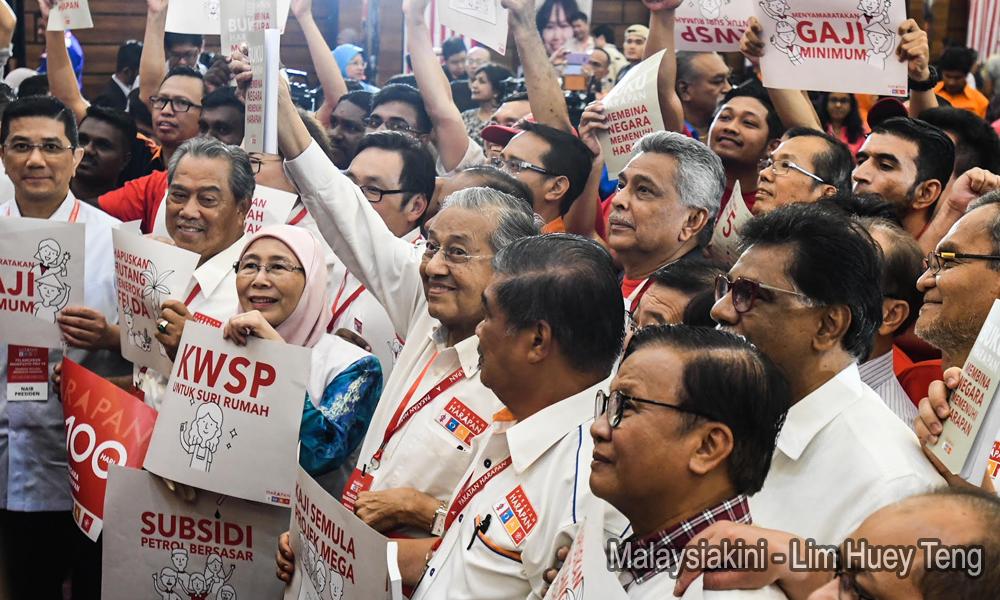 The Harapan presidential council at its previous meeting had decided on such a review.
Let us rise above the fissiparous and centrifugal forces threatening to tear Malaysia apart and reunite to build a New Malaysia. 
Let Malaysians take ownership of this great mission to build a New Malaysia based on the five pillar-promises in the manifesto: 
Reduce the people's burden.
Institutional and political reforms.
Spur sustainable and equitable economic growth.
Restore Sabah and Sarawak to the status accorded in Malaysia Agreement 1963.
Create a Malaysia that is inclusive, moderate and respected globally.
There are those who did not expect Harapan, a coalition of four political parties with different histories, ideologies and trajectories, to last more than a few months, but it has proven the prophets of doom wrong.
These prophets of doom are now hoping that Harapan is stricken with "political gangrene" to implode and disintegrate. Let us prove these prophets of doom wrong again.
Malaysia is at the crossroads – to move forward with an inclusive nation-building policy leveraging on the best qualities of the diverse races, religions, languages, cultures and civilisations, or to be relegated to the trajectory of a failed, rogue and kleptocratic state obsessed by divisive and intolerant race and religious politics.
The Harapan government in Putrajaya has survived for 16 months despite the various stresses and strains, contradictions and controversies, but bigger tests are ahead.
It must be able to persevere, be united and steadfast with greater challenges in the mission to build a New Malaysia for the rest of the five-year term and go on to win the 16th general election, as the mission to build a New Malaysia will take more than one election cycle to complete.
Can Malaysia, by GE16, be perched for the consummation of the objective to become a top world-class nation, recognised as being ranked among the top 30 nations in the world in important fields of human endeavour?
Let this be the dream for all Malaysians and a challenge to them to dedicate themselves to its fulfilment.
For a start, we must be aware of the pitfalls of the Internet era, where fake news and hate speech can combine to create a "new reality" which is completely opposite to the truth and facts.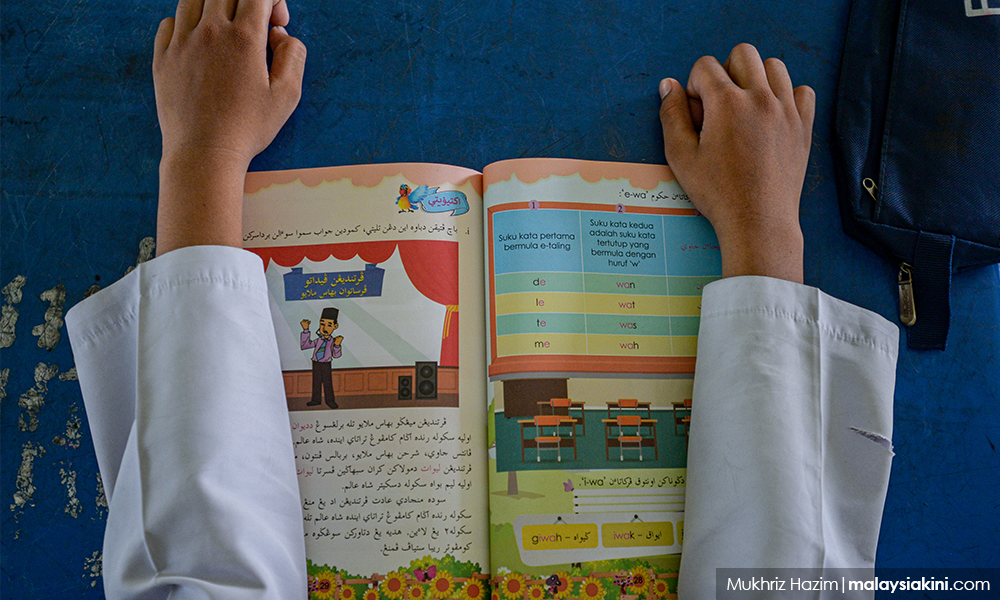 This is why after five weeks of controversy over Jawi lessons, 95 percent of Chinese and Indian Malaysians are still not aware that for years, it has been present in Standard Five Bahasa Malaysia textbooks, and that the revised curriculum for its inclusion in the Standard Four syllabus was decided by MCA, Gerakan, MIC, SUPP and Umno ministers in 2015.
Now, MCA, Gerakan, MIC and SUPP leaders are the loudest in condemning the introduction of Jawi lessons, although this decision was taken by their minister four years ago, to be implemented in the revised 2017-2022 textbooks.
The Jawi controversy was a legacy of the former government, as the final decision was made by the Education Ministry curriculum committee chaired by the then-minister Mahdzir Khalid. 
The Sept 21, 2015 meeting was also attended by his two deputies, Chong Sin Woon of MCA and P Kamalanathan of MIC.
After that, it became an administrative matter for the relevant Education Ministry divisions to implement the policy decision.
If there had been no change of government in GE14, the implementation of the Education Ministry decision on new curriculum would probably result in 'three wants' in the new textbooks for Standard Four primary school pupils – want to be compulsory, want to have examinations and want students to learn to read and write Jawi.
Now, these 'three wants' have become 'three nos' – no compulsion, no examination and no learning/writing of Jawi, but only its introduction.
There are intriguing conspiracy theories that the Jawi and Zakir controversies were invented by Mahathir to serve his petty political purposes, when in actual fact, both issues were legacies of the previous government.
Now there is the tale that the Harapan government is like the previous Umno-BN government, stricken with "political gangrene."
Let Harapan leaders prove the prophets of doom wrong and instead of gloom and despair, let us exude confidence for the future that we can build a New Malaysia – as the price of failure, a failed, rogue state and a klepto-theocracy, will be too terrible to contemplate.
---
LIM KIT SIANG is the MP for Iskandar Puteri.
The views expressed here are those of the author/contributor and do not necessarily represent the views of Malaysiakini.