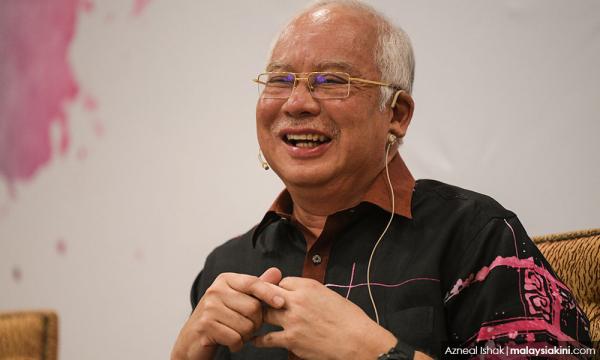 Najib blames Utusan's woes on Harapan freezing Umno funds
Former prime minister Najib Abdul Razak (photo, above) has blamed the Pakatan Harapan government over Umno's inability to help its long-time mouthpiece Utusan Malaysia.
"In early February, Umno had sold its stake in Utusan... with that, the control and management of Utusan are no longer in Umno's hands.
"However, Utusan is still close to our hearts. If Utusan is in danger, surely Umno would want to help. But how can we help?
"Umno's bank account has been frozen since the 14th general election by the tyrannical Pakatan Harapan government," he said in a Facebook statement.
Umno's funds were frozen as they had originated from Najib's bank account, which funds investigators claim were stolen from state-owned 1MDB.
The government is seeking to forfeit RM116 million in funds from Umno.
In February, Umno sold 31.61 percent of its stake in Utusan to its former Kulim Bandar Baharu MP Abd Aziz Sheikh Fadzir for RM6.65 million, representing a 65.2 percent premium.
Najib said Umno can assist Utusan if the government released the frozen funds.
"If the Harapan government rescinds the freeze on Umno's account and return the funds that were illegally seized, we can help Utusan tomorrow.
"But do not dream that the Harapan government will act fairly. They won't care," he said.
Therefore, he urged the public to purchase copies of Utusan Malaysia and its sister publication Kosmo.
Staff have not been paid up to three months of salary and have been informed that the group will cease its printing operations on Wednesday.