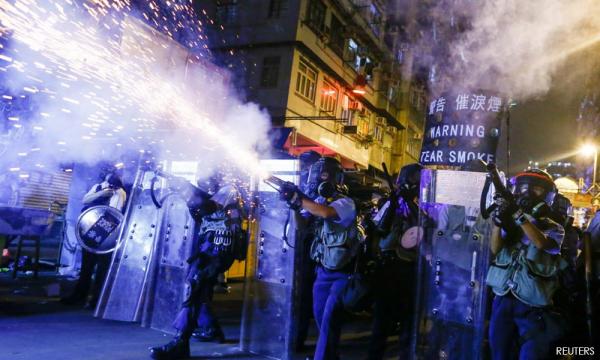 Chinese Embassy slams Malaysians who support Hong Kong protests
The Chinese Embassy in Malaysia has lashed out against Malaysian youths who support the three-months long anti-extradition bill protests in Hong Kong.
The embassy's minister counsellor Chen Chen said these Malaysian youths cannot differentiate between right and wrong and follow others' lead in doing so.
They thought they knew the true meaning of democracy, Chen was quoted as saying by Oriental Daily.
Their support for the protests will not help to improve the situation in Hong Kong, he said when giving a speech at a ceremony held to commemorate the victims of World War II in Kuala Lumpur.
The report quoted Chen as telling his Malaysian friends to clear their visions and look at the things objectively.
Malaysians should support the Hong Kong government to stop the riot and violence so that peace and sensibility will be restored in the special administrative region, said Chen.
Without naming, he said some countries interfered the internal politic of another country and tarnish the latter's stability in the name of democracy.
"Such robber's logic and barbaric action is the root of all evil in international society. It is the biggest enemy to world peace and stability," said Chen.
Such protests have exceeded the boundaries of freedom of expression and peaceful assemblies, disrupted the rule of law and social order, according to him.
The riot in Hong Kong threatens the people's safety, their assets and will destroy the authority of administration, he said.
China will not allow any party to push for independence of Hong Kong in the name of democracy, vowed Chen.
The protests began on June 9 as opposition to a now-suspended bill that would have allowed extradition to mainland China for those facing criminal charges but have grown into wider calls for democracy.
The Hong Kong's police, who began to clampdown the protests since June 12, were criticised for using excessive force against the protestors.
NGOs and political parties in Malaysia, Bersih, Suaram, DAP Youth and PSM have criticised the Hong Kong government for the alleged excessive violence against the protestors.
Malaysians held rallies to voice their support for Hong Kong in the past three months.
The extradition bill, which will cover Hong Kong residents and foreign and Chinese nationals living or travelling through the city, has sparked concerns it may threaten the rule of law that underpins Hong Kong's international financial status.