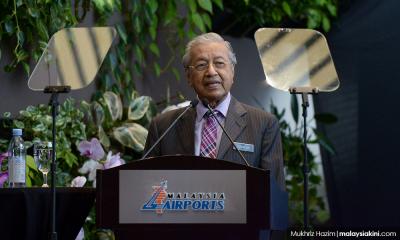 PM: Up to police to decide whether to ban Dong Zong
It's up to the police to decide if Dong Zong should be banned, said Prime Minister Dr Mahathir Mohamad.
He said he has no idea if the Chinese educationist group, which persistently objects the implementation of khat in vernacular schools, should be banned.
"I don't know yet. That's for the police to decide," he said when asked if Dong Zong should be banned.
He said Dong Zong will breach the law if it continued to stoke racial and religious sentiments.
"If it keeps on stimulating (or) inciting the people to fight against each other, of course, that is against the law," he told a press conference at KLIA today.
"We (should) always be sensitive about not instigating different races to fight against each other," he said.
Gerakan Pengundi Sedar (GPS) launched an online petition for Dong Zong to be banned and has accumulated 50,000 signatures as of today.
The Bersatu Youth wing also launched a similar petition.
Mahathir had recently lashed out at Dong Zong for claiming that the three-page khat lesson to be introduced in the primary school Bahasa Malaysia Year 4 syllabus was a form of "Islamisation".
Dong Zong today denied the allegations that it is racist and that it opposes all government education policies.
Elaborating further, Mahathir said the Chinese educationist group only spoke about the education issue of a single race despite living in a multiracial country.
"You look at Dong Zong's background, they have never fought for Malaysia. They fought only for one race in this country.
"This is a multiracial country and you must also think about the feelings of other people. When you do something ....and if they are not happy, then you should try to accommodate them," he said.
"But Dong Zong has never said a word about Malaysia, it is always about Chinese education," said Mahathir, who is also Pakatan Harapan chairperson.
He reiterated that Dong Zong opposed the Wawasan School concept because it did not want to see Malay and Chinese children mixing together.
"According to Dong Zong, they (the children) mustn't get near each other (and) to assemble all the three schools together, is anathema to Dong Zong.
"It is a very racist way of thinking," said Mahathir.