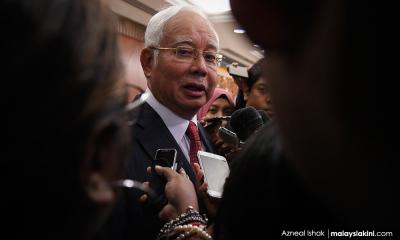 Najib wants MAS to remain under government care
Malaysia Airlines Bhd (MAS) should continue to be placed under the care of the government and its investment arm Khazanah Nasional Bhd, says former prime minister Najib Abdul Razak.
This, Najib added, is because Khazanah has a plan to put the ailing national carrier on the road to recovery.
"So, I think MAS should continue to be under the government," he said at the sidelines of the Gombak Umno annual general meeting today.
Last week, veteran newsperson A Kadir Jasin said that it would be better for MAS to be "married" to AirAsia than to allow the iconic brand to die.
Kadir also pointed out that AirAsia has the capability to save MAS from dying.
Two weeks ago, Prime Minister Dr Mahathir Mohamad, who also chairs Khazanah, announced that the government is willing to sell the national carrier if there is a good offer for the company.
MAS has been struggling to regain its footing after suffering twin air disasters in 2014.
Malaysia Airlines Flight MH370 went missing en route to Beijing, while Flight MH17 was shot down over Ukraine where an insurgency was taking place.
A total of 537 passengers and crew perished in the twin disasters.
MAS was privatised in August 2014 by Khazanah via an RM1.38 billion buyout. A subsequent RM6 billion into MAS was not able to turn the carrier around.