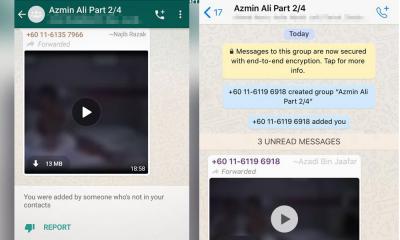 Hours after Azmin's denial, 'Part 2' of sex videos released
Anonymous individuals have released another video clip implicating Economic Affairs Minister Mohamed Azmin Ali in a sex scandal this evening.
This 1 minute and 29 second video appeared to be set in the same room and involved the same individuals as the first three video clips that appeared on Tuesday morning.
The same modus operandi was used to disseminate the video clips. The anonymous individuals would set up WhatsApp messaging groups and invite PKR personalities and journalists.
Some of these groups were initiated by individuals using pseudonyms. One called itself "Najib Razak" while another was called "Azadi Bin Jaafar".
The real Najib Abdul Razak has denied involvement.
In all, Malaysiakini is aware of at least five of such groups that have been set up with separate cell phone numbers, all of which had the carrier prefix "011".
The WhatsApp groups appeared to have emerged simultaneously at approximately 6.55pm.
The video clip ended with a text overlay which claimed that the video was recorded at room "2526" at Four Point Hotel, Sandakan on May 11 between 1am to 2am.
More to come?
The WhatsApp groups are named "Azmin Ali Part 2/4," indicating that the perpetrators are planning to release more video clips.
The video clip was not shared in all the WhatsApp groups.
Azmin, the PKR deputy president, earlier denied involvement in the first three video clips, which were released at about 1.25am on Tuesday.
He described it as a diabolical plot to destroy his political career.
While the first three video clips released on Tuesday morning were all 1 minute and 35 seconds long, the latest clip is 1 minute and 29 seconds long.
It would appear that the same two individuals appeared in the latest video.
Prior to Azmin's denial, Haziq Abdullah Abdul Aziz, senior private secretary to Deputy Primary Industries Minister Shamsul Iskandar Md Akin, claimed to have been the other man in the video.
Haziq also urged the MACC to investigate Azmin.
---
RELATED REPORTS
I thought sodomy allegations would end with me - Anwar
Anwar leaves it to Shamsul to decide on Haziq's fate
It's not me: Azmin denies sex video, wants to take legal action
Why ask me, Najib dodges poser on sex clip
'US$741k for minister': UEM says no account with Maybank KL
Anwar says he spoke to Azmin 'at length'
Haziq's body looks different now - division leader claims 'confession' video fake
Police report on sex clip featuring 'minister' now with Bukit Aman
Latheefa confirms deputy leading probe on PKR minister
PAS wants Haziq to face syariah court over sex video
PKR Youth presses deputy minister to suspend aide over sex video
PKR to gather at S'gor MB's residence for prayers rejecting sex video 'slander'
Sex video: Tell the authorities, not social media, Haziq told
PKR leaders defend minister over 'sex romp', claims accuser close to opposition
Sex video: Khairy tells M'sians to look away
I was in bed with minister, confesses man claiming to be in viral sex clip