The Najib Abdul Razak-Lim Kit Siang tit-for-tat showed no signs of abating with both sides throwing barbs at each other first thing in the morning.
Lim got the ball rolling with his pre-dawn statement reminding the public of three occasions when Najib "chickened out" of two speaking events and an interview.
The two speaking events are the International Anti-Corruption Conference (IACC) conference in 2015 and the "Nothing to Hide" forum with Dr Mahathir Mohamad in 2017.
Lim also cited the incident when Najib walked out of Al Jazeera's interview last October. Najib later apologised for the incident.
For the most part, Lim's statement was a condemnation of Najib's role in the 2015 sacking of Abdul Gani Patail as attorney-general, Muhyiddin Yassin as deputy prime minister and Mohd Shafie Apdal as a cabinet minister.
Lim's statement was reported by The Malaysian Insight with the headline, "Najib the one who chickened out, says Kit Siang".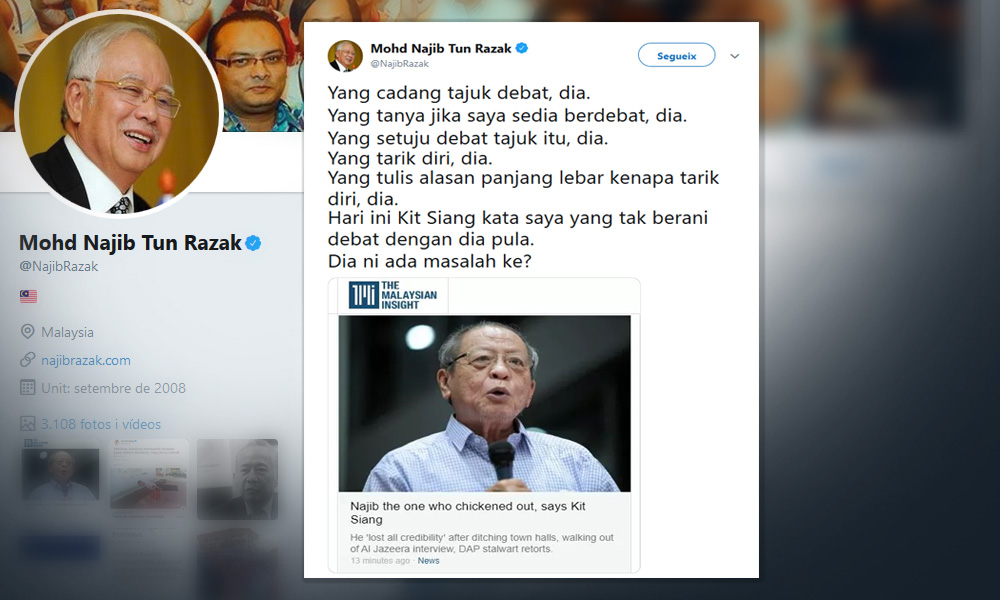 Responding to that article, Najib pointed out that it was Lim who agreed that the duo should debate publicly and even suggested the debate topic.
"Who chose the debate topic? He. Who asked if I'm ready to debate? He. Who agreed to the debate topic? He. Who pulled out? He.
"Today, Kit Siang said I'm not brave enough to debate with him. Does he have a problem?" asked Najib.
Last week, Najib challenged Lim to a televised debate and allowed the latter to determine the topic.
After accepting the challenge and proposing the topic, Lim backed out two days later, citing advice from supporters and his belief that the debate would contribute to racial tensions.