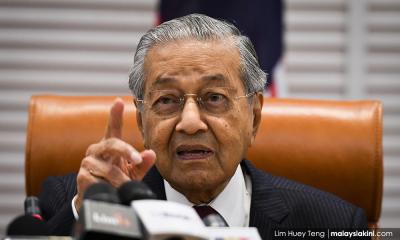 Past PMs implicated in land swap deals will be probed, vows Mahathir
Past prime ministers implicated in land swap deals involving the Defence Ministry will be probed, Prime Minister Dr Mahathir Mohamad pledged today.
"The police will investigate the prime minister as well, no one is above the law," he told a press conference after chairing a special cabinet meeting on anti-corruption.
The land swap deal report tabled in Dewan Negara on May 9 found that "political considerations outweighing government interests" were present in the first land swap deal made in 1997, during Mahathir's previous tenure.
The 59-page report by the Governance, Procurement and Finance Investigating Committee pointed to the involvement of two former prime ministers and defence ministers in 13 out of 16 land swap deals.
At his press conference today, Mahathir did not refer to any former prime ministers by name.
He said, however, that the government could still take action against responsible parties, even if the land deals took place a long time ago.
"The government can still take action and our intention is to lodge reports on these wrongdoings in the past.
"Whether the wrongdoers have retired or not, legal action will be taken," he stressed.
Abdullah Ahmad Badawi succeeded Mahathir as prime minister in 2003, and was replaced by Najib Abdul Razak in 2009.
Between 1997 and May 9 last year, those who served as defence ministers were Syed Hamid Albar, Najib, Abdullah, Ahmad Zahid Hamidi and Hishammuddin Hussein.
[More to follow]