The National Physical Planning Council (NPPC) has yet to give the green light for the Penang South Reclamation project (PSR).
This was announced by Federal Territories Minister Khalid Abdul Samad via a media statement today, a day after Penang Chief Minister Chow Kon Yeow said that the project had been given the go-ahead by the NPPC.
Khalid said NPPC held a meeting yesterday to hear and consider suggestions on the PSR project masterplan, in line with Article 2A(2)(b) of the Town and Country Planning Act 1976.
"The council did not give any approval or agreement to the project but had advised the state government, through 18 points of advice," he said.
Khalid added that the state government was also informed of the views and advice of several ministries, namely the Water, Land and Natural Resources; Rural Development, Agriculture and Agro-based Industry; Transport; Economic Affairs; and the Housing and Local Government ministries.
The NPPC is under the purview of the Federal Territories Ministry.
Khalid also advised the state government to engage locals who would be affected by the project development and to ensure that their needs are met.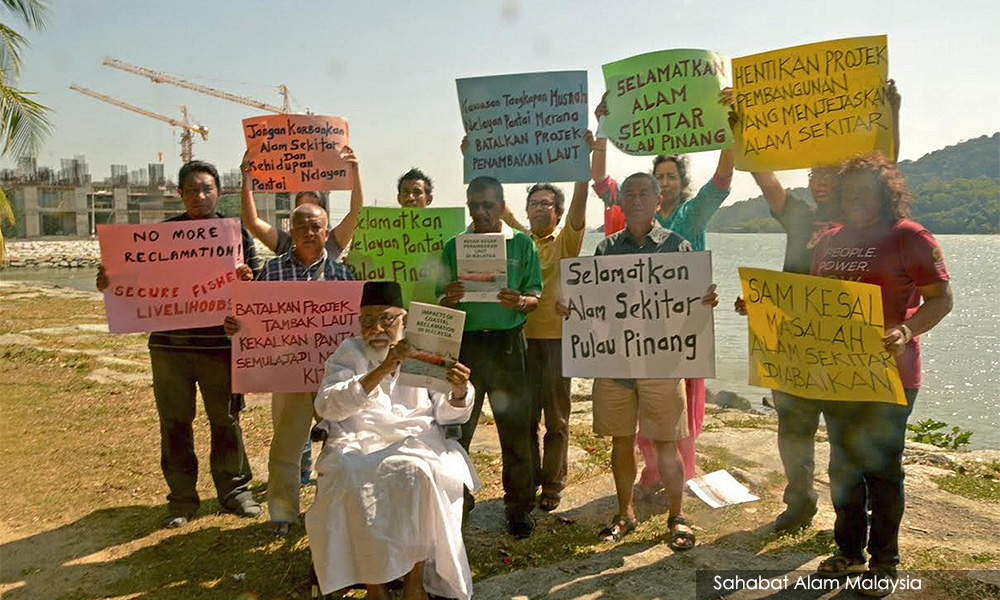 Khalid also reminded the state government that the application for the project must obtain approvals through the Environmental Impact Assessment and the Social Impact Assessment reports.
The PSR entails the creation of three artificial islands at the southern part of the island and is expected to affect the lives of hundreds of fisherfolk.
Yesterday, NGOs the Consumers Association Penang (CAP) and Sahabat Alam Malaysia (SAM) questioned the alleged approval of the project following Chow's announcement that Putrajaya had given a nod.
"We do not know how the PSR could be approved when there are huge financial, social and environmental concerns over the project, including its effects on the livelihoods of local fishermen who will be affected by the project," said SM Mohamed Idris (seated, in photo above), the president of both CAP and SAM.
Idris also called for the 18-point advice to be made public.
Subsequently, Chow said that he would explain the 18 conditions in a media conference today.