Prime Minister Dr Mahathir Mohamad met with Johor Menteri Besar Dr Sahruddin Jamal in Putrajaya this morning.
This is the first time the two have met after the Bersatu assemblyperson was sworn-in as menteri besar over the weekend.
Photographs of the meeting were uploaded on Mahathir's Twitter account.
Malaysiakini learned the 30-minute meeting at the Prime Minister's Office started at 8.30am.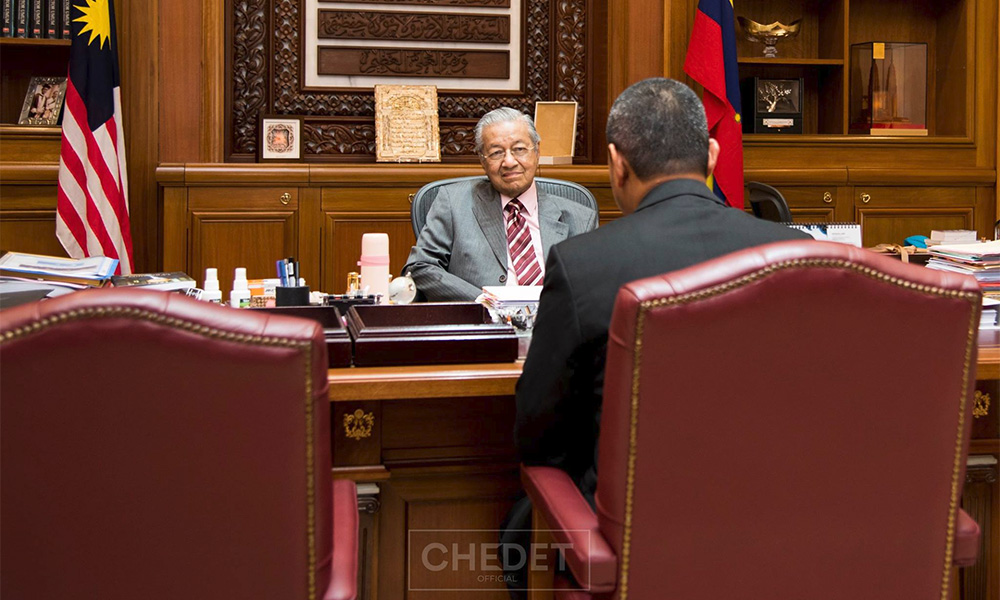 The meeting comes amid speculation that state executive councillors Tan Hong Pin (DAP) and Mazlan Bujang (Bersatu) would be dropped.
The two, like Mahathir, are said to be not in the Johor palace's good books.
Mazlan has not commented on the matter, whereas Tan said he would leave his fate in the hands of the DAP leadership.
In a Facebook posting yesterday, Tan said the spirit of constitutional monarchy must be upheld, but stressed the importance of ensuring future generations of Malaysians "live in dignity and are not bullied by the oligarchy."
A day before Shahrudin was sworn in, Johor ruler Sultan Ibrahim Sultan Iskandar reportedly set a pre-condition for the incoming menteri besar – reshuffle the exco.
Prior to this, Mahathir had locked horns with the ruler and crown prince Tunku Ismail Sultan Ibrahim on who had the right to decide the next menteri besar.
Tunku Ismail said it is the prerogative of the sultan but Mahathir argued otherwise, pointing out that the decision lay with the party which has the majority in the state legislative assembly.
Following this, Sultan Ibrahim cautioned "certain parties" against meddling in Johor's affairs because the "sovereign state still has a sultan."
Responding to this, Mahathir said Malaysia would cease to be a democratic nation if rulers decide who becomes prime minister or menteri besar.
Prior to the menteri besar issue, the prime minister and the Johor palace were at loggerheads over Putrajaya ratifying the Rome Statute of the International Criminal Court (ICC).
Tunku Ismail had opposed Putrajaya inking the Rome Statute, claiming it would pose a threat to the Yang di-Pertuan Agong, the position of the Malays and Islam.
After announcing Malaysia's withdrawal from the Rome Statute, Mahathir blamed the decision on a particular person whom he accused of sowing confusion over the matter.
According to the premier, this person wanted to be "free to beat up people and things like that."
"If he beats up people again, I will send the police to arrest him. I don't care who he is," he had added.