Bersatu Youth executive committee member Mohd Ashraf Mustaqim Badrul Munir and activist Zikri Zulkifli were charged in a magistrate's court in Butterworth yesterday with obstructing public officials from discharging their duties.
The two are accused of preventing police personnel and officers from the Penang Islamic Affairs Council (MAIPP) from carrying out a demolition exercise on Tanah Wakaf Abdul Cauder on Jalan Mengkuang in Butterworth on Feb 15.
Mohd Ashraf, 33, and Zikri, 30, who works at Penang Institute, were represented by Khaliq Mehtab Mohd Ishaq, who is also Bersatu's Bertam assemblyperson.
According to the New Straits Times, Khaliq had asked for a low bail sum, saying this "is to ensure attendance" and not be a form of punishment.
"Both are sole breadwinners of their respective families and have dependents," Khaliq was quoted as saying by the English language daily.
NST also reported that magistrate M Kalaiarasi allowed bail at RM4,000 in one surety for each of the accused, and set April 16 for mention of the matter.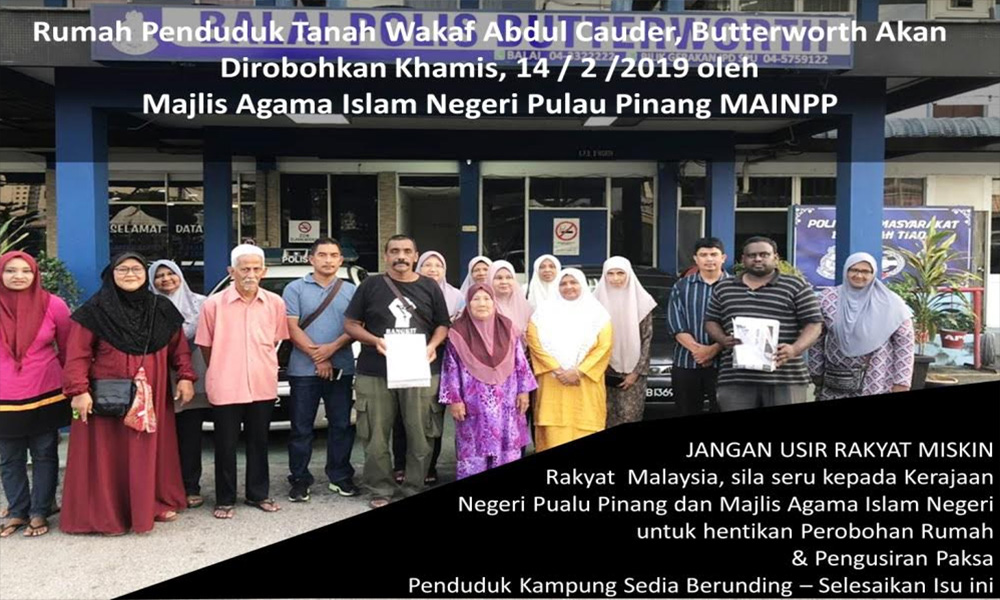 Meanwhile, Bernama reported that 11 residents from Tanah Wakaf Abdul Cauder were charged separately yesterday with obstructing the police and MAIPP officials from carrying out their duties during a demolition exercise between 12pm and 1.30pm on March 7.
The news agency reported that the 11, including seven women, claimed trial, while Kalaiarasi set April 19 for mention.
The seven women are Siti Dini Kamilia Haron, 19; Nur Amani Muhamad Amin, 19; Siti Nurliana Haron, 30; Rozita Medar, 47; Nuraila Medar, 59; Roshidah Medar, 43; and Siti Musliha Haron, 25; while the men are Syazwan Sulaiman, 30; Mohd Fazli Rosli, 51; Muhammad Ihsan Rifqie Mohd Zainudin, 25; and Ahmad Khan Hussin, 51.
They were charged under Section 186 of the Penal Code. If convicted, they will each face a jail term of two years or be fined a maximum of RM10,000, or both, the report said.
Kalaiarasi set bail at RM1,000 in one surety for each of the accused.
Lawyer Ahmad Faris Khairudin represented the residents, while deputy public prosecutor Muhamad Syeqal Che Murat appeared for the prosecution.
It is learnt that one of the 11 charged, Syazwan, had earlier been charged in the magistrate's court, under Section 332 of the Penal Code, for voluntarily causing hurt to a public servant to deter him from his duty.
If guilty, the charge carries a  maximum jail term of three years or a fine, or both.
The demolition exercise affected 19 households, but MAIPP insisted it had given the residents ample notice to move out as the land had been earmarked for a mixed development project
MAIPP president Abdul Malik Kassim had said the project was part of the council's income generation and would benefit MAIPP and the Muslim community.
Residents were offered free replacement units upon completion of a planned apartment project, RM500 as monthly rental fees to the families to temporarily relocate, and relocation fees of RM4,000 and RM3,500 when they move into the new units.
- Agencies