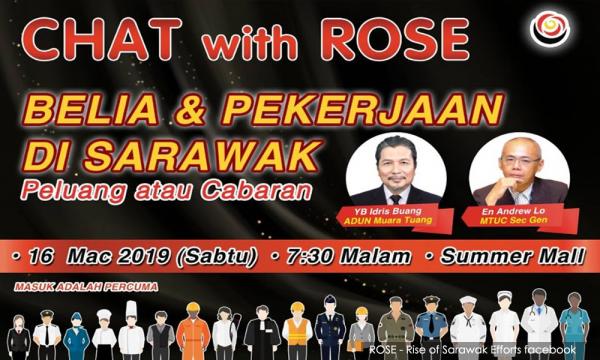 Debate organiser: Do police 'permits' apply to singing comps too?
The cancelled public debate between a lawmaker and unionist scheduled for last night should not be subject to the Peaceful Assembly Act 2012 (PAA), said the organiser.
In a statement, Rise of Sarawak Efforts (Rose) said the event was held in a shopping mall and was thus not a public space, which would have been under the ambit of the PAA.
"If a mall is defined as a 'public space' under the PAA, then all other events such as the colouring competition and children's singing contest, which took place in the mall (before the scheduled debate), would have been illegal," said Rose in a statement.
Rose said it was notified by the police yesterday morning that no police 'permit' was sought under the PAA and had advised the group to cancel the event.
"The (police representative) also added that he will file a report if the event continues," said Rose.
The "Chat with Rose Series No 1" event at the Samarahan Mall near Kuching was supposed to be a debate between Muara Tuang assemblyperson Idris Buang and Sarawak's Malaysian Trades Union Congress (MTUC) secretary Andrew Lo.
The duo was supposed to discuss the topic: "Youth and employment in Sarawak: Opportunity or Challenges?".
Idris and Lo have been trading barbs on the availability of jobs since February, when 40 Sarawakians were nabbed in Cambodia over their involvement in a labour syndicate.
Lo had accused the state government of failing to provide enough gainful employment with a decent wage.
Idris had said the claim was "totally outrageous" and politically motivated.