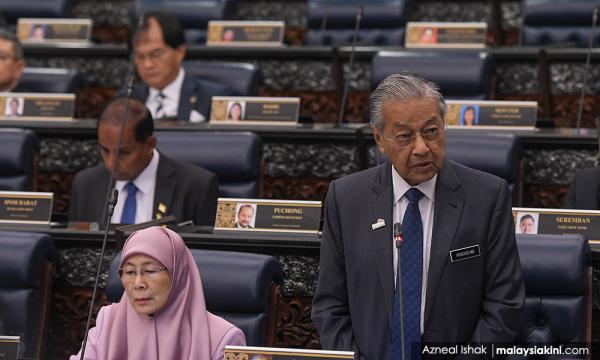 New anti-graft measures will restore M'sia's integrity - PM
PARLIAMENT | Prime Minister Dr Mahathir Mohamad said his administration is working hard to polish Malaysia's image after it was stained by its previous label as a kleptocracy.
He said the focus was to ensure that the government was clean and the Governance, Integrity and Anti-Corruption Centre (GIACC), an agency under the Prime Minister's Department, was formed to monitor new anti-graft measures.
At the executive level, Mahathir added, a special cabinet committee was formed to formulate anti-graft policies, which include improvements to the asset declaration system for government lawmakers, preventing politicians from sitting on GLC boards and a new mechanism to stop gifts to government officials or civil servants.
This committee also ordered all members of the government to stop issuing "support letters" and implemented the National Anti-Corruption Plan 2019-2023 (NACP), which was launched in January.
Mahathir said anti-corruption committees have been set up to monitor federal and state governments, ministries, agencies and departments to implement cabinet's anti-graft policies.
"In 2019, the GIACC will continue to monitor all initiatives conducted by the special cabinet committee and the NACP... The GIACC will continue to meet state government agencies to advise them on matters concerning governance, integrity and anti-corruption.
"Hopefully, Malaysia will become known for its integrity and not corruption," Mahathir (Harapan-Langkawi) said during question time, in response to Lim Kit Siang (Harapan-Iskandar Puteri) who sought an update on efforts to turn Malaysia's trajectory away from a kleptocracy.