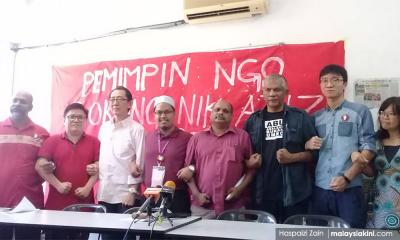 Disappointed with Harapan, 52 activists back PSM candidate
SEMENYIH POLLS | A group of 52 activists have endorsed PSM candidate Nik Aziz Afiq Abdul for the Semenyih by-election.
Lawyer Haris Ibrahim said this because the Pakatan Harapan government had failed to implement the reforms it promised before the last general election.
He also reminded Harapan leaders that the people who voted for them are their masters.
"To me, this politics of deceiving the people is insolent and does not understand who is 'king'. The king is the people.
"It is this 'king' who determines the 222 MPs and the Yang di-Pertuan Agong then determines the prime minister," he told reporters at PSM's campaign headquarters today.
Apart from Haris, other prominent activists in the group are former Petaling Jaya MP Kua Kia Soong, former Gerakan central committee member Toh Kin Woon and women's rights activist Irene Xavier.
Meanwhile, Haris also accused the Harapan government of not assisting the B40 low-income group and reneging on its promise to increase the minimum wage to RM1,500.
"People are suffering, yet ministers are clearly taking care of businesses rather than the rakyat," he said.
The minimum wage was raised from RM920 to RM1,100 from Jan 1.
Kua said voters should back PSM because it is not race-based, unlike BN or Harapan.
Whereas, Nik Aziz said he is not endorsed by any towkays or corporate figures for the March 2 by-election.
"But I have the support of activists and NGOs," he added.