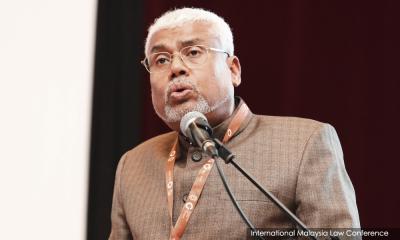 Cops visit Hamid Sultan in chambers, record statement
Two police officers spent about 75 minutes recording a statement from Court of Appeal judge Hamid Sultan Abu Backer following a police report lodged by the Federal Court chief registrar on Feb 15 regarding his explosive affidavit.
They arrived at 9am and completed recording the statement at 10.15am in the judge's chambers.
Also present were Hamid's lawyers, Haniff Khatri Abdulla and Joy Appukuttan.
According to Haniff, the police asked about the report lodged and the affidavit.
"Justice Hamid reiterated that he is willing to cooperate and will properly answer when the royal commission of inquiry is convened," he said.
However, it is not known which law police are recording Hamid's statement under.
Joy added that the RCI was the appropriate forum to deal with the matter.
"You are talking about judicial misconduct that was raised in the affidavit and the RCI is the proper forum since the government has agreed to sanction it," he said.
Prior to this, Joy had said it was not proper for the police and the MACC to meet Hamid to record his statement after the government had decided to set up an RCI.
Hamid and Joy said since the government had already confirmed that the RCI will be formed, it is best for the RCI to be convened.
"What we would like to say, since the attorney-general (Tommy Thomas) had advised the government to actually form the RCI with the sanction and consent by the Yang di-Pertuan Agong and that now we are waiting for the terms of reference, it is advisable that enforcement agencies save their precious time," they added.
They said the attorney-general can advise the police and the MACC to leave the affidavit claims for the RCI to investigate.
The MACC had met Hamid last week but the judge refused to provide any information to the agency.