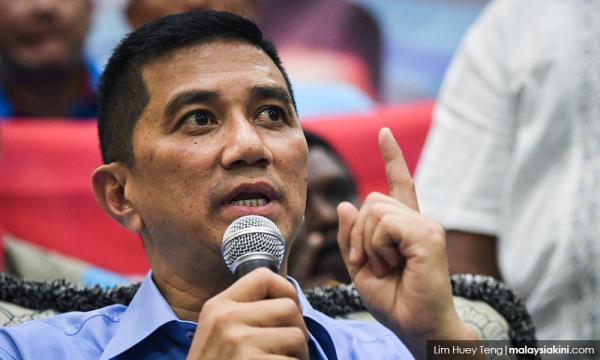 Azmin rebuts 'PAS propaganda': We've been busy campaigning for Bersatu
SEMENYIH POLLS | PKR deputy president Azmin Ali today dismissed as "propaganda" PAS' claims that Bersatu's Pakatan Harapan partners had abandoned the party in the Semenyih by-election campaign.
To the contrary, Azmin said he had spent a number of nights on the campaign trail for Bersatu's candidate Muhammad Aiman Zainali, who is contesting under Harapan's logo.
"This is the opposition's propaganda as they feel uncomfortable with the strength of Pakatan Harapan.
"I have personally been here for a few nights, except the last three nights where I was on an official overseas trip.
"Other leaders including PKR president Anwar Ibrahim, (Deputy Prime Minister) Dr Wan Azizah Wan Ismail and PKR secretary-general Saifuddin Nasution are also here," the economic affairs minister told journalists after campaigning in Taman Kampung Pasir Baru, around 15km north of Semenyih town.
This morning, DAP led by the party's supremo Lim Kit Siang was also campaigning in Kampung Baru Semenyih and Kampung Baru Broga, which are Chinese new villages in the constituency.
Azmin said Harapan has its schedule and areas of focus for the campaign.
"I believe we will not be affected by this propaganda and we want Semenyih, with the people's support, to remain in Harapan's fold," he said.
PAS, which is assisting BN in the by-election, had accused Harapan partners of not assisting Bersatu in the campaign.
The Islamist party also alleged a coup attempt against Prime Minister Dr Mahathir Mohamad, who is also the Bersatu chairperson, by other Harapan parties.
Voters will go to the polls on March 2 where they will have to vote from among four candidates.
The other three candidates are BN's Zakaria Hanafi, PSM' Nik Aziz Afiq Abdul and independent candidate Kuan Chee Heng.
The seat fell vacant following the passing of Bersatu incumbent Bakhtiar Mohd Nor.