Why object to 'use of kleptocracy' by AGC, not by DOJ? - Kit Siang asks MCA
(Updated )
The spat between Lim Kit Siang and MCA is not showing any sign of dissipating, with the DAP veteran today questioning the latter's objection to the term "kleptocratic government" in a circular by the solicitor-general.
In a statement, Lim took the MCA to task for its criticism of a leaked email, which conveyed the Pakatan Harapan government's directive for there to be no delay in the prosecution of SRC International Sdn Bhd, 1MDB and other cases involving the previous government.
Lim pointed out that MCA had no such objection to the term 'kleptocracy' when it was used by the US Department of Justice (DOJ) in its civil forfeiture claim on assets worth over US$1billion allegedly misappropriated from 1MDB.
"MCA has stood out as the only political party so far to openly object to the internal memo by solicitor-general III Mohamad Hanafiah Zakaria using the term 'kleptocracy' to refer to the former administration of Najib Abdul Razak, ahead of his corruption trial tomorrow.
"I am not aware that any MCA minister or leader had expressed any objection or outrage when US attorney-general Loretta Lynch described the DOJ's kleptocratic litigation to forfeit 1MDB-linked assets, where (then) prime minister Najib was singled out, although only referred to as 'Malaysian Official 1' in July 2016 as the 'largest single action ever brought by the department's Kleptocracy Asset Recovery Initiative...
"Why is MCA expressing outrage only now?" his statement read.
Najib is currently facing a slew of criminal charges in Malaysia in relation to the 1MDB scandal and his trial is slated to begin tomorrow.
'Justify your stand'
Lim further said: "Malaysians are very disappointed that after nine months of the historic decision of May 9, the trial of Najib and his top lieutenants who had brought Malaysia the infamy and ignominy of a global kleptocracy had not even started, allowing Najib to strut all over the country in his new 'Boss Aku Malu Apa' [sic] persona, which is as good as impertinently asking what is shameful about making Malaysia a global kleptocracy."
The veteran DAP politician called on those who continued to support the Najib administration that was ousted on May 9, 2018, "like the MCA", to justify their stand taken before and after the 14th general election.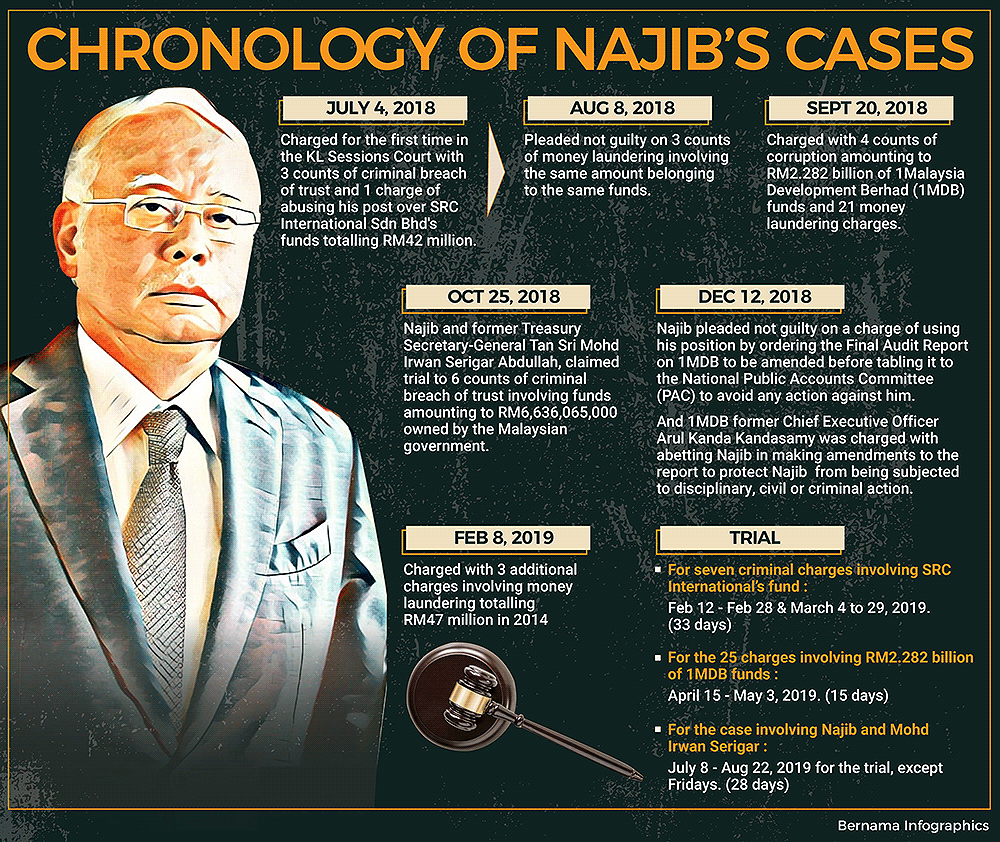 MCA had reportedly questioned the impartiality of the Attorney-General's Chambers after a circular by Hanafiah had gone viral.
The circular, purportedly sent via email and meant for deputy public prosecutors handling the graft trials, instructed that the cases proceed according to schedule and that any attempt to delay proceedings should be vehemently objected to.
The letter also stated that this was following Prime Minister Dr Mahathir Mohamad's reminder that graft cases against certain individuals should not drag on.
MCA said the letter suggested that the AGC was taking instructions from the prime minister.
However, Hanafiah defended the letter, stating that the AGC, being a part of the federal government machinery, would receive and adhere to government directions and instructions, "so long as they are lawful and not against the Federal Constitution or any written law".
He added that while the prosecution would oppose any attempt to postpone the cases, it is still ultimately up to the trial judge to decide.
Even so, DAP lawmaker Ramkarpal Singh criticised Hanafiah for his statement and called for the latter's removal.
Ramkarpal, who is Bukit Gelugor MP, said the solicitor-general III's statement implied he was ignorant of the fact that the AGC, and the attorney-general, are meant to be independent of government instructions.
Lim had recently locked horns with MCA president Wee Ka Siong after the latter defended BN's cooperation with PAS in several by-elections, including the recent Cameron Highlands by-election.
We hear you.
The comment section is an integral part of Malaysiakini. We are commited to improve our website based on your feedback. This is why we have upgraded our comment section to include the following new features that you have been asking for.
View all your comments in 'My Profile'
Hide comments from subscribers of your choice
'Like' other subscribers' comments
Reply to an existing comment
More ways to sort comments
and more…
We hope you will enjoy our new changes. Don't hesitate to email us your feedback at [email protected].