MP SPEAKS | The question of how much Malay support was obtained by Pakatan Harapan in the 14th general election (GE14) has been raised periodically since May 9, 2019. Merdeka Center, a respected polling company, estimates that Harapan's share of the Malay vote in GE14 at between 25-30 percent, BN's share at between 35-40 percent and PAS's share to be between 30-33 percent.
More recently, a figure of 17 percent was quoted in relation to a joint survey done by the Penang Institute and the Ilham Centre. Using Harapan's Malay vote share to understand the results of GE14 and more importantly, as a lens to look ahead to GE15, is an erroneous framework. It is far more useful to examine the Malay vote in GE14 as a choice between being for or against the BN.
With the prospects of an Umno-PAS alliance being formed ahead of GE15, the by-election results since May 2018 give us a closer indication of what the battle for the Malay vote will look like. With this backdrop, Harapan will need to put in place a systematic plan to win the Malay vote, one step at a time. At the same time, Harapan must also not forget the battle for the bumiputera vote in Sabah and Sarawak, two important regions which the Umno-PAS alliance seems to have forgotten.
In GE13, the challenge for Pakatan Rakyat (PR) to reach Putrajaya was to win at least 40 percent of the Malay vote and more than 80 percent of the non-Malay vote. Unfortunately, PR only managed to win 35 percent of the Malay vote, which meant that BN-Umno still controlled 65 percent of the Malay vote, putting Putrajaya out of reach for PR. In GE14, with the then opposition being split into two – Harapan and PAS – the objective of reaching Putrajaya still could be achieved if BN-Umno won less than 50 percent of the Malay support, with the rest of the Malay support being split strategically between PH and PAS.
The important storyline for GE14 is that BN-Umno lost at least 20 percent of its Malay support (from 65 percent in GE13 to below 45 percent in GE14) and that a majority of Malay voters (at least 55 percent) did not vote for the BN. Malay voters were mostly voting to choose between keeping the kleptocratic Najib Abdul Razak-led BN regime or getting rid of this regime, regardless of whether it was Harapan or PAS which would be the replacement.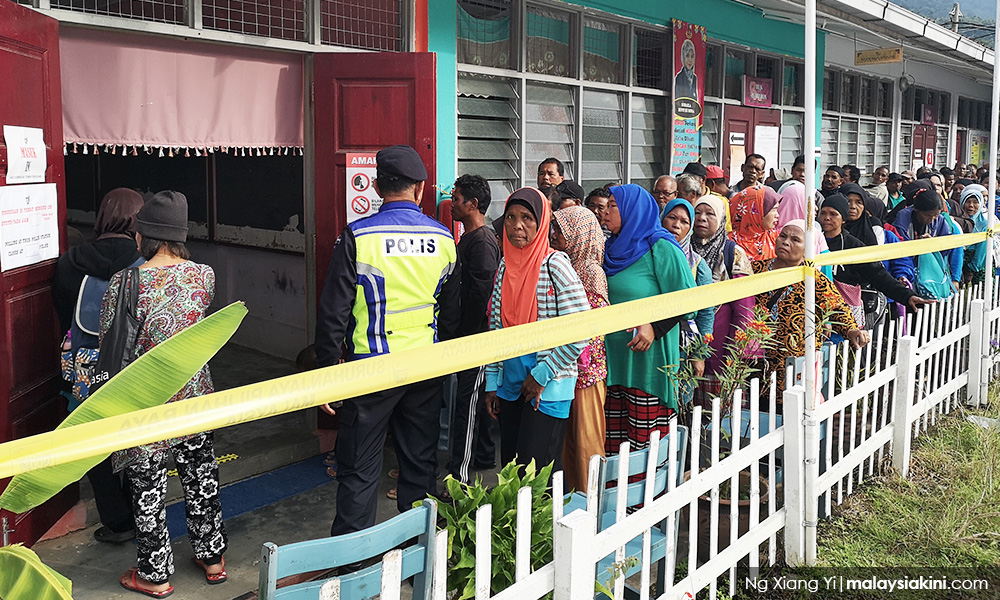 My own estimates are that BN won approximately 44 percent of the Malay vote in Peninsular Malaysia in GE14, with PAS winning approximately 32 percent (helped by their dominant showing in Kelantan and Terengganu) and Harapan winning 24 percent.
It seems almost certain that in GE15, Umno and PAS will form some sort of electoral alliance, and agree to one-on-one fights against Harapan. In this context, it is easy to see why it would be erroneous to assume that Harapan's share of the Malay vote will remain at approximately one quarter and that all of PAS' Malay support will go to Umno and vice-versa as part of their electoral alliance. The recent by-election results give us some indication of the factors influencing Malay support for Harapan and for BN/Umno/PAS.
Of course, by-election results are not entirely an accurate representation of what will take place in a general election. The turnout is usually very much lower, voters know that their votes will not determine the fate of the state or federal government and local issues/candidacy may matter more than during a general election. This being said, by-elections are one of the few indicators we have to take stock of the current political sentiment in the country and it would be a waste not to take advantage of this data.
Table 1 below summarises the estimated Malay support for Harapan, BN and PAS in GE14 compared to the estimated Malay support for Harapan and BN/PAS in each of the five by-elections since GE14.
Table 1: Change in Harapan Malay Support – GE14 versus post-GE14 by-elections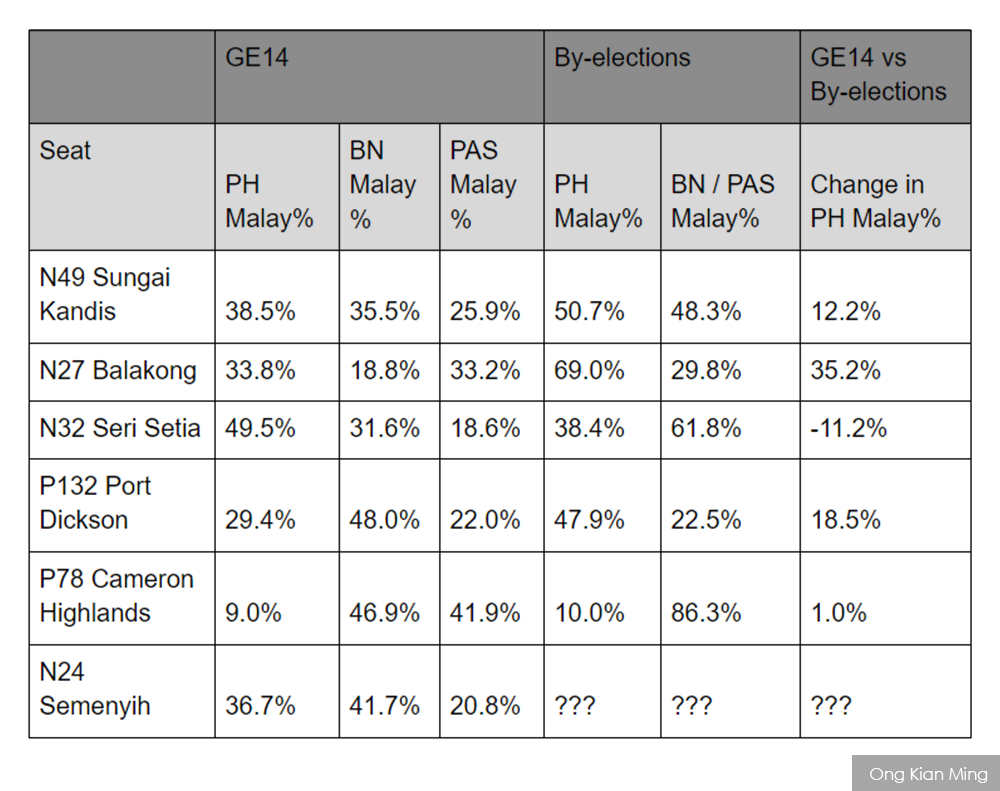 There is no clear and discernible pattern in Harapan's Malay support in each of the four by-elections since GE14. Harapan's Malay support increased by 12 percent in the Malay majority state seat of N49 Sungai Kandis in Selangor when faced with a tainted and weak BN-Umno candidate Lokman Adam, who was closely associated with former prime minister Najib.
Harapan's Malay support increased by an estimated 35 percent (from 34 percent to 69 percent) when faced with a weak BN-MCA candidate in the Chinese majority state seat of N27 Balakong in Selangor, without much campaign help from Umno and PAS. In the mixed state seat of N32 Seri Setia, also in Selangor, Harapan faced a more formidable PAS candidate who was a former Selangor exco member, and experienced a fall in Malay support of 11.2 percent from 49.5 percent to 38.4 percent.
In the Port Dickson by-election, Harapan fielded prime minister-in-waiting Anwar Ibrahim against a crowded field that included a PAS retired Air Force officer (but no BN candidate) and Harapan's share of the Malay vote increased by 18.5 percent from 29.4 percent in GE14 to 47.9 percent in the by-election. Finally, in the recent Cameron Highlands by-election, Harapan increased its Malay support by a mere one percent when faced with a Muslim Orang Asli candidate from the BN in what is traditionally an MIC seat. In the upcoming N24 Semenyih by-election in Selangor, pressure will be on Harapan to increase its share of the Malay vote from the 36.7 percent it won in GE14, since Selangor is a stronghold state for Harapan and Bersatu will be fielding a candidate for the first time in a by-election since GE14.
What is clear from the by-election results is that one cannot assume that most of PAS' Malay support will necessarily go to BN in a head-to-head fight with Harapan, nor can one assume that most of the support for PAS that came about from anti-BN supporters will necessarily go to Harapan in a head-to-head fight. The Malay vote is up for grabs and Harapan needs to be strategic in taking systematic steps to win them over.
Firstly, the branding and institutional support structures for Harapan need to be strengthened at the national and state levels. Having been officially recognised as a coalition of political parties for less than a year, Harapan still has lots of work to do before it can reach the same kind of institutional maturity and strength that the BN possessed at the height of its political power.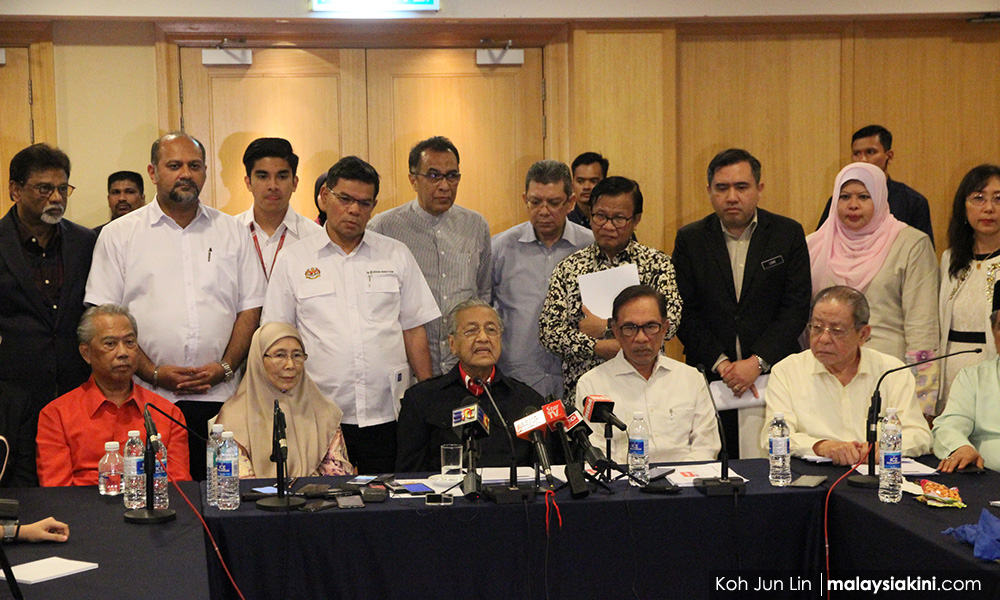 While the Harapan presidential council meetings occur on an almost weekly basis, the machinery to build Harapan's brand, to communicate its policies to the larger public and to counter the right-wing political messages from Umno and PAS are still being organised. Campaigning as an opposition coalition and working as a ruling coalition are two separate tasks with different challenges.
With a stronger Harapan branding, support and structures, Harapan will be able to be more effective in its campaigns and be less susceptible to being seen as separate parties working independently of each other. A more cohesive Harapan will be less likely to be vulnerable to accusations that it is being dominated by any one single coalition member e.g. the DAP, which is fuel to the fire of racial and religious polemic that is being stoked by Umno and PAS.
Secondly, there needs to be a more concerted effort to contrast Harapan against Umno and PAS and tie the fates of Umno together with PAS. Right now, PAS is trying to have its cake and eat it by working with Umno on the basis of racial and religious cooperation, but not wanting to suffer the taint of being formally associated with the corrupt and kleptocratic practices of Umno. Whether this can last until GE15 remains to be seen, especially given the accusations that PAS received financial help from Umno prior to GE14.
Indeed, more needs to be said about PAS' original intention of leaving Pakatan Rakyat and contesting as 'spoilers' in GE14. It is likely that PAS' game plan all along was to work towards an alliance with Umno. If BN-Umno had won GE14 with a small majority or if it needed PAS' seats to form a government, PAS would most certainly have joined forces with Umno at the federal level. If the unlikelier scenario of Harapan winning power occurred, then PAS would do what it is doing now – which is to inch towards closer cooperation with Umno in preparation for GE15.
Thirdly, Harapan should take steps to ensure that the pro-rakyat policies which it has and which it will implement reach to the ground. Right now, pro-rakyat policies such as the I-Suri contribution for poor housewives, the My100 and My50 public transportation passes and the MySalam health insurance scheme for the B40 have not been properly rolled out yet to the masses, especially to those in the rural areas. As more of these policies are announced, in accordance to the Manifesto Promises, the key challenge for Harapan is to ensure that these policies are felt on the ground, especially by the B40, the majority of whom are Malay voters.
Fourthly and lastly, Harapan must not forget that in its efforts to systematically win more of the Malay vote, that it also rolls out targeted policies which benefit the bumiputera voters in Sabah and Sarawak. This would include a careful implementation of the decentralisation policies that were promised in the Harapan Manifesto. Harapan, together with Warisan, won 24 out of 57 parliamentary seats in Sabah and Sarawak (including Labuan) in GE14.
With the inclusion of additional MPs post-GE14, Harapan now holds 28 Parliament seats in Sabah and Sarawak, almost half of the total parliamentary seats. With the implosion of Umno in Sabah and the dissolving of BN in Sarawak, Umno and PAS are almost bereft of any political representation and influence in East Malaysia. As Umno and PAS ramp up their political rhetoric and cooperation, they are also closing off any reasonable chances they have to have any political impact in East Malaysia, come GE15.
A good gauge of the political prospects for Harapan and Umno-PAS will take place in the Sarawak state elections, which have to take place by 2021. Gabungan Parti Sarawak (GPS) will fight tooth and nail against Harapan to maintain control of the state government, while Umno+PAS will have to find a new campaign narrative for the state elections or remain politically irrelevant in the largest state in Malaysia.
Harapan should not have knee-jerk reactions towards all the talk that it only has a minority of Malay support by trying to become BN 2.0. With a systematic agenda that is pro-rakyat and targeted policies which benefit the B40 being rolled out, Malay support for Harapan will increase, in spite of the best efforts of Umno and PAS to play the racial and religious card against Harapan.
---
ONG KIAN MING is the MP for Bangi and DAP assistant national director for political education.
The views expressed here are those of the author/contributor and do not necessarily represent the views of Malaysiakini.