Anti-corruption plan should be a national agenda for everyone to adopt
MP SPEAKS | I believe that all Malaysian institutions of higher education should aim to produce useful and patriotic citizens of Malaysia who are committed to the ideals of a united, just, democratic and progressive society where there is integrity and respect for human rights.
For this reason, all institutions of higher education should follow closely national developments which will pursue these goals.
One such development is the launching of the National Anti-Corruption Plan (NACP) to tackle corruption in the country for the next five years by Prime Minister Dr Mahathir Mohamad yesterday.
The plan, developed by the National Centre for Governance, Integrity and Anti-Corruption (GIACC), incorporates 115 initiatives which cover six sectors, namely politics, law enforcement, public procurement, legal and judiciary, public administration and corporate management.
I believe that the NACP should be actively debated by our students in institutions of higher learning, not to involve students in partisan politics, but to actively cultivate not only an interest but an ownership in national developments in the country.
In fact, I am of the view that if we are serious about integrity in public affairs, to transform Malaysia from a global kleptocracy into a leading nation of integrity in the world, the NACP should be presented to Parliament for debate and adoption, so that it truly becomes an anti-corruption plan for the whole country for the next five years.
It is interesting that on the same day that the prime minister launched the NACP, Transparency International (TI) released its 2018 Corruption Perception Index (CPI), with Malaysia scoring an unchanged 47 points from 2017, but improving its ranking by one notch from 62 to 61 among 180 countries.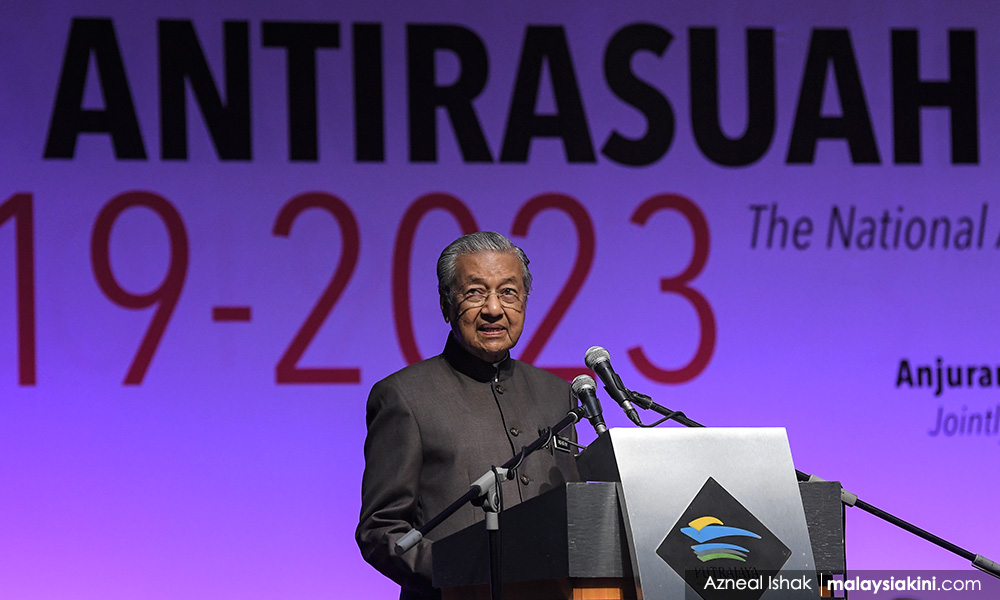 When I first learnt of Malaysia's ranking and score in the 2018 TI CPI, I was quite disappointed, as the last seven months after the historic decision of the 14th general election on May 9 have been quite memorable and unprecedented in the effort to transform Malaysia from a global kleptocracy into a leading nation of integrity in the world.
This is with the former prime minister being charged in court for corruption and other criminal offences 42 times, four charges behind the former deputy prime minister (although the former PM is expected to beat the former DPM soon with the total number corruption and other criminal charges) as well as former "heavy guns" whether cabinet minister, state chief minister or former heads of public institutions such as Felda and Tabung Haji hauled to court for corruption or other criminal charges.
I expressed my disappointment with Malaysia's performance in the 2018 TI CPI to an influential observer of corruption trends in Malaysia, and he rightly pointed out that without the historic decision of the 14th General Election on May 9, 2018, both Malaysia's 2018 TI CPI ranking and score would be worse than last year, probably plummeting to the lowest level for Malaysia in the 24-year TI CPI series since 1995.
He pointed out that the 2018 TI CPI ranking and score were a composite index from a combination of 13 surveys and assessments of corruption, collected by a variety of reputable institutions, most of which were done before May 2018.
But for Malaysia's ranking and score in the 2019 TI CPI, he predicted: "I think next year (there will be a) big jump".
We want this to happen, and that is why the NACP should not be a plan merely launched by the prime minister, but should be tabled in Parliament for adoption to be really a national plan which all stakeholders, including institutions of higher education and the college and university students in the country, take ownership.
This should set the country in the right direction towards the building of a New Malaysia.
---
LIM KIT SIANG is Iskandar Puteri MP. The above is the text of his speech delivered at the Southern College today.
The views expressed here are those of the author/contributor and do not necessarily represent the views of Malaysiakini.