'Busy training?' - Umno Youth chief trolls minister on 'golfing' pic
Umno Youth chief Asyraf Wajdi Dusuki took a dig at Youth and Sports Minister Syed Saddiq Syed Abdul Rahman, who he said was "busy training" in reference to a picture showing the latter seemingly indulging in office golf.
Taking to Facebook, Asyraf also reminded the minister of a promised dialogue session between the two on Malay supremacy which had yet to take place despite Parliament session ending last October.
"Busy training YB (Yang Berhormat) Syed Saddiq? When is the date of our dialogue on Malay supremacy?
"Parliament (session) has long ended. As I once said, you need not worry YB. We do not want to debate to decide who is great as you are known as the world's best debater.
"I am only asking for a dialogue as you said (the issue of) Malay supremacy was irrelevant," Asyraf (photo) said, putting up a photo of the minister "playing golf" in what appears to be his minister's office.
However, the picture in question was actually taken during the shooting of a video on a golf fund-raiser involving Syed Saddiq, who is also the Bersatu Youth chief.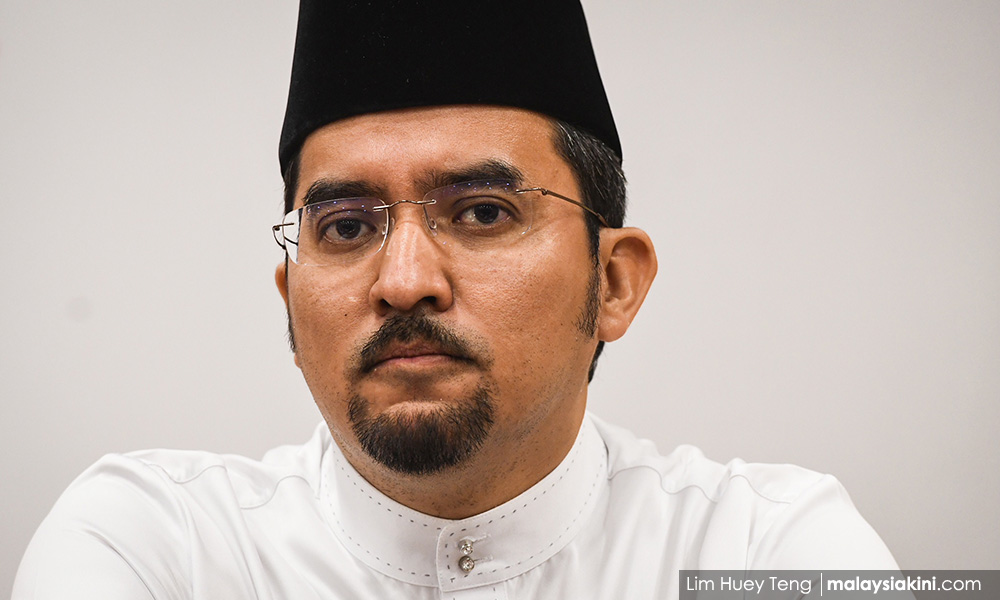 In a statement yesterday, Bersatu Youth stated that the minister has been part of a promotional video shoot for the party wing's charity golf championship, to be held on Jan 26.
"[...] The minister's office at the Youth and Sports Ministry was chosen as the location (for the video) as the minister had a tight schedule and was only able to spare half an hour for the video shoot.
"He (Syed Saddiq) was selected as the model for the video in his capacity as the national Bersatu Youth chief and it was his responsibility to promote the charity golf (event)... we had no money to pay models, actors or renowned golf icons," Bersatu Youth exco Zainal Abidin Sihab said on Facebook yesterday after the photo of the shoot was making its rounds on social media.
Syed Saddiq had in October, last year, accepted Asyraf's invitation to a dialogue on the subject of the Malay agenda in the country.
The minister had tweeted: "Can (have the dialogue). Later, we can set a time and date, when the youth committee meets to deliberate on matters concerning the youth. I will also invite young politicians from other parties."
The invitation came after Syed Saddiq was reported to have said that the era of Malay supremacy had ended and Malaysia would shift towards equity and equitable distribution of wealth across all segments.
Bersatu president Muhyiddin Yassin later clarified the statement, saying that while Bersatu fights for the Malays, but as part of the new ruling coalition, it must also be fair to all other races in the country.