Chief Minister Abang Johari Openg last night officially launched Gabungan Parti Sarawak (GPS), a coalition of four state parties that will be seen as the new platform for the Sarawak government.
He assured that GPS would not be like the previous political alliance, and would be able to protect the rights and future of Sarawak in line with the wishes of the people in the new political era.
"The 14th general election had given us a surprise and changed the country's landscape... now that we have our own coalition, we can work with anyone whose right of origin is respected," the GPS chairperson said.
The launch at Stadium Perpaduan Sarawak, Kuching, was attended by about 8,000 GPS members from four political parties in the state.
The defeat of the BN government at the federal level after the general election last year saw BN component parties in the state forming the GPS with its slogan or catchphrase "Utamakan Sarawak" or "Sarawak First."
GPS comprises Parti Pesaka Bumiputera Bersatu (PBB), Sarawak United People's Party (SUPP), Party Rakyat Sarawak (PRS) and the Progressive Democratic Party (PDP). It was approved by the Registrar of Societies on Nov 19.
Nine thrusts
At the launch, Abang Johari also unveiled the nine thrusts of GPS, namely upholding the constitution, reflecting the rules of law and building prosperity and a greater Sarawak.
The others are political integrity and patriotism, straightening the Sarawak economy, fostering unity and peace, as well as inspiring future generations and preserving heritage and sustainable resources.
Speaking at a press conference later, he said GPS would go down to the ground to explain the nine thrusts and how they are connected with the newly launched party logo.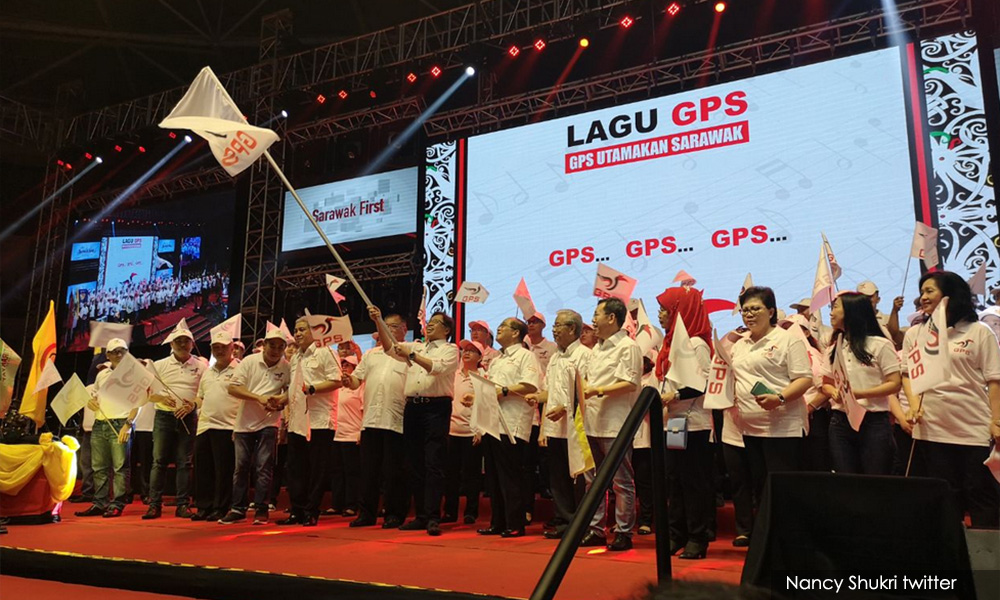 "What is important is that we have a sustainable economy and at the same time, GPS subscribes to the concept of a good relationship with the federal government," he said.
Abang Johari was also pleased with the progress made by the Sarawak Consultative Committee on the Malaysia Agreement 1963.
"So far it is a good negotiation", he said of Sarawak's ongoing demands from Putrajaya pertaining to its special rights and position as enshrined under MA63 and the Federal Constitution.
On suggestions to increase the sales tax to 10 percent next year to help expedite development in Sarawak, the chief minister said it would depend on the economic environment and national needs.
He said from this year, based on Schedule 10 of the Federal Constitution, Sarawak was allowed to impose the sales tax on petroleum products which would provide additional revenue of RM3 billion annually.
While Abang Johari thanked the federal government's Pakatan Harapan for continuing the Pan Borneo Highway project from the previous government, he said under the GPS, a provision of RM2.8 billion was allocated for water supply and another RM2.3 billion for electricity supply.
- Bernama