MP SPEAKS | Total petrol and diesel subsidies for the first 11 months of 2018 amounted to RM4,890 million and the Pakatan Harapan federal government has neither profited from retail petrol pump prices nor imposed a sales tax on RON95 or diesel.
Allegations that the government has been taxing petrol are false and baseless.
The simple truth is that the government did subsidise RON95 and diesel in November, albeit at a lower cost compared to the previous months.
The latest official records show that in November 2018, the government paid RM4.1 million in RON95 petrol subsidy for the whole month.
Meanwhile, for diesel fuel that is heavily used not only by the commercial and industrial sectors but also by the general public in Sabah and Sarawak, the government paid an RM209.1 million subsidy in November.
The full 2018 monthly total subsidy cost up to November is provided in the table below.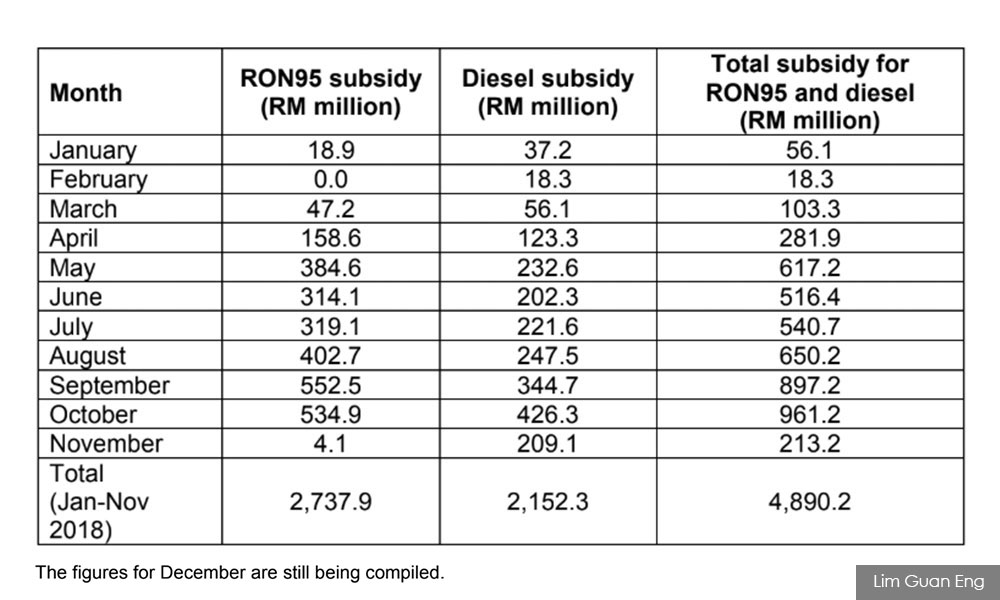 The figures for December are still being compiled.
This government is dedicated to transparency. If and when the Automatic Pricing Mechanism (APM) prices drop further, the government will adjust the pricing downward so that Malaysians will benefit from cheaper fuel prices.
As shared earlier, the government is implementing a floating mechanism this month where pump prices will fall on a weekly basis if APM prices decrease further.
If APM prices rise, the retail prices will be stabilised at the current fixed levels at RM2.20 per litre for RON95 and RM2.18 per litre for diesel.
Once the government rolls out its targeted petrol subsidy programme before the end of this year, petrol and diesel prices will be floated freely based on market prices.
---
LIM GUAN ENG is DAP MP for Bagan in Penang and Finance Minister.
The views expressed here are those of the author/contributor and do not necessarily represent the views of Malaysiakini.