CJ: Focus on delivering justice, not gaining promotions
Chief Justice Richard Malanjum today reminded judges not to write judgments simply in the hopes of gaining promotion, at the expense of justice.
He was speaking at the elevation of four new Federal Court judges and five Court of Appeal judges.
Justice Malanjum, cited Lord Denning, England's most celebrated judge of the 20th century, who had said that once a judge is appointed, he or she should be focused on delivering justice and giving good judgments, and not be interested in promotions.
"(Gaining) promotions should never be a motivation when writing judgments," he said.
Justice Malanjum also reminded the judiciary to uphold the oaths they had taken to be judges and not adopt the "herd mentality".
"You (judges) are entitled to write the judgment even if you do not agree to the majority judgment (in the Court of Appeal or Federal Court)," he said.
"If you do not agree, write your own grounds and be proud of writing your own judgment," he said.
He referred to the judgment in the landmark case of Semenyih Jaya Sdn Bhd, made at the apex court when reminding judges to be independent.
Justice Malanjum said that there was once a time when Malaysia's judicial decisions were cited regularly by other Commonwealth jurisprudences and he challenged the present batch of judges to return the judiciary to its former glory.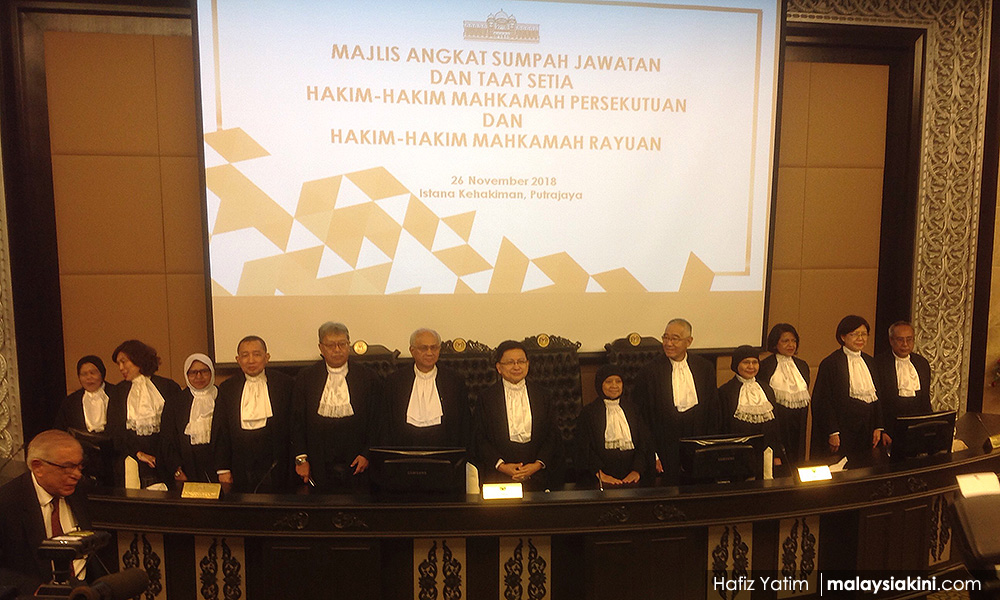 On the elevation of judges today, Justice Malanjum said their selection was based on strict criteria that included judicial temperament, and the quality of the written judgment.
He reminded the newly elevated judges that they would be presiding in what would be the apex court for some of the cases and therefore would be required to do a lot of reading and listen attentively to submissions.
He said that judges also needed to be team players but emphasised that they were not required to agree with all decisions and could choose to dissent.
"What is important is to remain independent. Please uphold your oath and let justice be done. Let us make sure the judiciary will flourish once again.
"Remove the perception that judicial independence has been lost," he added.
Proposal to limit submissions to 20 minutes
Justice Malanjum also proposed that lawyers who submit at the Court of Appeal and Federal Court, limit their submissions to 20 minutes and not take a long time to present their case.
Malaysia's top judicial officer pointed to the Brexit Miller case, where the judges in the United Kingdom had advised lawyers to limit their submissions.
"Deliver your 'killer points' first. Do not adopt 'save the best for last' approach," he said.
"Let us limit the time for submission by raising what is most important things first. If you cannot get the attention of the judge in the first five minutes then your case can be considered as lost," he said.
Justice Malanjum also urged the Malaysian Bar not to protest this proposal, so as to enable cases to move along.
"If this is agreed then it can become a practice directive by (the Federal Court office) issuing a circular," he added.