Army veteran Mohd Ali Baharom, better known as "Ali Tinju", has reportedly claimed to be a changed man and is seeking to join Bersatu.
Ali is best known for leading counter-demonstrations opposing the electoral reform group Bersih and the TangkapMO1 anti-corruption protests, including a 2012 "butt protest" outside the home of the then Bersih co-chairperson Ambiga Sreenevasan.
According to the report by Free Malaysia Today (FMT), Ali said he is now a supporter of Bersatu chairperson Dr Mahathir Mohamad and has lost faith in the Umno leadership following the corruption scandals involving former prime minister Najib Abdul Razak.
"I joined Bersatu on my own accord. In Umno, I was not in a leadership position. So, we were just taking orders from the leaders," he was quoted as saying.
In a separate report, the FMT said a Bersatu source has denied Ali is a member because the party has yet to approve his membership.
"He had only sent his membership form but his membership has yet to be approved," the source was quoted as saying.
Meanwhile, when asked about his role in the protest outside Ambiga's home, he reportedly said: "Yes, I was involved in such provocations, but I have never lied or taken people's money.
"I joined Bersatu as a follower, and I'm not after any post or monetary gains.
"I am aware of Dr Mahathir's reminder that if you want to join Bersatu, you must change."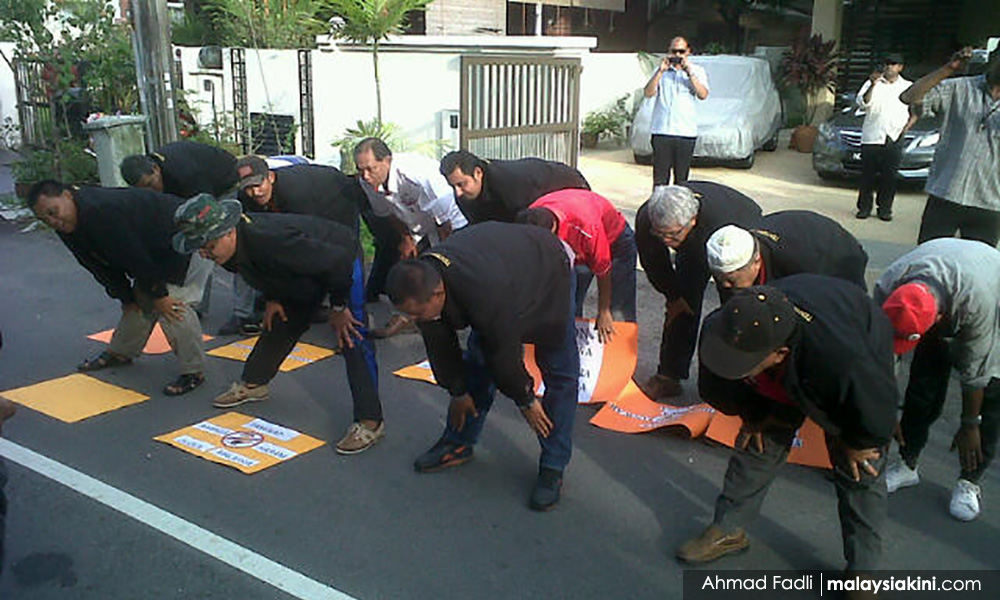 The protest on May 15, 2012, featured a group of retired armed forces personnel performing "exercises" outside Ambiga's home, which entailed bending over and shaking their posterior towards her gate.
The protest was made in response to the Bersih 3.0 rally held a month earlier.
He had also threatened to do the same at Malaysiakini's office over the news portal's reporting on Najib's wife Rosmah Mansor, but the threat did not materialise.
Ali was also charged in 2015 for allegedly making seditious remarks during a riot outside Low Yat Plaza earlier that year, but the then attorney-general Mohamed Apandi Ali abruptly dropped the charges citing lack of evidence.
In 2016, he led a protest against supposed police inaction against the TangkapMO1 rally, which in turn was a protest calling on authorities to arrest Najib over the 1MDB scandal.
Later that year, he reportedly made a death threat against the then Bersih chairperson Maria Chin Abdullah.
He had claimed that he was misquoted by the report, only for a recording vindicating the report to surface.
According to Ahmad Zahid Hamidi, who was then the home minister, the case had been classified as NFA (No further action).
In an immediate response today, Maria who is now the Petaling Jaya MP, said it would be disappointing if Ali is accepted as a Bersatu member.
"He has displayed intolerance for differing views and threatened the lives of those whom he disagreed with. In new Malaysia, not only corrupt leaders are unacceptable but also those who provoke violence.
"If we don't draw the line what's stopping any party from accepting Jamal Yunos?" she told Malaysiakini.
Jamal is currently the Sungai Besar Umno chief, and is also known to make statements deemed provocative and intolerant.