Lawyers for Rosmah Mansor, the wife of former prime minister Najib Abdul Razak, said that she did not buy any of the jewellery being sought by a Lebanese jeweller.
"We would like to stress that all of the jewellery itemised in Global Royalty Trading SAL's statement of claim, were sent to our client for her viewing, and none were purchased by Rosmah.
"The allegation being spread that the (items of) jewellery listed by Global Royalty were purchased, and bought using stolen funds, is therefore completely baseless and untrue," her lawyers K Kumaraendran and Geethan Ram Vincent said in a statement today.
They added that they would be taking the necessary steps to protect Rosmah's interests.
Earlier today, Malaysiakini reported that Global Royalty had filed a US$14.79 million (RM59.831 million) suit against Rosmah last month over a consignment of 44 pieces of jewellery.
---
Read more: Lebanese firm sues Rosmah over RM60m jewellery consignment
---
The consignment, the Beirut-based firm claimed, was sent to her in February and seized by the police in May.
The company further claimed that Rosmah, in a letter dated May 22, acknowledged receiving the items.
In their statement today, Kumaraendran and Geethan Ram also responded to inspector-general of police Mohamad Fuzi Harun, who said Rosmah had not filed any request for the return of jewellery seized by the police.
The lawyers said that the seizures were not carried out in Rosmah's presence, and that no list of impounded items had been filed to the former prime minister's wife.
They added that a request seeking permission to inspect and identify the seized items had also been rejected by the police, and is pending an appeal.
"Prior to claiming, our client wants to first ascertain the items seized, and identify her belongings, as during the raids, items belonging to our client's daughter and son-in-law were also confiscated.
"This being the case, it is only fair that Rosmah be given permission to identify her own personal belongings.
"We hope that the police will accord fairness to our client, and observe all due processes diligently," the statement read.
Police had seized the jewellery and other items including cash and luxury handbags as part of their probe into the 1MDB scandal.
Bukit Aman commercial crimes chief Amar Singh said the total items seized have a total retail value of up to RM1.1 billion.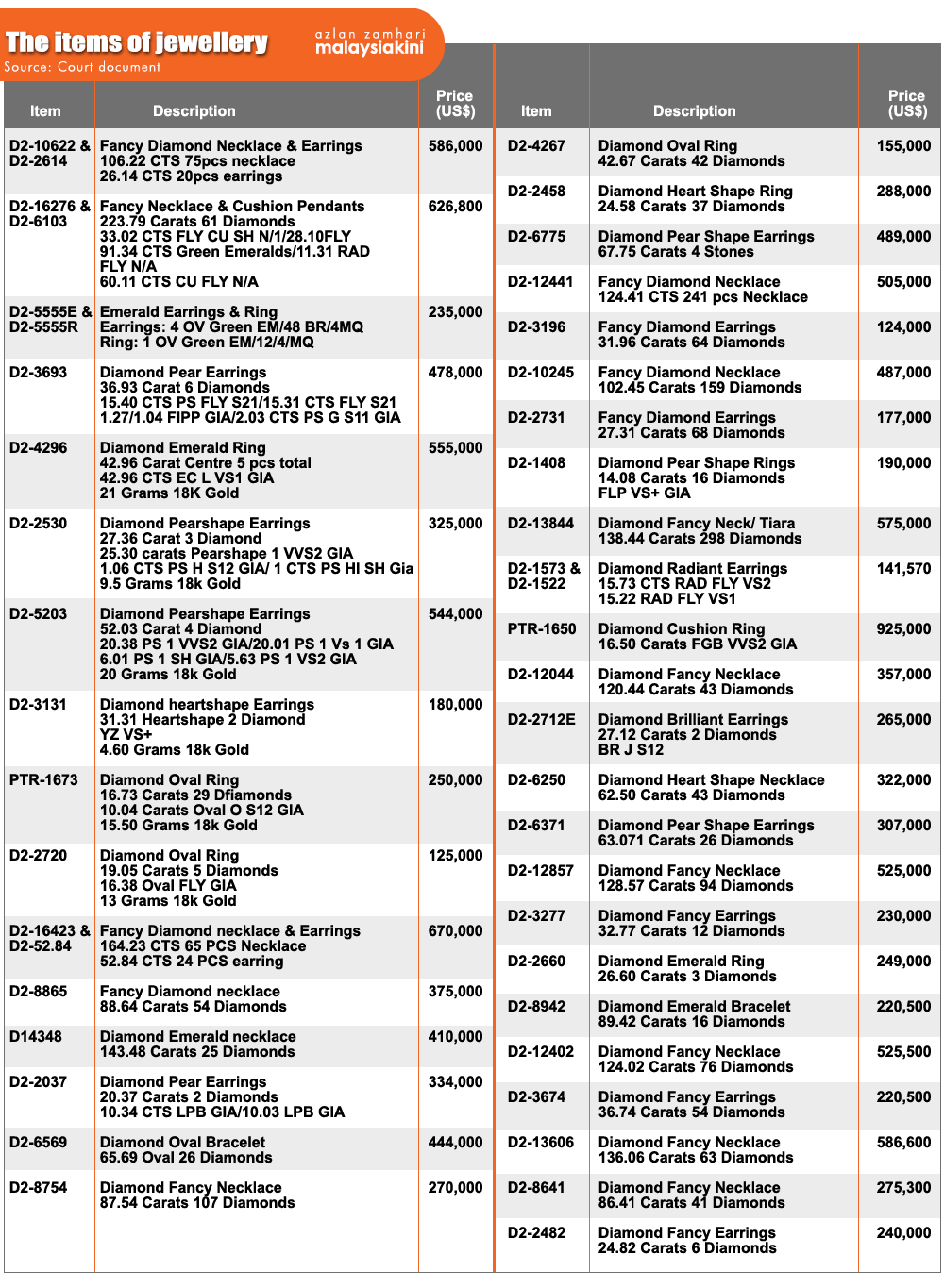 ---
RELATED REPORTS
Lebanese firm sues Rosmah over RM60m jewellery consignment
Gov't seeks to intervene in Rosmah's 'bought with stolen money' jewellery suit