Businessperson Low Taek Jho, through his spokesperson, has decried the US Department of Justice's (DOJ) "global overreach" after his superyacht Equanimity was seized by authorities in Bali.
The superyacht, reportedly worth US$250 million (RM1 billion), is among several assets being sought by the DOJ for allegedly being acquired using funds it says were misappropriated from Malaysian state fund 1MDB.
"The US Department of Justice has stayed asset forfeiture proceedings in this case and has still not taken any steps to prove that any impropriety has occurred.
"It is therefore disappointing that, rather than reflecting on the deeply flawed and politically-motivated allegations, the DOJ is continuing with its pattern of global overreach - all based on entirely unsupported claims of wrongdoing," Low's spokesperson was quoted as saying by the New Straits Times tonight.
The spokesperson said Low looked forward to "actual facts" being presented in court.
This, said the spokesperson, would demonstrate that the DOJ's case was "completely without foundation'.
Indonesian authorities, together with the US Federal Bureau of Investigations (FBI), seized the luxury yacht off the coast of Teluk Benoa in Bali today.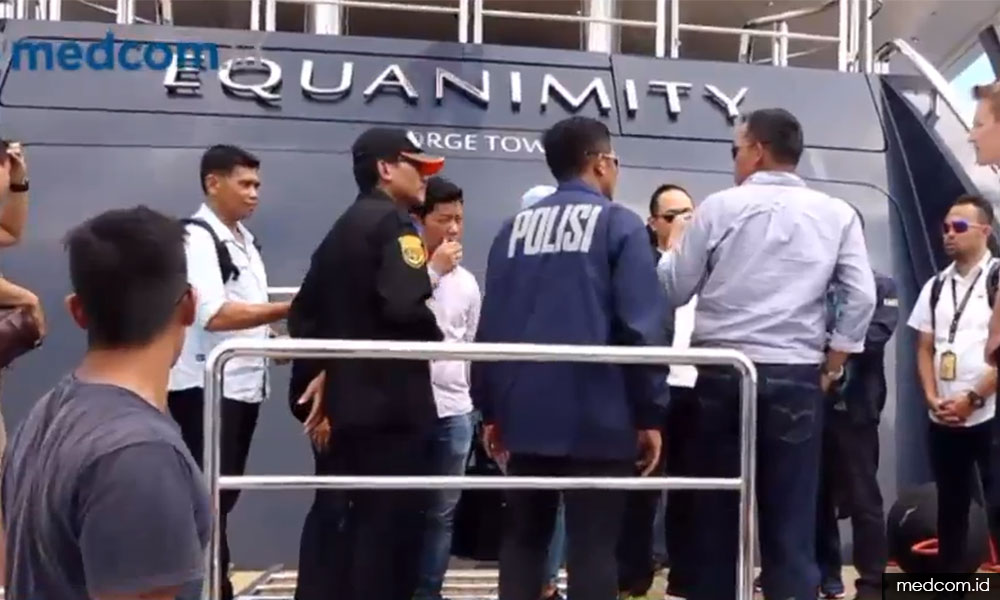 Indonesian media reports indicate that there were 34 crew members on board and that the vessel had been in Indonesian waters since November last year.
Metro TV said the yacht was seized with court approval.
"We have been observing the crew since yesterday and now we are taking action since we have received approval from the court to seize the boat," Agung Setya, director of economic and special crimes at Indonesia's criminal investigation bureau, told Metro TV.
The DOJ believes that at least US$4.5 billion has been misappropriated from 1MDB by Malaysian government officials among others and is looking to recover around US$1.7 billion of in assets allegedly acquired using these stolen funds.
The DOJ's involvement was in response to the funds being laundered through the US financial system.
The DOJ has temporarily filed for a stay on the forfeiture of these assets, which is through a civil suit, pending a parallel criminal case.
READ MORE
Jho Low decries DOJ's 'global overreach' after superyacht seized
'Jho Low not on board seized superyacht'
Equanimity been on our radar for 8 days - Indonesian cops
Indonesia, FBI seize Jho Low's yacht Equanimity in Bali
The hunt for Jho Low's mega yacht - The Equanimity
Kerr hands over US$8.1m worth of jewellery to DOJ
The 1MDB players - in their own words
What's in DOJ's third and latest bombshell?
DOJ: US$620m returned 'donation' used to buy pink diamond for MO1's wife
'Dual national Low bought over US$1b in properties with 1MDB cash'
Yacht, diamonds and more in DOJ's latest 1MDB filing
DiCaprio returns Brando Oscar as part of 1MDB probe
DOJ: Najib's stepson bought properties, posters using funds from Aabar BVI
'Jho Low's award-winning superyacht bought with 1MDB funds'
DOJ: Jho Low spent US$10m on jewellery for Aussie model, mom
DOJ details 1MDB's alleged plot to cover up 'relatively worthless' fund units