Actor Farid Kamil claims trial to 4 charges
(Updated )
Malaysian film actor and director Farid Kamil Zahari faced the Magistrate's Court in Petaling Jaya today to answer four charges, including voluntarily causing hurt to a private company accounts executive and a policeman.
He claimed trial to all the charges.
On the first two charges, he allegedly assaulted Ashraf Ahmad, 35, and constable Muhammad Nizam Jamaluddin, 24, at the Kota Damansara, Petaling Traffic Police Station information counter at 1.20pm on Jan 11.
The charges are framed under Section 323 of the Penal Code, which provides for a maximum one year imprisonment or RM2,000 fine, or both, upon conviction.
On the third charge, Farid, 37, is accused of using criminal force to prevent Nizam from carrying out his duty as a public servant at the same place, time and date, under Section 353 of the Penal Code, which carries a maximum jail term of two years or a fine, or both, upon conviction.
On the fourth charge, the father of two, aged five years and three years, is accused of disorderly conduct at the police station by hurling insults at Nizam, under Section 90 of the Police Act 1967, which carries a maximum fine of RM500 or up to six months imprisonment, or both, upon conviction.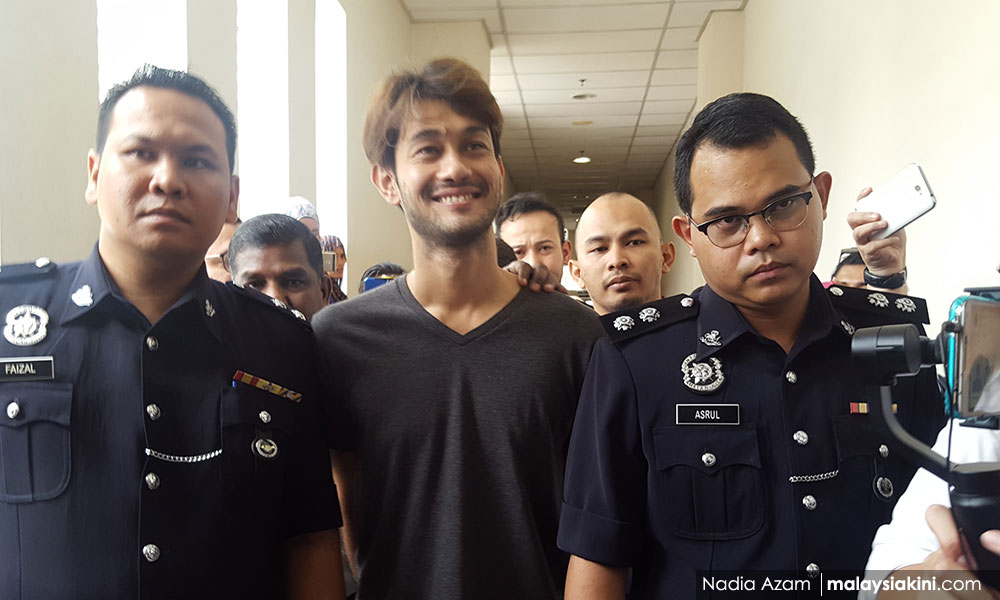 Magistrate Nor Ariffin Hisham set bail at RM3,000 with one surety for each of the charges, and March 5 for remention.
Earlier, deputy public prosecutor Fazeedah Faiq proposed RM5,000 as bail, with one surety, for each of the charges. However, counsel Athari Bahardin mitigated for a lower sum, telling the court that Farid did not have a steady income and had to support a wife, two children as well as his aged parents.
The accused's wife and actress Diana Danielle, and two of his brothers Anis Anwar Zahari and Fadzil Bahari Zahari, who is also the husband of actress Yana Samsudin, were in court to provide him moral support.
When the proceeding ended, Farid was brought out of the courtroom to the lockup through the witness room door, with Diana in tow, to avoid reporters who were waiting outside the main door.
Around 12pm, Diana, covering her face with a folding fan, was seen hastily leaving the courthouse and getting into a 4WD vehicle with her personal assistant at the wheel.
On the day of the alleged incident, Farid was reported to have come to the police station to lodge a report following an accident.
Meanwhile, reporters managed to catch up with Farid who expressed joy and gratitude for his wife's presence.
"I love my family; I miss my children... I am very happy that my wife came today. I love Diana," he said.
- Bernama