COMMENT | A young journalist working for a local media company, Wai Wai Hnin Pwint Phyu walked into the training room in the Pazundaung district of Yangon the other morning, feeling somewhat upset.
"Fa, what you think of SEA Games in Kuala Lumpur?" she asked in her limited English.
"I think we struggled to make it happen. Why do you ask?" I said.
"I am not happy. I am very angry," said Wai, her face sour.
Since we had a good half-hour before beginning the training session, I pulled out two chairs next to her – one for me and one for our translator - and prepared myself for a story.
Before I could ask her what made her upset, Wai showed me a picture on her handphone. It was of a big group of Malaysian supporters clad in Jalur Gemilang.
"What picture is this?" I asked, curious.
"This is a picture of Malaysian fans, taken during the 2013 SEA Games in Myanmar during the Malaysia-Singapore football match. See how happy they are supporting their country inside the stadium."
I looked at her, confused.
"Do you know where the Myanmar fans were when our Myanmar football team fought Laos?" she asked, her eyes turning red.
"Where?" I asked worriedly.
"Outside the stadium," she answered shortly as she showed me a picture of hundreds of fans with Myanmar flags outside the stadium.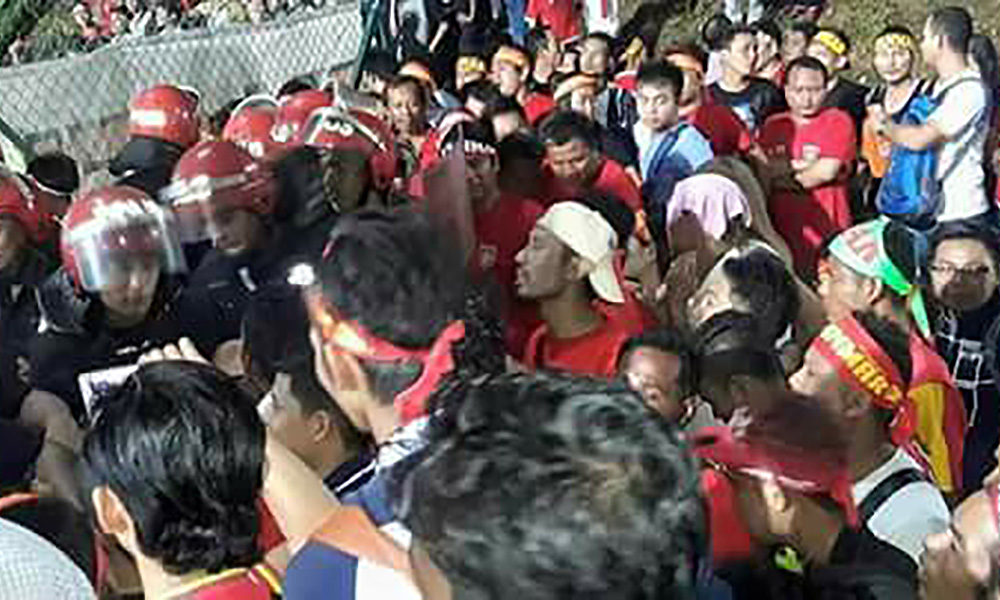 According to Wai and allegations on social media, only 500 tickets were made available by Malaysia for the Myanmar fans during the Myanmar-Laos match at the UiTM Stadium, which has a capacity of 6,000 seats. Although there were a lot of empty seats during the match, no additional tickets were made available for the remaining fans. As a result, they had to camp outside – some climbed fences and some on trees, to catch glimpses of the match.
From time to time, someone from inside the stadium would ring someone waiting outside, to give updates on the match – that was how their fans outside the stadium celebrated all of Myanmar's three goals.
Myanmar fans who were stranded outside were purportedly only allowed to enter the stadium 10 minutes before the match ended...