The murder of Kim Jong-nam may have taken mere seconds, according to a leaked CCTV footage of the incident.
The CCTV footage was published by Japanese TV station Fuji TV.
It shows a woman placing something over a grey-suited portly man identified by the narrator as North Korean leader Kim Jong-un's half brother.
The woman placed an item on Jong-nam from behind, near the self check-in kiosks at KLIA2.
Moments after that, the woman, who matches earlier leaked CCTV pictures, is seen calmly walking away.
The woman is wearing a white long-sleeved top in the grainy recording of the incident.
The recording also apparently captures another individual who moved next to Jong-nam before the incident of attack but it is difficult to make out.
This individual is captured moving away swiftly from Jong-nam immediately after the incident.
The woman in white is believed to be the first suspect arrested by police. The woman carries a Vietnamese passport.
It is believed the second individual is the arrested suspect, who holds an Indonesian passport.
It was reported that the women thought they were taking part in the recording of a prank video.
The CCTV recording also shows Jong-nam then seeking assistance from KLIA2 personnel and police, who take him to a clinic.
He is seen gesticulating towards his eyes when speaking to police.
Police later said he died en route to Hospital Putrajaya, while the result of the post-mortem on the body is pending.

KLIA闭路电视视频曝光 金正男遇害过程全纪录 by kinitv
On Sunday police released pictures of four North Korean men wanted for involvement in Jong-nam's murder.
They are Ri Ji Hyon, 33, Hong Song Hac, 34, O Jong Gil, 55 and Ri Jae Nam, 57, who all entered Malaysia on separate days between Jan 31 and Feb 7.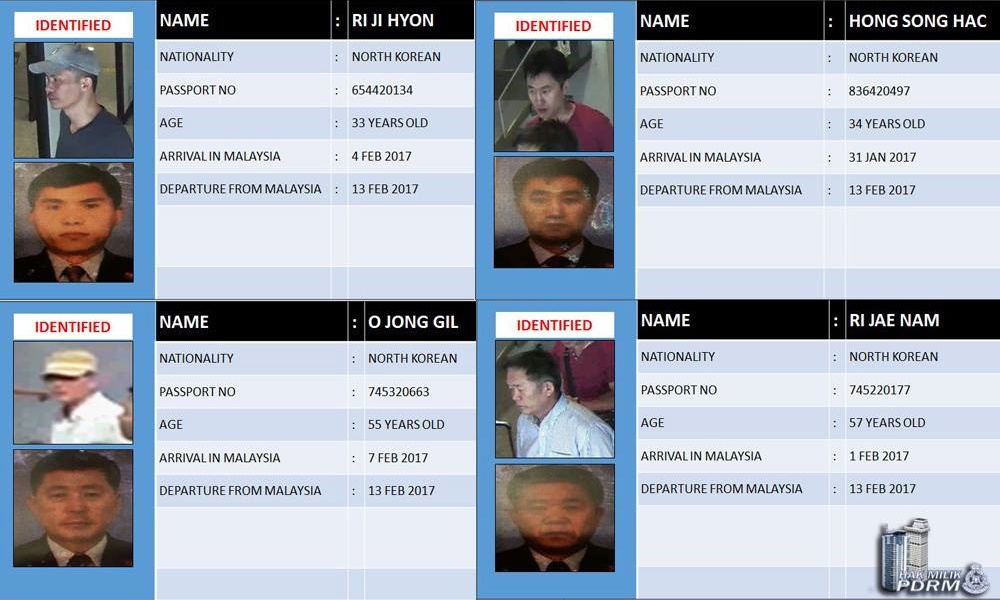 They are believed to have fled Malaysia on Feb 13, the same day Jong-nam was murdered.
Police are also looking for another three males to assist investigations, including one Ri Ji U, who also goes by the name 'James'.
The names of the other two individuals are not known and their identities are being established, but the police are in possession of their photographs.