1MDB funds were used to pay for gambling debts in Las Vegas, said US investigators.
"Funds were stolen under the pretense of a 1MDB investment in oil exploration.
"On paper the US$1 billion was for resource rights, instead (it was) used for personal enrichment...(including) gambling debts in Las Vegas casions, a luxury yacht, interior decorators in London, millions in property including a Bombardier jet costing US$35 million," said Deputy Director of the Federal Bureau of Investigation Andrew McCabe.
He said this at a US Department of Justice press conference on the civil complaints lodged by the department to seize approximately US$1 billion of assets linked to 1MDB.
"The Malaysian people were defrauded on an enourmous scale (in) a scheme which tentacles reached around the world," he said.
Other assets listed by the department in its lawsuits filed today include:
Artworks from Claude Monet and Vincent Van Gogh;

About US$250 million investment in Parklane Hotel, New York;

US$176 million invested in EMI Music;

US$100 million worth of real estate in the US, United Kingdom and elswhere, including a mansion in Beverly Hills, a condominium in New York and a townhouse in the United Kingdom; and


Proceeds from the film 'The Wolf of Wall Street' which Red Granite Pictures has rights to.
Below is the press statement from the US Department of Justice in full:
Attorney General Loretta E Lynch announced today the filing of civil forfeiture complaints seeking the forfeiture and recovery of more than US$1 billion in assets associated with an international conspiracy to launder funds misappropriated from a Malaysian state investment fund.
Today's complaints represent the largest single action ever brought under the Kleptocracy Asset Recovery Initiative.
Attorney General Lynch was joined in the announcement by Assistant Attorney General Leslie R Caldwell of the Justice Department's Criminal Division, US Attorney Eileen M Decker of the Central District of California, FBI Deputy Director Andrew G. McCabe and Chief Richard Weber of the Internal Revenue Service-Criminal Investigation (IRS-CI).
According to the complaints, from 2009 through 2015, more than US$3.5 billion in funds belonging to 1MDB was allegedly misappropriated by high-level officials of 1MDB and their associates. With today's complaints, the United States seeks to recover more than US$1 billion laundered through the United States and traceable to the conspiracy.
1MDB was created by the government of Malaysia to promote economic development in Malaysia through global partnerships and foreign direct investment, and its funds were intended to be used for improving the well-being of the Malaysian people.
Instead, as detailed in the complaints, 1MDB officials and their associates allegedly misappropriated more than US$3 billion.
"The Department of Justice will not allow the American financial system to be used as a conduit for corruption," said Attorney General Lynch.
"With this action, we are seeking to forfeit and recover funds that were intended to grow the Malaysian economy and support the Malaysian people.
"Instead, they were stolen, laundered through American financial institutions and used to enrich a few officials and their associates.
"Corrupt officials around the world should make no mistake that we will be relentless in our efforts to deny them the proceeds of their crimes. "
"According to the allegations in the complaints, this is a case where life imitated art," said Assistant Attorney General Caldwell.
"The associates of these corrupt 1MDB officials are alleged to have used some of the illicit proceeds of their fraud scheme to fund the production of 'The Wolf of Wall Street', a movie about a corrupt stockbroker who tried to hide his own illicit profits in a perceived foreign safe haven.
"But whether corrupt officials try to hide stolen assets across international borders – or behind the silver screen – the Department of Justice is committed to ensuring that there is no safe haven."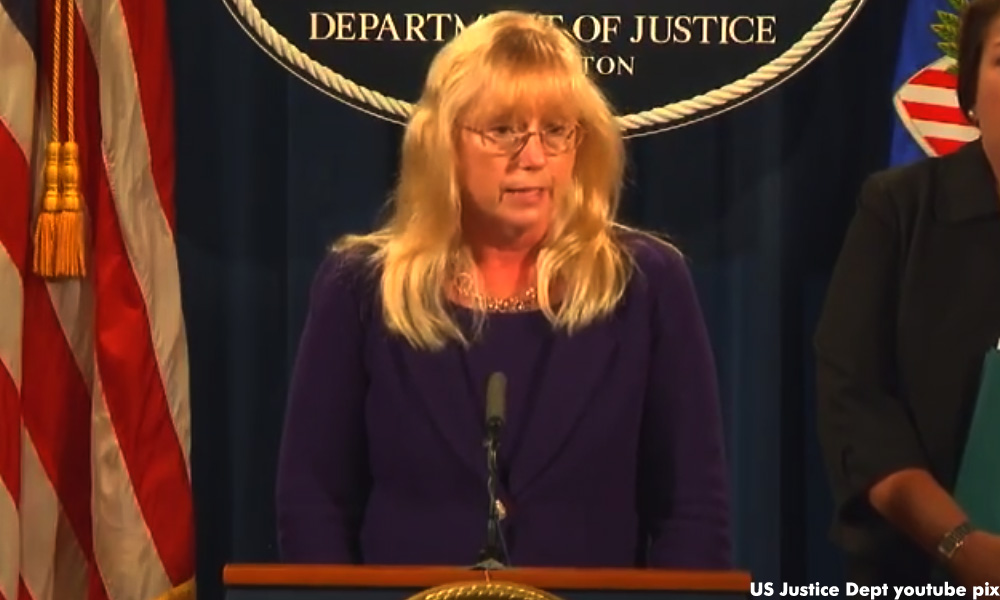 "Stolen money that is subsequently used to purchase interests in music companies, artwork or high-end real estate is subject to forfeiture under US law," said US Attorney Decker.
"Today's actions are the result of the tremendous dedication of attorneys in my office and the Department of Justice, as well as law enforcement agents across the country.
"All of us are committed to sending a message that we will not allow the United States to become a playground for the corrupt, a platform for money laundering or a place to hide and invest stolen riches."
"The United States will not be a safe haven for assets stolen by corrupt foreign officials," said Deputy Director McCabe.
"Public corruption, no matter where it occurs, is a threat to a fair and competitive global economy.
"The FBI is committed to working with our foreign and domestic partners to identify and return these stolen assets to their legitimate owners, the Malaysian people. I want to thank the FBI and IRS investigative team who worked with the prosecutors and our international partners on this case."
"Today's announcement underscores the breadth of the alleged corruption and money laundering related to the 1MDB fund," said Chief Weber. "We cannot allow the massive, brazen and blatant diversion of billions of dollars to be laundered through US financial institutions without consequences."
As alleged in the complaints, the members of the conspiracy – which included officials at 1MDB, their relatives and other associates – allegedly diverted more than US$3.5 billion in 1MDB funds.
Using fraudulent documents and representations, the co-conspirators allegedly laundered the funds through a series of complex transactions and fraudulent shell companies with bank accounts located in the Singapore, Switzerland, Luxembourg and the United States.
These transactions were allegedly intended to conceal the origin, source and ownership of the funds, and were ultimately processed through U.S. financial institutions and were used to acquire and invest in assets located in the United States.
In seeking recovery of more than US$1 billion, the complaints detail the alleged misappropriation of 1MDB's assets as it occurred over the course of at least three schemes.
In 2009, the complaints allege that 1MDB officials and their associates embezzled approximately US$1 billion that was intended to be invested to exploit energy concessions purportedly owned by a foreign partner.
Instead, the funds were transferred through shell companies and were used to acquire a number of assets, as set forth in the complaints.
The complaints also allege that the co-conspirators misappropriated more than $1.3 billion in funds raised through two bond offerings in 2012 and $1.2 billion following another bond offering in 2013.
As further detailed in the complaints, the stolen funds were laundered into the United States and used by the co-conspirators to acquire and invest in various assets.
These assets allegedly included high-end real estate and hotel properties in New York and Los Angeles, a US$35 million jet aircraft, works of art by Vincent Van Gogh and Claude Monet, an interest in the music publishing rights of EMI Music and the production of the 2013 film The Wolf of Wall Street.
The FBI's International Corruption Unit and the IRS-CI investigated the case. Deputy Chief Woo S Lee and Trial Attorney Kyle R Freeny of the Criminal Division's Asset Forfeiture and Money Laundering Section and Assistant U.S. Attorneys John Kucera and Christen Sproule of the Central District of California prosecuted the case. The Criminal Division's Office of International Affairs provided additional assistance.
The Kleptocracy Asset Recovery Initiative is led by a team of dedicated prosecutors in the Criminal Division's Asset Forfeiture and Money Laundering Section, in partnership with federal law enforcement agencies to forfeit the proceeds of foreign official corruption and, where appropriate, to use those recovered asset to benefit the people harmed by these acts of corruption and abuse of office.
Individuals with information about possible proceeds of foreign corruption located in or laundered through the United States should contact federal law enforcement or send an email to [email protected]
Riza, Jho Low and two others named in US Justice Dept lawsuit
Read the US Department of Justice lawsuits below:
Editor's note: If you are viewing this on the Malaysiakini app, please click here to read the 136-page court document filed by the US Department of Justice.
Related reports
It's official – the 1MDB money was stolen
US$731m siphoned from 1MDB to 'Malaysian Official 1' account, says DOJ
Malaysian gov't will cooperate with US lawsuits on 1MDB
US delivers a tight slap in the face to M'sian authorities
1MDB says it didn't benefit from items listed in US suit
Red Granite denies 'knowingly used' stolen funds for film
US Justice Dept goes after 1MDB-linked assets; snap polls blizzard in Penang
Minister: Don't rush to judgment on 1MDB crackdown in US
Properties, jet, litany of assets listed in US Justice Dept lawsuits
'M'sians defrauded on enormous scale, 1MDB funds used to pay gambling debts'
Poser over 'Malaysian Official 1' in DOJ's civil lawsuits
'Surely, Najib won't accuse golf buddy Obama of conspiracy'
No escape for Najib's 1MDB troupe
Goldman Sachs under spotlight in Malaysian fund scandal