The Attorney-General's Chambers has cleared 1MDB officials of any wrongdoing with regard to the investigation carried out by Bank Negara.
"The investigation paper (IP) was submitted to the AG's Chambers on Aug 21, 2015.
"Having studied the IP (investigation papers), deputy solicitor-general (1) Abdul Majid Tun Hamzah (photo) decided there was no offence committed by the 1MDB officials and directed that no further action should be taken," said the Chambers in a statement today.
The Chambers said the IP was returned to Bank Negara on Sept 11 and the decision not to prosecute was communicated to the central bank on the same day.
Following this, Bank Negara, in a letter dated Oct 1, requested the Chambers to review its decision.
"Having considered the request and the fact that there was no new evidence made available, the attorney-general decided to maintain the decision made earlier.
"In this respect, the AG's Chambers would like to state that what had been in the news between Sept 12, 2015, until today concerning the IP still being with Chambers and that discussions were ongoing, is inaccurate and not true," said the Chambers.
The Bank Negara investigation was carried out under paragraph (4)(b) of Part 1 of the Fifth Schedule to the Exchange Control Act 1953 namely, knowingly or recklessly making a statement which is false in a material particular.
Wall Street Journal report
The Attorney-General's Chambers' statement makes no mention if there is a probe into the transfer of RM2.6 billion into Prime Minister Najib Abdul Razak's accounts.
Bank Negara guidelines state that any transfer above RM50,000 should be flagged for suspicion.
With the attorney-general's decision not to pursue further action, only the police and MACC probes into 1MDB remain ongoing.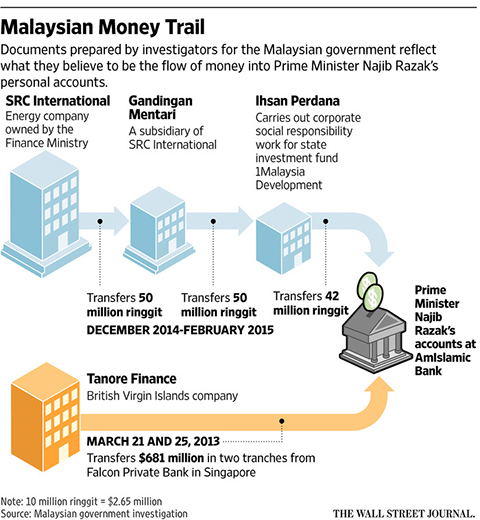 Both have yet to be completed.
The central bank was previously part of a joint special task force headed by former attorney-general Abdul Gani Patail.
They were probing allegations made by the Wall Street Journal that 1MDB funds had made their way into Najib's pockets.
Blogger Raja Petra Kamaruddin then accused Bank Negara officers of leaking Najib's banking accounts details, a claim the central bank denied.
Related reports
1MDB task force not disbanded, says AG's Chambers
Bersih launches 'PM no confidence vote' postcard campaign
Khairuddin's lawyer zapped under Sosma, too
Ex-MCA boss to Najib: Why just Ling? Sue Dr M, too
Don't put words in rulers' mouths about Najib, fumes cousin
Deputy minister: Gov't must respect rulers' call on 1MDB
Najib has lost confidence of the sultans, says analyst
Najib has lost all moral integrity to be PM
Point-blank royal rebuke that cannot be avoided