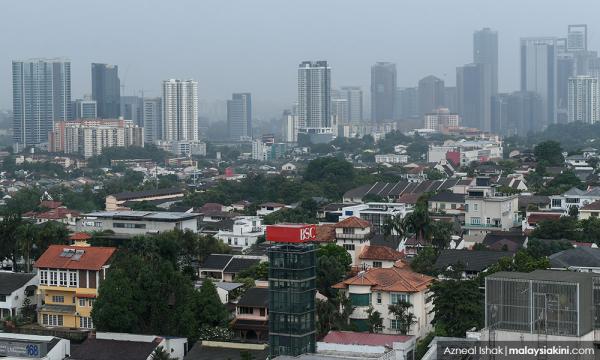 Impose land value capture tax on housing developers
LETTER | Recently, Bloomberg reported that Malaysia's property market was expected to recover in two years due to developers' action in building fewer homes in addition to measures introduced by the Malaysian government to resolve the property overhang status.
This should send a warning signal to the government. Developers are planning to build less. Data from the Valuation and Property Services Department for first half of 2019 indicates a 33.9 percent reduction in the planned supply of new residential units, in comparison to the similar period last year.
If developers are to be constructing fewer units now due to the overhang status, there will be fewer units available in the next two years, even though the demand stays constant. In other words, there will be pent-up demand in the future, which will translate into a sudden jump in house prices.
Despite the overhang issues highlighted by the developers, real demand for houses that are affordable is still high. The overhang happened mainly to houses priced more than RM500,000, which are not affordable for most Malaysians.
Analyses on rental yield vs price for condominiums and serviced residence in Malaysia from RedAngPow, a property analytics research website, show a glaring result. Rental yields start high at low house prices but drop as house prices go up. In other words, there is excess demand at the low housing prices, and excess supply at higher house prices.
Developers might argue that there is a lot of overhang even for houses that are considered "affordable" i.e. priced below RM300,000. However, this needs to be examined in greater detail. Houses priced below RM300,000 in the "overhang-ed" categories potentially may be due to developers' own mistake.
Take Perak for example. In June 2019, Perak had 4,306 overhang-ed units of houses priced between RM200,001 and RM300,000, worth RM 1.02 billion. Based on the Household Income and Expenditure Survey 2016, the median annual income of households in Perak is only RM48,072, which means that 50 percent of the people in Perak can only afford to buy houses worth RM144,216 and below.
In other words, the prices of houses between RM200,000 and RM300,000 were not affordable for people in Perak. In addition to that, more than half of this overhang between RM200,000 and RM300,000 units (2,352 units worth RM533 million) are high-rise (condominiums or apartments). This simply does not fulfil the demand and taste of the people in Perak who prefer landed units.
How about houses in Selangor and Kuala Lumpur?
In Selangor, the situation of the overhang for house prices below RM300,000 is not that bad. In total, only 535 units worth RM74 million are in overhang. In Kuala Lumpur, there are 1,153 units worth RM271 million which are in the overhang category.
There is a real demand for houses in this price category, but the problem of selling these units could possibly due to multiple factors, such as the location of the units, in addition to poor workmanship of the units constructed.
Developers stand to make huge profits from this waiting game. In the current downturn of the property cycle, developers are active in land bank exercises. When the market recovers later, developers stand to make huge profits from their land banking gamble. They will price the newly-launched houses based on current market prices, to profit from the potentially huge appreciation of the land prices.
If the government allows this to happen, we will continue the trend of mismatch between supply and demand of affordable houses. Expensive houses which do not match the people's affordability will continue to be built and the problem of the overhang will be recurring.
To avoid this situation, the government should impose a "land value capture" tax to force the developers to build within a certain period of land acquisition.
The objective of a land value capture tax is to discourage land hoarding by developers/landowners. Currently, land is taxed at a very minimal rate, encouraging owners to hoard the land and wait until the value of the land increases substantially. This allows the owners of the land to enjoy excessive profits without doing anything whilst postponing the development of much-needed land e.g. land which should have been utilised to increase the supply of affordable houses
In Buku Harapan, the issue of land hoarding was discussed but we have not seen any substantial action by the Pakatan Harapan government in addressing this issue. Action by big developers including GLCs who do land banking result in a surge in land prices which contributes towards higher house prices.
In its manifesto, Harapan had pledged to set a time limit within which developers must develop their land. This action is to ensure that no corporations can hoard land.
In addition to helping developers to reduce their inventory, the government could and should do a better job in providing and building homes that are genuinely affordable to people. Affordable houses should continuously be built until the mismatch of demand and supply in the affordable housing segment is tackled.
House prices can be reduced without neglecting other aspects such as quality and the environment. Measures that contribute towards speculative activities in the property market should be mitigated via a land value capture tax and setting a time limit for land holding.
---
The writer is senior research analyst, Institute for Research & Development of Policy (IRDP)
The views expressed here are those of the author/contributor and do not necessarily represent the views of Malaysiakini.