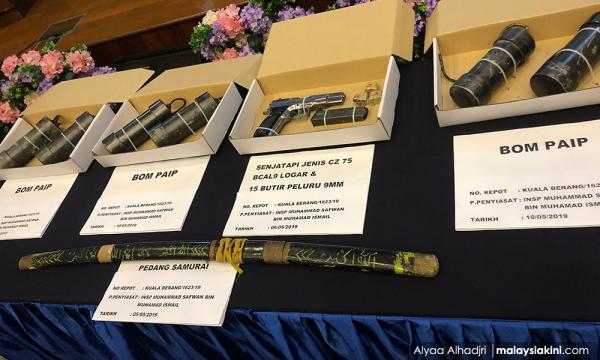 Confront security threat in 'new Malaysia'
LETTER | The Association for Community and Dialogue (Acid) welcomes the decisive action by the police in foiling a terrorist plot to attack non-Muslim houses of worship as widely reported in the media. According to the report, four men linked to an IS "wolf pack" cell were arrested during the first week of Ramadan in connection with the plot to attack non-Muslim places of worship and entertainment centres around Kuala Lumpur.
According to Inspector-General of Police Abdul Hamid Bador, the four men were also plotting to assassinate high profile individuals they accused of failing to uphold Islam and insulting the religion. These are serious allegations. It is vital that these individuals are charged in court through evidence so that the public will know the seriousness of the security threat in the country.
The fundamental area of concern is that these four individuals seem to follow the narrative of the two largest political parties in the country and NGOs and religious leaders associated to them who continue to accuse the Pakatan Harapan Government of failure to uphold Islam.
Why have the police not arrested the leaders of this political parties and NGOs who continue to spawn the venom of disinformation to the masses? The fact is the Harapan has not proactively reined in this possible security threat that is not merely about plots to attack the non-Muslim places of worship or the assassination of individuals who fail to uphold Islam.
It also entails reining in a new ideological ethnoreligious cultural movement in "new Malaysia" that tends to divide the Muslim political discourse from non- Muslims and in the long run creates conditions for exclusivity, extremism and violence within a nation-state. In this context, it is vital to also scrutinise teachings in religious schools and universities. Have the modules been properly vetted by the government? How are relations between Muslims and non-Muslims conceptualised in these institutions?
It is obvious that the implications of these new narratives of ethnoreligious dominance in "new Malaysia" have not been given concrete attention by the Harapan government. The terrorist attacks on churches and hotels in Sri Lanka have ripped apart inter-religious harmony in that country, affected the tourism industry and it would take a long time before for its citizens feel secure.
We have to learn from countries that have experienced terrorism first-hand. In these countries, vital signs such as poverty, religious fundamentalism, global and local extremist networks had not been confronted decisively. We can't afford complacency and we need to act against ethnoreligious hatred, divisive politics and relative poverty in Malaysia.
The emerging signs related to demonstrations against Icerd and the Rome Statute should have compelled the Harapan government to act decisively on individuals who use these occasions to spawn religious hatred. There is a need to come up with laws that rein in hate speeches.
It is wise to learn from countries like China and Singapore whose proactive security surveillance has kept their countries relatively safe in contrast to other countries. These countries have not only adopted tough security laws but also embrace progressive ideologies that have permeated the social-economic system which in turn ensure that propaganda and ideologies that contain religious hatred are automatically rejected by their institutions and their citizens.
It is time the government counters security threats comprehensively and proactively by emulating these countries.
---
The writer is executive secretary, Association for Community and Dialogue (Acid).
The views expressed here are those of the author/contributor and do not necessarily represent the views of Malaysiakini.