COMMENT | The significance of the Semenyih by-election arguably rests on the fact that it has officially cemented the political cooperation between Umno and PAS.
Umno acting president Mohamad Hasan went as far as to claim that two of the oldest and longest Malay-Muslim political parties are now 'married'.
Closer ties between Umno and PAS, coupled with the fractious relationship Umno is currently having with MIC and MCA, also means that Umno is more likely to embrace a more communal Malay-Muslim agenda, while abandoning the more inter-communal centrist politics practised by BN.
However, it is too soon to determine how far this brand of insular communal politics could resonate within the Malay community, but the 'marriage' is a cause for concern for the current government.
When the forces combine
Political cooperation between Umno and PAS was established ostensibly in the name of uniting the Muslim Malays, but in truth, it is a marriage of convenience with the sole intention of defeating Pakatan Harapan in the next general election.
The multi-cornered fight allegedly instigated by former prime minister Najib Abdul Razak in the last general election had not benefitted Umno. Ironically, it had the reverse effect and became the last piece of the jigsaw that Harapan needed to finally end Umno's reign.
Figure 1 below shows that – mainly due to the presence of a three-cornered fight - Harapan was able to gain 30 parliamentary seats with less than 50 percent majority, which proved to be instrumental in capturing Putrajaya. However, the combined votes of Umno and PAS in most of these seats would exceed the number of votes captured by Harapan.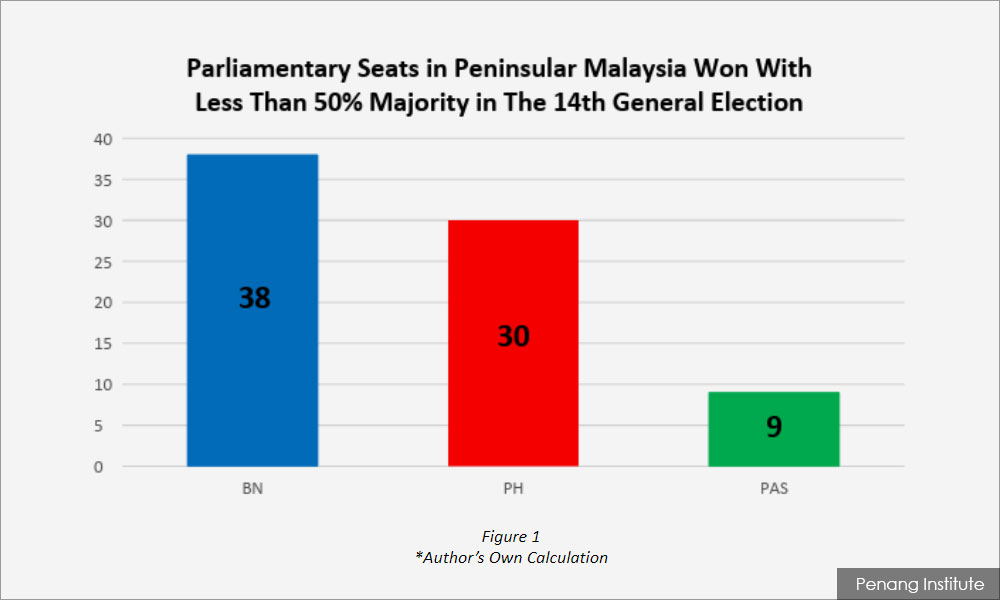 Thus, if an Umno-PAS coalition were to contest against Harapan in the next general election, ceteris paribus (other things equal), the 'combined' votes of the two parties would easily surpass that of Harapan in these 30 parliamentary seats.
The loss of these 30 parliamentary seats would effectively render the Harapan unable to achieve the simple majority of 112 seats in Parliament to form a stable government.
Umno and PAS: Who benefits more in this 'marriage'?
Also, the political cooperation between Umno and PAS may prove to be a brief respite to an Umno that has been weakened and depleted, with key parliamentarians quitting and swearing allegiance to the current government.
To date, Umno has lost 16 MPs since GE14.
---
Malaysiakini's tracker: On the trail of defectors post-GE14
---
Cooperation, at least on the surface level, would momentarily stabilise Umno politically and deter their MPs from joining the government for now – provided these MPs agree with this coalition.
However, there are reasons to suggest PAS would be the one that stands to benefit more from this cooperation.
Though widely under-reported during the last general election - or perhaps Malaysians were too caught up with the exhilaration of witnessing the change of federal government for the first time - PAS did exceptionally well, given the circumstances.
Not only did it consolidate its stronghold in Kelantan, most surprisingly, the Islamic party also gained most of the parliamentary seats and wrested state control of Terengganu from Umno.
Nevertheless, it is widely believed that PAS had exhausted all its political capital by capturing Kelantan and Terengganu, hitting a ceiling in terms of electoral performance.
With the exception of three parliamentary seats in Kedah, all 15 seats that PAS had gained were from Kelantan and Terengganu.
PAS, historically, has a meek electoral presence in the west coast region – with the exception of the conservative region in Kedah and Perak - and consistently ending up as the third favoured Malay party when coming up against its BN and Harapan counterparts.
History also suggests that PAS could only make meaningful inroads outside of east coast if they are in a political coalition. Thus, by joining hands with Umno, PAS could realistically become more competitive outside of the east coast.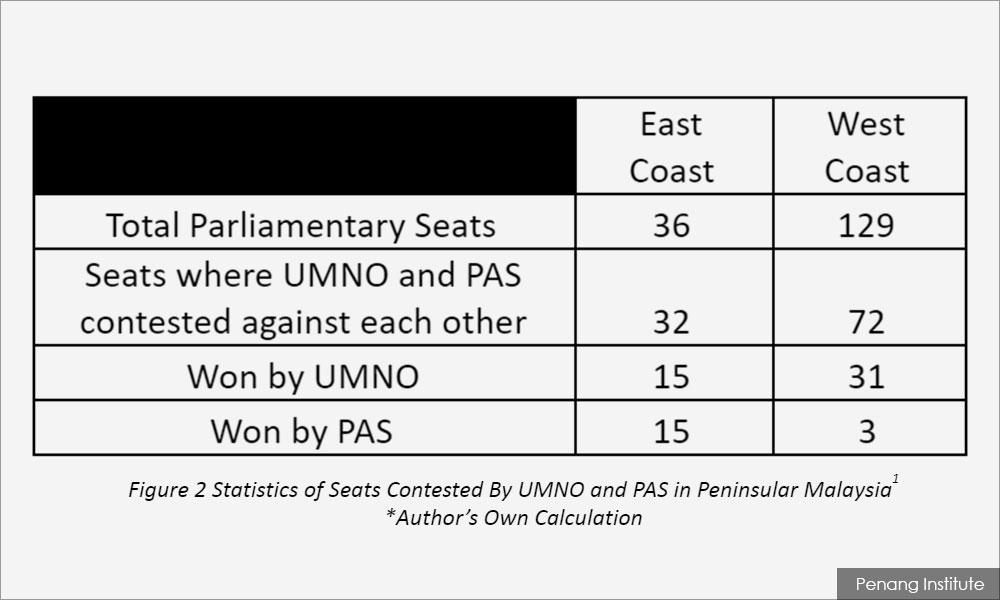 Figure 2 (above) shows that there were a total of 104 parliamentary seats contested by both PAS and Umno during the last general election. These were mostly Malay seats, where Umno and PAS are electorally competitive.
Under Malaysia's electoral system, it is a rule of thumb that winners are able to keep their winning seats if there is no seat-trading among coalition partners.
Since Umno and PAS are now in the same coalition, and assuming both parties are able to keep their own respective seats while ensuring there is a one-on-one fight against Harapan, both sides must give up some seats to ensure a winning hand.
In other words, this political 'marriage' would require each partner to make some sacrifices. Clearly, one side has to sacrifice more in this case.
Cooperation means compromise
Negotiation of seats in the east coast is less tricky as both parties would have an equal amount of winning seats (15) judging from the GE14 results.
If both parties are able to keep the seats that they have won, they are left with just two parliamentary seats to negotiate.
However, the task of securing a one-on-one fight with Harapan in west-coast Malay seats would be much trickier because Umno has to make significantly greater concessions compared to PAS.
As Figure 2 shows, there are currently 38 seats in the west coast that neither Umno nor PAS controls. It would be interesting to see how the two negotiate among themselves to allocate these seats.
Umno might stand a better chance of winning these seats with the help of PAS, but the spirit of political coalition necessitates Umno giving up some of these seats to allow PAS room to contest.
Would Umno be magnanimous enough to give up some of its seats in the west coast, and so enter into apolitical coalition with a more even balance of power?
As mentioned earlier, PAS currently enjoys very little political presence in the west coast, and a coalition with Umno would give it the opportunity to contest against Harapan in a one-on-one fight in the west coast.
Most importantly, by virtue of being in a political coalition with Umno, PAS could "eat" into Umno votes and realistically expect to win much more than three seats in the west coast.
This would give PAS a larger political presence in the whole peninsula, instead of being confined to the east coast.
Some would argue that PAS would have to compromise in the east coast if they want the political coalition between Umno to last.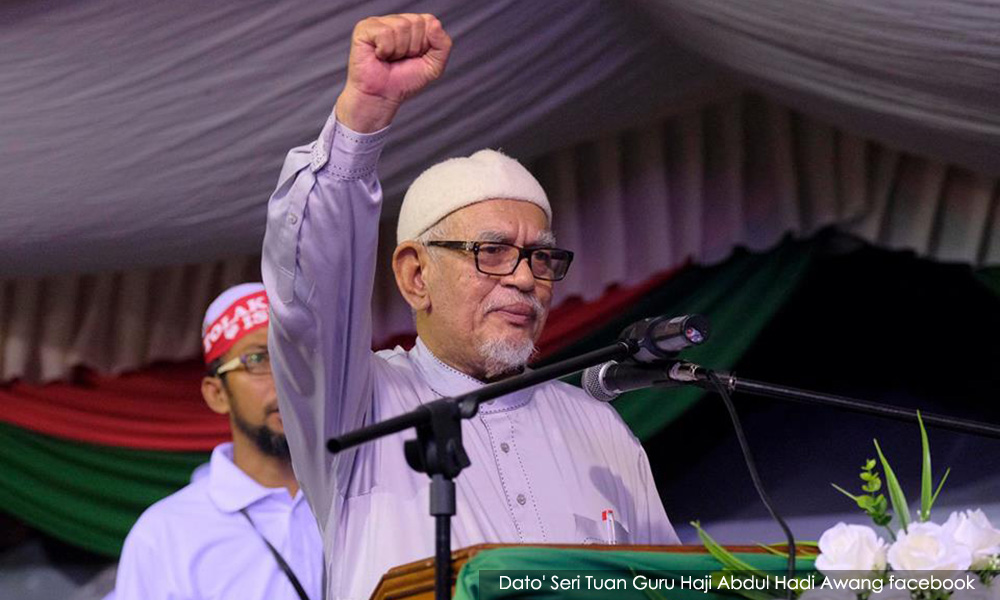 However, PAS has less to sacrifice in this case, as it would only have to compromise in Kelantan and Terengganu, whereas Umno would have to negotiate all its Malay seats in Perlis, Kedah, Penang, Perak, Selangor, Kuala Lumpur, Negeri Sembilan, Malacca and Johor!
Also, the political coalition might sound ideal on paper, but beneath a seemingly united Malay narrative, there are still traces of discord, distrust and suspicion that both parties harbour against each other.
Already news is brewing that older generations from Kelantan are sceptical about the political coalition, given the betrayal Umno inflicted on PAS in the 1970s.
Meanwhile, within Umno, the more open-minded faction spearheaded by the likes of Rembau MP Khairy Jamaluddin and deputy Umno Youth chief Shahril Hamdan, have been keeping mum about this political cooperation.
Ultimately, the success of a Umno-PAS coalition depends on whether both parties - which are of the same ilk, contesting the same kind of constituencies, and chasing the same votes - are willing to rise above their 'similarities' and forge an electoral winning path.
Adding to the fact that a severely weakened Umno is now cooperating with the rejuvenated PAS as equal partners, the former party might find it difficult to adapt to its new role given that it has always been the de facto leader of the alliance and subsequently, BN.
Certainly, this 'marriage' would be one fraught with challenges, complications and impediments.
---
KENNETH CHENG is an analyst at Penang Institute. He holds a bachelor's degree in economics and graduate diploma in politics. Hailing from the Silver State (Perak), he believes the challenge of a researcher is to temper his/her 'pessimism of the intelligence' with 'optimism of the will'.
The views expressed here are those of the author/contributor and do not necessarily represent the views of Malaysiakini.